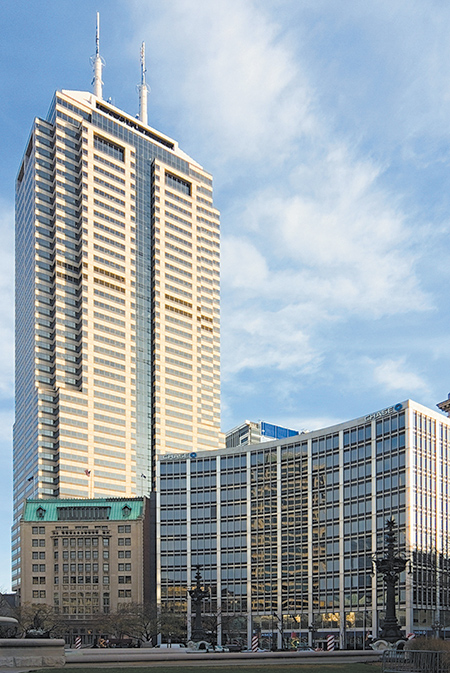 Renovations at downtown's tallest tower continue, with plans for a vacant second-story space that include a tenant lounge featuring a putting green and a bar.
San Francisco-based tech giant Salesforce.com Inc. is establishing its regional headquarters in the building formerly known as Chase Tower. In May, it attached its logo to the exterior and began occupying 11 floors in the 48-story building.
The move follows the company's announcement in spring 2016 that it would add 800 workers by 2021, boosting its downtown employment to 2,200. Just a few months later, Santa Monica, California-based Hertz Investment Group, which already owns downtown's Capital Center North and South, bought the tower and accompanying Circle Building, which collectively contain 1.2 million square feet. About 905,000 square feet of that is in the tower.
A securities filing from lender JP Morgan Chase Commercial Mortgage Securities Corp. revealed that Hertz paid $162 million for the marquee property, including $33.6 million reserved for "tenant inducements, prepaid rent and taxes."
Now, Hertz is embarking on a buildout of the roughly 13,000 square feet on the second floor left vacant by the departure of Urban Market Indianapolis—a cafeteria-like spot with several types of food stations. The space, at the southwest corner of Pennsylvania and Ohio streets, will be taken by the lounge and Downtown Indy, a not-for-profit group that markets the downtown area.
"[The lounge] will be along the lines of what we're starting to see in all the buildings," said Rick Trimpe, Hertz's vice president of leasing for the firm's Midwest region. "It will meld really well with the Downtown Indy space."
Owners of downtown's towers increasingly are adding more amenities, such as tenant lounges, to attract younger companies that typically gravitate toward older buildings with more character.
In addition to the bar and putting green, the 8,000-square-foot lounge space in Salesforce Tower will feature Wi-Fi, open seating and collaborative work areas with three "huddle rooms," Trimpe said.
Downtown Indy, meanwhile, will take 5,200 square feet on the second floor, fronting Pennsylvania and Ohio, with the lounge situated behind it. The aim is for the not-for-profit is to become more visible to passersby on the street.
"I think as a downtown association, we should be in space closer in proximity to our stakeholders," said Sherry Seiwert, Downtown Indy's executive director. "It's easier accessibility and more visible."
The group hopes to relocate by Nov. 1, or about the same time the lounge will be finished, Trimpe said.  
With the move, Downtown Indy will increase its space by about 600 feet. It currently shares space on the 19th floor with the Indy Chamber. The second-floor office will be more open to encourage collaboration among its 15 employees, many of whom now work in traditional cubicles now.
The second-floor space also will be more convenient for visitors to Downtown Indy and board members who now must pass through a security system before reaching the elevators. Hertz installed the system as part of building upgrades related to the arrival of Salesforce.
Also on the second floor, Hertz is renovating the corridor that connects Circle Tower to Salesforce Tower, and will install new carpeting and lighting, in addition to painting the walls.
Downtown Indy had about two years remaining on its 19th floor lease but needed to nail down new space sooner rather than later, Seiwert said. It was an undertaking that took her to most of downtown's office buildings.
"I should be able to speak intelligently about every inch of available space in the downtown market," she said, "because I believe I've toured it all."
Indy Chamber, which shared the 19th floor space with Downtown Indy, has signed a new lease to take the entire floor.  
That extension, along with the Downtown Indy deal and a few others, has helped to boost occupancy in the tower to nearly 90 percent, Trimpe said.
Seiwert is unsure how long Downtown Indy has been on the 19th floor, but it was there when she arrived in 2012 to become executive director of what was then called Indianapolis Downtown Inc. The organization, which took its current name in 2014, will be 25 years old in 2018.
Please enable JavaScript to view this content.