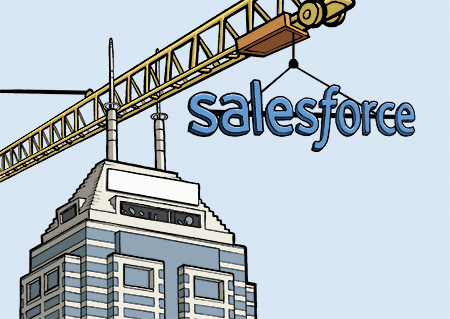 The new owner of the state's largest office tower is spending millions of dollars on improvements as it prepares for the arrival of the building's largest tenant—a lease that's expected to transform the downtown office market.
San Francisco-based tech giant Salesforce.com Inc. is establishing its regional headquarters in the building formerly known as Chase Tower. In May, it plans to attach its logo to the exterior and begin occupying 11 floors in the 48-story building.
Salesforce last spring announced it would add 800 workers by 2021, boosting its downtown employment to 2,200. Just a few months later, Santa Monica, California-based Hertz Investment Group, which already owns downtown's Capital Center North and South, bought the tower and accompanying Circle Building, which collectively contain 1.2 million square feet. About 905,000 square feet of that is the tower.
A securities filing from lender JP Morgan Chase Commercial Mortgage Securities Corp. reveals Hertz paid $162 million for the marquee property, including $33.6 million reserved for "tenant inducements, prepaid rent and taxes."
Salesforce for now is being low-key about its move, declining requests from IBJ to tour the floors it will occupy and the buildouts under way there.
But its plans to lease such a large block of space are reverberating throughout the downtown office market and will for years to come.
In addition to reducing the vacancy rate in the tower to 12 percent, Salesforce's commitment will put downward pressure on that rate for office buildings across downtown.
Insight Global, an Atlanta-based staffing firm, for instance, took 8,000 square feet Jan. 1 in the Circle Building solely because of the arrival of Salesforce, said Adam Broderick and John Robinson, JLL office brokers who lease Salesforce Tower for Hertz.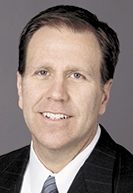 Robinson
"It's probably the most important lease done in the history of downtown, at least in my career," Robinson said of Salesforce.
The skyscraper, developed by Columbus, Ohio-based Galbreath Co., opened in 1990. It originally was known as the Bank One Tower, but took the Chase moniker after the New York-based financial giant acquired Chicago-based Bank One Corp. in 2004.
The tower long was downtown's most prestigious address. When former owner Boston-based CommonWealth REIT paid $201 million for it in 2012, that was the highest price ever for a multitenant downtown Indianapolis building.
The building then was 95 percent full. But occupancy had dropped to 79 percent by the end of 2014 and to 68 percent in late 2015, according to a Cushman & Wakefield's Skyline Report, which tracks vacancy at downtown's 14 largest office buildings.
Downsizings by Chase and other tenants who gave back floors for sublease accounted for nearly half the vacancy.
Now, the building is enjoying a renaissance, thanks in large part to the arrival of Salesforce—which is taking 247,000 square feet, or 27 percent of the building, on floors nine through 13 and 20 through 25. That will push occupancy in the tower to about 88 percent.
Salesforce's presence will surpass that of longtime signature tenant Chase Bank (hence the building's name change), which occupies about 202,000 square feet, according to the securities filing. The next-largest tenant is law firm Bose McKinney & Evans LLP at 103,000 square feet.
"Before Salesforce opted to go into a tower, everyone thought tech companies wanted to go into less traditional buildings," Robinson said. "But Salesforce wants the big-boy building in each of the markets they're in."
Overall, downtown's office vacancy, which stood at 21 percent just three years ago, continues to trickle down, from 17.5 percent in 2015 to 17.1 percent at the end of 2016.
"A good portion of that is Salesforce, but it's not all them," said David Moore, an office broker at Cushman & Wakefield. "[There are] just a lot of positive things going on downtown in office."
Some of the new occupancy can be attributed to what Moore refers to as "tower transformation"—in other words, building owners investing to make them less stodgy and more appealing to younger companies.
At Salesforce Tower, Hertz is making several interior upgrades to accommodate Salesforce and modernize the building.
Along Meridian Street, at the west end of the tower, Hertz is converting the vacated Chase branch into a separate Salesforce entrance and lobby area.
Security kiosks also will be installed, one for Salesforce and one for the rest of the building. Visitors will need to present identification, and those authorized to enter will pass through security turnstiles—the first for an office building in the city.
"They brought it up," Rick Trimpe, Hertz's vice president of leasing for its Midwest region, said of the stepped-up security, "and we agreed."
A bicycle storage room already awaits Salesforce employees, equipped with an air pump and other repair equipment. The room sits next to Fast Burrito in part of the former Enflora florist space.
A new reception desk, touch-screen tenant directories and soft seating in the first-floor lobby area also will be installed. In addition, Hertz is evaluating other improvements for the second and third floors, Trimpe said.
On the retail front, Yolk signed a lease in January to take the street-level space last occupied by Paradise Bakery & Cafe. The Chicago-based breakfast chain known for its Red Velvet French Toast and Eggs Benedict hopes to open in May, concurrent with Salesforce's arrival, Yolk owner Taki Kastanis told IBJ.
This will be Yolk's third Indianapolis outpost, after opening on East South Street at CityWay in 2014 and at Ironworks near Keystone at the Crossing in October.
"We always wanted a Yolk in, or near, Monument Circle," Kastanis said via email. "With the daytime population along with the number of events happening in the city, we feel that it is a great location. Obviously, with Salesforce moving in, we are excited to be in that specific property."
Hertz also is looking to fill two more retail spots on the first floor—a 2,000-square-foot space and another measuring 1,500 square feet once occupied by Travel Authority.
The changes to the tower and the additional foot traffic that's coming is welcomed by Earl Johnson, who's been shining shoes in the first-floor lobby the past 18 months.
Yet he's uncertain whether the younger, millennial workers will be hip to having their shoes shined.
"It's not only going to be good for the building, but the merchants in the building," said Johnson, 47. "I'm looking forward to it."•
Please enable JavaScript to view this content.