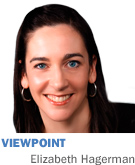 An industry executive recently shared with me the struggles associated with maximizing intern performance on worthwhile projects within their organization—and posed the question: "Wouldn't it make more sense for academic organizations to align themselves with industry needs in order to help prepare students for a running start in a meaningful career after graduation?"
My answer is: yes! Both industry and academia are well poised to help each other realize massive benefits from deep partnerships if we are willing to get creative about the ways we collaborate. Industry typically has an active pulse on market needs and feels daily pressures to innovate and test new concepts in order to perform in the marketplace. What better subject material for academic institutions who are in the business of teaching students how to solve complex problems and contribute meaningfully to their communities and the world?
Recent studies by Stamats, a national higher education marketing firm, suggested that employers cite the need for fresh grads to have more "hands-on experience." Academic research also recognizes the gain realized by doing in addition to learning from reading and lectures. One straightforward solution might be to figure out ways to have industry more actively engaged in the "hands-on" content that supplements more traditional curriculum. This could mean cutting-edge teaching and learning for academia and rock-solid talent development for future employers. Seems straightforward; so why aren't we doing it better?
In my own experiences working with both sides, I've noticed a tendency for both types of organizations to default to transaction-based engagement that yields short-term gains and rarely leads to progressive, long-term outcomes. It is easier for industry to think about universities as warehouses of potential talent, and for academic institutions to think of industry as something that comes after graduation.
But what if we actively blurred the lines between industry and academia? What if real-world problems identified by industry provided content for professors and industry professionals to work on together for the sake of continued learning and cultivating the next generation of problem solvers? What if academic institutions broadened their interpretation of where learning happens and the best ways to develop the skills associated with various career paths? What if fresh grads looked more like employees with three to five years of experience because of the deep engagement they've had with market-driven, real-world problems throughout their college experience? What if industries cultivated their talent pipeline with the same intensity and resource allocation as their product pipeline? All these questions fit well into the pursuit of lifelong learning, which is at the core of every academic institution and industry hoping to keep employees sharp.
For such a system to work, both organizations would have to have flexibility of mind-set and commitment to dedicate resources to these deeper relationships. That means industry experts allocating significant time as part of their recognized job description to collaboration through project work, sharing industry challenges, and offering consistent feedback to students and faculty engaging in these issues. Academic institutions will have to figure out creative ways to incorporate more volatile, real-world content, without compromising critical core knowledge all college graduates should have.
There are great benefits to be realized by both industry and academia partnering early in a student's education, but it starts by treating such collaboration as a long-term investment, providing dedicated resources to drive those relationships, and seeking to learn from each other's best practices through the sharing of knowledge.•
__________
Hagerman is vice president of corporate engagement for Rose-Hulman and Rose-Hulman Ventures. Previously with Baxter Healthcare in Los Angeles, Hagerman earned her undergraduate degree in chemical engineering from Rose-Hulman and a doctorate from UCLA in biomedical engineering.
 
Please enable JavaScript to view this content.