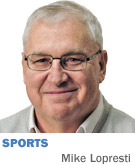 These are some of the numbers of Chuck Leonard's life. The Colts have been in Indianapolis for 34 years and played 345 games. He's been there for every one of them.

No, rephrase that. He's worked every one of them.

Look up at the Lucas Oil Stadium scoreboard during a game. The score, the yards, the downs, the timeouts—all Leonard's handwork. He's the guy who sits way upstairs—the roof beams nearly close enough to touch— and pushes buttons. He's the scoreboard operator.

Leonard was there on Aug. 11, 1984, when the Colts beat the New York Giants in their Indianapolis exhibition debut—so nervous at the start, he remembers, that he wasn't quite sure he could make his fingers hit the control panel. He was there last week when they held off the Cleveland Browns 31-28. And he was there every kickoff in between, through 11 head coaches. Every single one. Neither illness nor injury nor 17 years in his day job as superintendent of Hamilton Southeastern schools could keep him from his appointed perch in the press box.

"It was a good distraction. In the superintendent business, you have a board meeting and you're the one worried about getting everything set up," he said the other day. "But this job, I just show up and it's all there. I do my job and go home."

Well, not always home. When his kids grew up and moved to Florida, and the Colts had a game over the holidays, Leonard would work Sunday afternoon, hop in his van with his wife and Christmas gifts, and drive south all night.

This is how long he's been at it: When he started, Peyton Manning was 8 years old. Next Sunday, Leonard will be on the scoreboard when Manning returns to Indianapolis to have his statue unveiled.

Bottom line: "I like the game. I like the challenge."

Leonard thought seriously about stepping aside five years ago at the age of 73, figuring he'd spend more time with his wife. He was already long retired as superintendent. Then she passed away, and suddenly the scoreboard became an important pastime. "I thought, I still enjoy doing this, I'm just going to stay with it awhile," he said. Remarried now, he still does.

There are a few other matters to clear up about Chuck Leonard.

No, when there's a foul-up with the clock, it's not him.

The NFL has its own personnel keeping time. Nor does he handle any of the displays on the video board. But a lot of people blame him, anyway.

"Everybody knows I do the scoreboard and when something happens they'll say 'OK what happened?' When you say scoreboard, people automatically think clock."

Manning, famous for demanding library-like silence when he called signals, had a well-chronicled annoyance while he was with the Denver Broncos with the stadium video board hyping the Denver crowd as he shouted out the play. At a press conference, Manning blamed "the scoreboard operator." Leonard got a kick out of that.

No, he's not just a Colts-only worker.

College and high school football games, basketball games, he's on the board. He was there for the Super Bowl, there in the Hoosier Dome when 41,000 came to see Bedford North Lawrence win the 1990 high school state championship, and there in Lucas Oil when Butler nearly beat Duke in the 2010 Final Four.

"I thought sure that ball was going in," he said of Gordon Hayward's buzzer shot. If he still sounds pained, no wonder. He's a Butler alum. Played in the band.

Yes, his fingers have to move in a hurry.

Since the video crews filming the game use the scoreboard before every play to keep track of things, he has to get the numbers up quickly. He depends on the officials not to dawdle in putting their feet down to mark where the ball is going, since he can't wait for them to actually place it.

Occasionally, different officials will place their feet on different yard lines. Not good for Leonard. "If the crew is quick and consistent and definitive, that makes it easy. But if they're slow or they go up there and move the ball, that's really frustrating."

One other thing. The scoreboard guy doesn't get many chances for restroom visits. "I don't drink a lot of water before the game," he said.

No, he didn't plan on this as a second career.

"It was kind of an accident," he said. When the Colts came to town, his brother-in-law's company was in charge of operating message boards at the Hoosier Dome. At the 11th hour, it was discovered that also included the scoreboard, and since no one in the firm understood football well enough to do it, the man reached out to family and asked Leonard. The rest is scoreboard history.

He took the job at Hamilton Southeastern the same year. Only once did the Colts ever conflict with a school board meeting; it was a Monday night game. The board cooperated by moving its meeting to late afternoon.

Leonard is now paid by the Capital Improvement Board. It's the proverbial labor of love; nobody gets rich operating a scoreboard. "It's golf ball money," he said. That very afternoon, he had shot 80.

Yeah, he's a Colts fan.

But while Leonard is engrossed in each play, he can't be engrossed in the game. No time to debate a Chuck Pagano decision or mourn a drive-killing interception.

"I've stayed pretty focused. It'll frustrate me when something goes wrong, but I'm pretty much able to do my job first, and then worry about the play later."

Yes, he's watched a lot of Colts come and go, and never missed a moment of their home careers.

No, he's never met any of them. Not one. Nor has he ever seen the inside of their locker room.

Yes, he has an end date in mind.

Leonard is thinking one more season after this. That'd make 35 years. He still has his consulting work for a school architectural firm, still has his four season tickets for the Colts. "I'm not sure anybody wants an 80-year-old scoreboard guy," he said.

And yes, he has an idea about the first Sunday the Colts play a home game without him.

"I'll probably be on the golf course."•

__________

Lopresti is a lifelong resident of Richmond and a graduate of Ball State University. He was a columnist for USA Today and Gannett newspapers for 31 years; he covered 34 Final Fours, 30 Super Bowls, 32 World Series and 16 Olympics. His column appears weekly. He can be reached at mjl5853@aol.com.