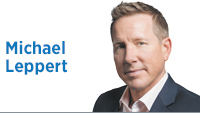 There are many things that contribute to the cultural divisions our nation is experiencing. Nothing is more powerful than our choice of words.

"Political correctness," as a communication style, came under fire during last year's elections. Many supporters of President Donald Trump regularly praise him for his departure from it. His detractors often counter that while the president is often not PC with his words, he also often doesn't even bother to be factually correct.

President Trump is not alone in this debate though. And while "straight talk" can seem refreshing and honest at times, it can also be vulgar and offensive during others.

A lesson to remember is that being honest does not require the absence of compassion and sensitivity, and a commitment to this sentiment is far older than some may think.

There are many passages in the Bible that speak to the power of words. Proverbs 12:6 states, "Our words have the power to destroy and the power to build up." In Matthew 12:36, Jesus said, "But I tell you that men will have to give account on the day of judgment for every careless word they have spoken."

A "careless word" is becoming a dangerous thing in our politics today.

I communicate for a living. Often that is interpreted as "writing and speaking," but what is often left out of my profession is probably the more important skill sets of reading and listening. For me, identifying a careless word is relatively simple, largely because it doesn't take any skill to use one or several of them.

Conversely, the use of a careful word or set of words is something often confused to be not "straight talk," and I understand why many make that mistake. The recent controversy between the president and the NFL is a classic example of the misuse of the power of words, and a failure to recognize it soon enough.

When President Trump made his controversial comments about NFL player protests in Alabama, did he plan ahead of time to use the term "son of a bitch" when describing players? Was the effectiveness of his message advanced or harmed by it? Was divisiveness his goal?

These questions are not rhetorical. There are supporters of the president, and the specific position he has regarding protesting during the national anthem, who do not approve of his words. Obviously, there are large numbers of Americans who interpret his comments as a clear suggestion that exercising their First Amendment rights is not important to him.

His misuse of words led to another troubling chapter in President Trump's term, and at least 17 presidential tweets all designed to recover from the original lack of discipline. Many will argue that he said it exactly as he planned, but the pattern is clear: Each misstep is followed by a renewed commitment to the teleprompter. We experienced that in his tax reform speech at the Indiana State Fairgrounds five days later.

America is experiencing leadership that is unlike any other in modern time. But it is our president's lack of command of language that is becoming most striking to me. I insist that his "straight talk" is often just a series of mistakes and misstatements, followed by policy shifts to cover them up.

In his Toastmasters World Championship of Public Speaking speech in 2015, Mohammed Qahtani said "Words have power. Words are power."

Of course, I'm sure he assumed that the most powerful words used were also used most carefully.•
Click here to see all of the latest Forefront columns.
__________

Leppert is a public and governmental affairs consultant in Indianapolis. He writes at HeartlandNow.com.Send comments to ibjedit@ibj.com.