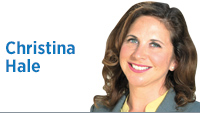 What is more important to the economy of tomorrow, security or connectivity?

It is very difficult not to be distracted by the drama and the potential significance of the tweeting, kneeling and name-calling in the news. Intercontinental ballistic missiles, football, patriotism, protests, often for good reason—such issues and more claim our attention.

As we think through the politics and policy impacting our lives, it is likely beyond time to attempt not to react but to think through these issues more strategically.

Take the proposed construction of the border wall between ourselves and one of our closest trading partners, our neighbor to the south, Mexico.

It is difficult not to think back more than a thousand years ago when China built a wall of its own. A series of fortifications made of various materials, the Great Wall was intended to stave off attack and to increase border security. Hmm.

What are the Chinese doing after all of these years? They are attempting to become better physically connected to their neighbors. In fact, rather than put up more walls, they are rebuilding a road—The Great Silk Road, which during the Roman Empire accommodated trading between China and the West. Only this time, the "road" is a series of ports, roads, bridges, airports, anything and everything that will increase the region's practical ability to trade.

Chinese President Xi Jinping described the ambitious development by comparing his country to a peace-loving explorer set on transforming the world with treasure-laden galleys not warships, guns or swords, ushering in a "golden age" of globalization.

Nearly two years ago I was at a conference in Hong Kong, listening to a local economist report to the crowded room of mostly U.S. professionals that China really wasn't concerned any longer with trade to the West. Rather, they had come to believe that the consumer class of the future would be found to the East. No need to worry about shipping and markets across the Pacific. Their customers were growing exponentially much closer by.

This is domestic, economic policy that will drive new, closer relationships and a probable shifting of alliances over time.

In fact, according to Credit Suisse, 62 countries may realize direct infrastructural investment from China of up to $500 billion over the coming years, significantly benefitting India, Russia, Indonesia, Iran, Egypt, the Philippines and Pakistan. Each of these countries play a critical role in America's future for different reasons.

And, as recently as the first week of September, Mexico's President Enrique Pena Nieto traveled to China to discuss trade and investment in a summit of the BRICS nations, a grouping that includes Brazil, Russia, India, China and South Africa. The bilateral meeting was hosted by China's President Xi Jinping.

So what is most important in the economy of tomorrow: security or connectivity? Should we spend $20 billion or more to wall ourselves off? Or is that money better invested in other infrastructural improvements with more positive economic upside over time?

Our superpower status is predicated on the enhanced security we have built up to offer our allies. That has gotten us far, but the balance of power is shifting, the world economy is very different, and the pace of change is accelerating. Rather than offer partners security, China is betting on offering connectivity—the physical ease of trade complemented by the ease of communications.

What are we betting on? As we get our geopolitical act together, it is best to put ourselves in geopolitical context. And as Indiana is beginning to think regionally, the U.S. should as well.•

Click here to see all of the latest Forefront columns.
__________

Hale is a former member of the Indiana House and ran for lieutenant governor in 2016 on the Democratic ticket. Send comments to ibjedit@ibj.com.