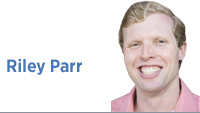 Recently, I was sitting at dinner with a group of friends. One of them, a teacher who we'll call Amy, sat down and almost immediately said something to the effect of, "Betsy Devos has no idea what she's doing. She wants to privatize education. I'm a conservative on everything but education."
I replied by asking my friend what she meant exactly by "privatize." If she meant things like school choice, charter schools and vouchers, then I suppose the answer was yes, at least to the extent that parents and students choose to take advantage of those opportunities.
Amy is pretty smart, and she knew her side of the argument's talking points, the primary one of course being that such programs "take" students, and therefore money, from some public schools and shift those dollars to private schools or other public schools. And naturally I replied with the same points our state's leaders have been stating for coming on 10 years: These policies are about empowering parents to control their child's education and giving students opportunities they would otherwise never have.
What I did not say, and probably best given the circumstances, was the obvious conclusion to both our arguments: Fewer students in public schools, or at least a shift in where the students go, means fewer public schools, which means fewer public school teachers. But that does not mean fewer overall teachers.
Thinking back to that exchange, the first thing that came to mind was Amy's assertion that, "I'm a conservative on everything but education." This is nothing new; I know several public-school teachers for whom this is the case. On issues like taxes and government spending, they want a smaller government; they like "law and order" and a strong national defense.
So the question becomes, why not with education? Why not let the parents, those who should bear the ultimate responsibility for raising their own children, make a decision they believe will maximize their children's chances at future success? Why not give a child an opportunity he or she might otherwise have never had?
But Riley, school choice does not apply only to people in failing schools in big cities or the drug-riddled small town! Of course, but basically everybody pays property taxes, and it is the state of Indiana's job to provide education. The Bernie Sanders and Elizabeth Warrens of the world were (probably) never going to buy these arguments, or at least these reasons, anyway. This article was never meant for them—but it is meant for those teachers, like my friend, who otherwise are fairly strict adherents to conservative orthodoxy.
So the question is why? Why do otherwise conservative people not apply those same fundamentals to education? Perhaps, or so the argument goes, there are in fact conservative elements to a pro-public school-at-the-expense-of-everything-else approach: local control, leaving decision-making to those on the ground, supporting communities, too much regulation on things like testing, and family involvement in the local district. These are powerful arguments. But they are not mutually exclusive with education policies that promote freedom and opportunity.
There are other factors to consider too: If you remove the requirements the federal government imposes on education, how much easier would teachers have it? Do non-public school teachers support their students, school and community any less? Do parents of kids who attend non-traditional public schools?
To those who view school choice, vouchers, charter schools, and the like as something less than the ideal vision simply because they are not traditional public schools, consider an alternative perspective: that of the parent and the child. And I'll do the same for you.•
Click here to see all of the latest Forefront columns.
__________
Parr is a student at the Indiana University Robert H. McKinney School of Law in Indianapolis and is treasurer of the Indiana Young Republicans. Send comments to ibjedit@ibj.com.
Please enable JavaScript to view this content.