Barring any last-minute hassles, this holiday season promises to deliver a much-desired gift to the folks at Flaherty & Collins. The company is developing 360 Market Square, the 27-story mixed-use residential apartment tower that's been slowly rising from the old Market Square Arena site since 2015.

"December of this year, we'll have substantial completion for the entire building," said P. Christopher Kirles, Flaherty & Collins' president of construction. "That's when our general contractor [Lendlease] will be finished and off the site."

The $120 million building will become yet another signature structure in the new Market East district, a section of downtown that until recently featured a sea of parking lots and ramshackle buildings.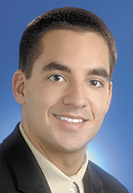 Kirles
It will take its place alongside the recently completed Cummins distribution headquarters, the Artistry apartment complex, and the Julia M. Carson Transit Center.

But it's been a long road.

During its sometimes-tortuous development, 360 has dealt with everything from disputes with contractors to fairly extensive design changes. For perspective, the project broke ground in February 2015, roughly the same time as the $30 million Cummins project, its next-door neighbor. But Cummins (though, admittedly, at 10 stories, a smaller affair) opened in January.

Both properties share the old Market Square Arena site, which was the source of some of 360's difficulties.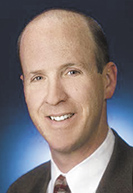 Crossin
The city, which contributed $5.6 million in land for the project and expended $17 million in tax-increment financing money for infrastructure work, had a lot to say about how it would look.

"They wanted a curvilinear building," said Jim Crossin, Flaherty & Collins' vice president of development. "A statement on the skyline. And they wanted a grocery."

The grocery Flaherty & Collins eventually landed (a 42,000-square-foot Whole Foods), proved a boon and a bane. It handily fulfilled the city's desire for more downtown lifestyle amenities. But accom-modating it required a redesign that chopped an entire floor off the building. It was all about parking. Or, more specifically, providing segregated parking for the grocery, other retail and residential tenants.

"Initially, we thought we'd have all the parking above ground," Crossin said. But "we switched to having a level of underground parking."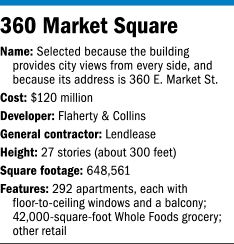 The new plan earmarked 170 spaces for Whole Foods, including 50 ground-level spaces just inside the parking entryway. Then there's a ramp on New Jersey Street that's a separate entrance for residential, which has parking on floors two to four.

Originally, to accommodate the parking levels, the building was 28 stories tall. When one of them went underground, the count dropped to 27. Kirles said digging down made sense, given the rubble from Market Square Arena that had to be removed.

"You can't build on top of that debris," he said. "If you're going to remove it ... you might as well build a basement while you're down there."

Crossin said a benefit is that both the city and CallisonRTKL, the project's architect, "really loved the idea of taking a level of parking down. The less parking there is above grade, the more attractive you can make the building."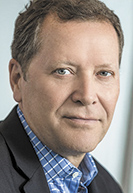 Campbell
The change lightened the load on the designers, CallisonRTKL Vice President Keith Campbell said. "There's really no backside to this building," he said. "You need to make sure all four sides are treated appropriately. ... We wanted to make sure that there's a lot of vitality in the materials and color selections on all four sides. That was an important issue for the city and for us."

Which made the original five stories of above-ground parking something of a buzzkill. Though the tower itself adopted an arresting curvilinear shape (as the city wanted), it was perched atop a shoebox-shaped parking garage, which meant that—at street level—it was in danger of coming off as just another nondescript box. Losing a floor off the garage helped carry the curvy design all the way to the street.

"Bringing the architecture of the tower down to the ground, and not just having a tower on top of a podium, was an important issue for us," Campbell said. "That caused some construction and design headaches, but it's a very effective solution."

Fitting in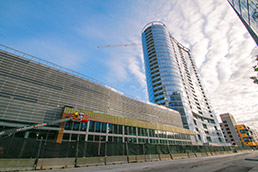 Whole Foods will occupy first-floor space on the 360 Market Square site. (IBJ photo/Lesley Weidenbener)
Though the plans for 360 Market Square already were far along by the time Cummins announced its project, Campbell said the two designs play well together.

"They're not twins by any stretch, but it forms a fantastic sort of gateway on the east end of Market Street," he said. "I think it worked out beautifully."

There were amazingly few conflicts between the construction teams for 360 and Cummins, even though having two large downtown projects sitting cheek to jowl sounds like a nightmare. To minimize conflicts, the city organized regular meetings between the 360 and Cummins teams, as well as the team overseeing the second phase of the Artistry apartment project, which was going up out on Washington Street.

"What really helped was that the city agreed to close down Market Street, except for pedestrian traffic," Crossin said. "That allowed our project and the Cummins project to each use half of Market Street for staging. We came up with a way to get our concrete trucks in and out, and not have them conflict."

Crossin said the city's extensive involvement in the project actually was a plus, especially when it came to matters like permitting and managing the site.

"The city's involvement really didn't add complexity," he said. "If anything, it probably made the project go more smoothly. Given how high-profile this was, and that it was right across the street from the City-County Building, the city played a big role in getting it done."

Taking stock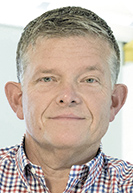 White
Drew White, partner at Axis Architecture, enjoyed a front-row street for the redevelopment of Market East. His firm—which designed the Julia M. Carson Transit Center, at Pennsylvania and Washington streets—has its headquarters at 618 E. Market St., just east of the Cummins and 360 buildings.

He thinks the designs of those buildings, and of the nearby Artistry apartments, aren't in perfect harmony.

"They do feel very different, but maybe that's OK," White said. "To make them truly harmonize, you'd have to have one master designer for everything, and that just isn't reasonable."

He's far more enthusiastic about what the new buildings bring to Market East: offices, a grocery store, other retail spots, plus hundreds of apartments—the makings of a functional mixed-use neighborhood. And it's not as if the structures are islands unto themselves. The path of the Cultural Trail forms a link, as do the ample green spaces at Cummins, the Transit Center and the outdoor plaza that's under construction on the south side of the City-County Building.

It's a vast improvement over the patchwork of parking lots that formerly dominated the area, White said.

"I think they are different compositions within their own sites," he said. "But I do think the walkability between them, and the amenities provided by each one, the activation of the streetscape, those are things that these buildings do together very well."

Campbell said 360 and other new developments in Market East are creating just the kind of neighborhood many American city-dwellers crave these days.

"A fantastic grocery store is about to open, and it's adjacent to the business district, city hall, the City Market and the Cultural Trail," he said. "All those things make for a convenient lifestyle, and we believe that convenience is the new luxury.

"Nobody wants to spend their life commuting—and working, living and playing downtown is sort of the Holy Grail these days. We're seeing that all over."•