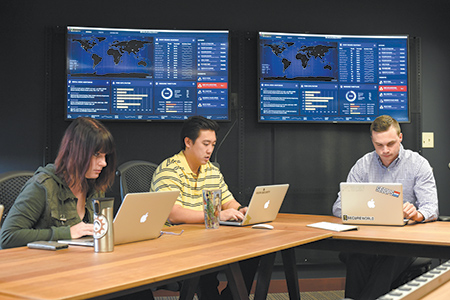 When J.J. Thompson moved his fledgling IT firm Rook Security from San Jose, California, to Indianapolis in 2009, he found a "talent pipeline for tech that is second to none."
But he quickly learned about the region's downside: a lack of access to capital that made it hard to expand.
The firm managed, anyway. Thompson started by hiring four people in 2009—and now Rook Security, which recently moved to Carmel, has 45 employees and $8.5 million in annual revenue.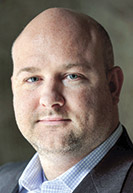 Thompson
"Our university systems here are pumping out really talented, modest, hard-working students," said Thompson, Rook founder and CEO. "That's the upside. The downside was the flyover effect for funding. It's much better now than it was then, but we have a long way to go."
While Rook's growth has been particularly robust, new data from the Kauffman Index of Growth Entrepreneurship shows many businesses in the Indianapolis-Carmel metro area are also doing better than those in peer cities when it comes to their ability to expand.
The area now ranks 10th among the 40 largest metro areas when it comes to factors affecting what Kauffman calls "growth entrepreneurship." That's a big jump from last year's rank of 20th, according to newly released Kauffman data. The group measured three key indicators:
• The average firm starting here in 2009 grew 72.9 percent in the next five years, increasing employment from 6.3 people to 10.9. That's about in line with the national average, but much higher than companies that began here in 2008. They grew an average of just 30.7 percent over five years.
• The share of Indianapolis scale-ups—firms that grew to employ 50 people or more by their 10th year—was 2.2 percent of all area businesses in 2014. That's higher than the national average of 1.1 percent.
• And the density of high-growth firms was up in 2016 from 2015. The Kauffman Index defines high-growth firms as private companies with at least $2 million in annual revenue that have recorded 20 percent revenue growth in each of the past three years.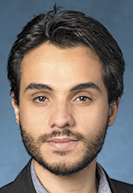 Morelix
Arnobio Morelix, a researcher for Kansas City, Missouri-based Kauffman Foundation, said entrepreneurial growth nationwide has rebounded from the "Great Recession hangover." He said that, on average, growth is a "pretty geographically diverse phenomenon, on both coasts, the South, and the Midwest." But he said the "unicorns"—those valued at $100 million or more—tend to remain concentrated in places like Boston and Silicon Valley.
"We really see growth happening in places outside the stereotypical entrepreneurial hubs and outside the very largest cities," Morelix said. "Indianapolis was one of the metros that had really strong increases in growth entrepreneurship this year. This specific generation of companies, the ones turning 5, are doing well."
The Indianapolis area joined Portland, Oregon, and Atlanta in seeing the biggest improvements in their metrics this year, he said. Indiana's statewide ranking, meanwhile, did not change, remaining 20th of the 25 largest states, with a 57.5 percent rate of startup growth.
Cities' startup growth in the Kauffman Index ranged from -16.7 percent in Jacksonville, Florida, to more than 115 percent in San Jose and Minneapolis. Negative startup growth means the average 5-year-old company in a particular area actually has a smaller staff than it did at launch.
Crucial metrics
Why measure growth entrepreneurship? According to Kauffman, it helps "drive job creation, innovation and wealth in the U.S. economy."
"Research indicates that high growth, particularly in young firms, is an especially important contributor to job, output, and productivity growth," according to the report.
"It is important to track the growth of new firms in order to understand the immediate economic benefits of this growth in terms of job creation, as well as the increased productivity and sharing of best practices that are also associated with growing and new firms, but are more difficult to quantify."
Indianapolis did not fare as well in a Kauffman report released in May that measured startup activity, including the rate of new entrepreneurship, the opportunity share of new entrepreneurs, and startup density. The metro area ranked 38th among 40, compared with 33rd in 2016.
That made the metro area's performance in this growth index particularly encouraging to those in the local startup community.
Mike Langellier, president and CEO of TechPoint, a not-for-profit advocacy group that promotes Indiana's tech industry, told IBJ in an email he's excited to see the "dramatic improvement in 'high-growth company density'" and the area's improvement in ranking.
TechPoint has been especially focused the last two years on accelerating the growth of emerging companies.
"But we and other Indy-region stakeholders really need to dig into several other metrics and understand what is driving simultaneous decline in other areas, particularly given the reported decline in startup activity and new entrepreneurs," Langellier said.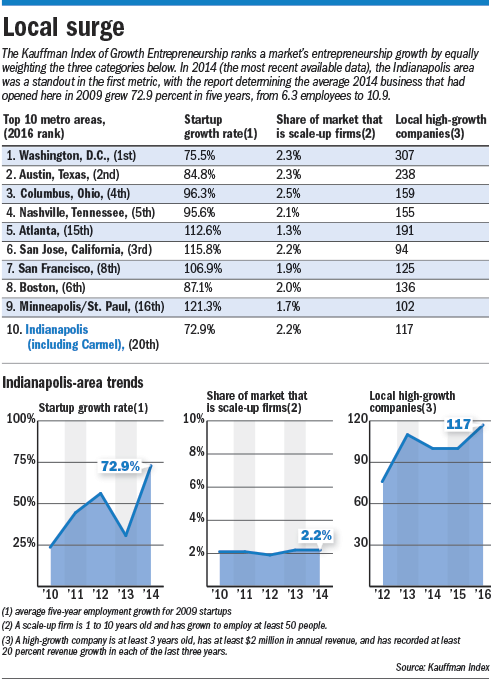 Kristen Cooper, CEO and founder of the Startup Ladies, said "Indianapolis is an awesome place to start up and scale a business." But she said there are still challenges, especially for women- and minority-owned businesses.
"It takes a good three to five years to grow from itty-bitty hatchling to a full-fledged company with employees," Cooper said.
"Funding at the idea stage is paramount to the success of the company graduating from startup to scale-up," she said. "If you have an idea, and don't have a network of people who can write checks to prove out the concept, it's going to be very difficult for you to grow. Women and minority founders have greater difficult securing funding early on, in part because of unconscious bias."
Continuing challenges
Michael Osborne, president and CEO at SmarterHQ, which, along with Rook, was recently named one of Inc. Magazine's fastest-growing private companies, said "Indianapolis has been good to us" as a sandbox to grow in.
"With any startup, the decision to grow comes as the proving of the thesis," Osborne said. "There is a bit of a cycle: Have an idea, prove it, use that to acquire more customers, which generates more need for personnel to manage those customers."
Osborne said he has found that the Indianapolis area's talent availability is simultaneously one of the region's key advantages and its challenges.
The low cost of living compared to Silicon Valley or New York makes it easy for companies to keep costs in line while hiring talented people.
"We pay fairly, but we don't have to overcompensate based on competition," Osborne said.
But he said Indianapolis needs to keep encouraging "folks to remain here by providing the right infrastructure and the right incentive structure."
"It's always a challenge in any competitive market," he said.
Access to capital also continues to be a concern.
Early on with Rook, Thompson said, "banks were willing to lend me $2 million to start a bison farm, but wouldn't lend me half a million to grow this rapidly growing business."
"They couldn't understand something they couldn't touch and count," he said.
Thompson said "the No. 1 thing we need to do that will drive a lot of these metrics is, we need to have big wins." That can be the difference between celebrating an initial venture round that is $5 million to $30 million, rather than one that's $1 million, he said.
Thompson also encouraged private and public Indianapolis companies—as well as the state—to buy more services from locally based IT and startup vendors.
"Hoosier businesses do not buy enough from local Hoosier businesses," he said. "Here, people want to pretend like, if they know you, they shouldn't buy from you. That just kneecaps tech companies in Indiana. We are more successful on the coasts than we are in Indiana. It blows my mind."•
Please enable JavaScript to view this content.