A couple of decades ago, Indiana seemed set to become a worldwide leader in battery development and production. Bad timing, bad luck and cutthroat competition combined to derail that movement, but experts contend it's not too late for the state to make its mark in this rapidly growing field—if not as a mass-market builder of the battery cells themselves, then as a creator of value-added products.

"I believe that Indiana could very well become the technology hub for lithium-ion cell manufacturing in North America, and also system assembly and deployment," said Mike Canada, CEO of EnerDel, Indiana's only lithium-ion cell producer—and one of just a handful in the entire United States.

EnerDel's fortunes mirror those of the Hoosier battery industry at large. Back in the late 1990s, General Motors developed the battery systems for its first electric vehicle, the EV1, here in Indianapolis. In the years that followed, EnerDel briefly became the darling of the electric car industry, receiving $118.5 million in government funds in the aftermath of the Great Recession to grow its operations. At one point, it projected hiring 2,400 central Indiana workers.

But it wasn't to be. The EV1 was a commercial dud, and EnerDel discovered there simply wasn't enough demand (yet) for automobile batteries. Its parent company, Ener1, went bankrupt in 2012. EnerDel has since righted itself, but with a vastly different business plan (and far fewer employees) than originally envisioned.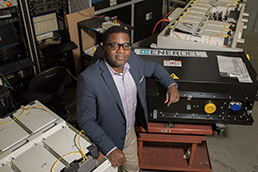 CEO Mike Canada has lithium-ion battery maker EnerDel growing again, in part by focusing on niches instead of mass production. The company has 90 employees. (IBJ photo/Eric Learned)
It's par for the course for an industry that's proving as volatile as the home computer business in its heyday.

"I would say it was a function of competition and consolidation globally that hit some of the companies that had a long history in Indiana," said Paul Mitchell, president of Energy Systems Network, an initiative of the Central Indiana Corporate Partnership that focuses on energy and clean technology.

"It's a very competitive market and they didn't make it. That being said, there are activities going on today that are very promising, and I'm optimistic we can get back to a leadership position."

It's certainly worth a try, because the market for lithium-ion battery cells—the smallish units that (individually) power things like cell phones and computers, and in aggregate are used in massive, utility-level electricity storage facilities—is growing explosively. Albany, New York-based Transparency Market Research said that market, currently $29.7 billion globally, is expected to swell to $77.4 billion by 2024. Within 20 years, it might grow to $240 billion, according to Forbes.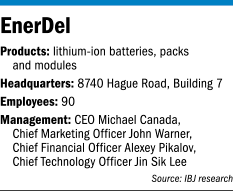 Fueling that growth are pure economics. Though battery costs have fallen rapidly—from $1,000 per kilowatt hour in 2010 to about $227 in 2016—batteries still account for 60 percent of the cost of electric cars.

Bloomberg New Energy Finance projects that battery prices will continue to tumble and that—as a result—by 2025-2029, electric vehicles will have lower lifetime costs and be cheaper to buy than conventional cars in most countries.

Asian dominance

The bad news is that the vast majority of this business is already sewn up by low-cost, high-volume Asian producers. And that's unlikely to change.

But there are still plays to be made, Mitchell maintains. For instance, the Energy Systems Network helped develop the Battery Innovation Center, a high-tech research and testing complex in Newberry, 40 miles southwest of Bloomington, that can do everything from making to testing energy cells. The world-class facility has attracted the attention of about 70 companies from around the world, which use it for the development of new products.

"It's similar to what you might find in a federal lab such as Sandia National Labs or Argonne National Laboratory," Mitchell said. "But it's a public/private partnership here in Indiana that's very accessible to commercial companies."

Electric utilities don't make batteries, but they are a huge potential market for extremely large storage systems that can be used for, among other things, coping with demand spikes or storing power from renewable sources such as solar and wind. Indianapolis Power & Light already operates a lithium-ion battery array at its Harding Street Station facility, installed in 2015, that's capable of storing 20 megawatts of power. And that's only the beginning.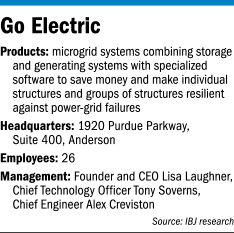 "I can't name names, but there are a number of other utilities in Indiana that are looking at piloting energy storage projects in their systems in the next 12 to 24 months," Mitchell said.

And getting more in-state battery cell production isn't entirely pie in the sky. Mitchell said that, over the last half decade, ESN and state agencies have seen perhaps a dozen international cell makers come sniffing around, toying with the idea of opening branch plants to serve the North American market—perhaps by manufacturing cells but more likely as a place to aggregate them into larger, harder-to-ship systems.

"We're still a very good location to do that," Mitchell said. "We're a good location to manufacture anything. Indiana is in a prime position to attract some of these large production facilities."

Not all of those companies are from overseas—or even out of state. Anderson-based Go Electric, though in business only since 2011, has carved out a niche providing microgrid systems to military, utility, commercial and industrial customers. Put simply, Go supplies generators, battery-storage systems and software to help a single structure or groups of structures reduce energy costs and keep the juice flowing in case of a grid-damaging emergency.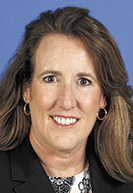 Laughner
"We're fielding 12 systems this year," Go Electric founder and CEO Lisa Laughner said. "We've got a lot in the pipeline. With the contracts we've already won, we're feeling really stretched—especially in engineering."

The company, which employs 26, plans to gradually ramp up payroll to 85 after completing a $15 million fundraising round.

The dearth of U.S.-based battery makers and aggregators actually has helped Go's cause—especially with military clients, most of which require a high percentage of domestic parts.

"If you're a battery supplier, you can source your cells overseas, but in order to comply with the Made in America rules, you have to have a U.S.-based factory," Laughner said. "All those foreign companies—none of them are doing their final racks and module buildouts in the U.S. So we can't source from them on any of our military contracts."

That's really not much of a problem, given that 92 percent of the gear the company sources for its systems comes not just from the United States but specifically from Indiana. Because there are so many manufacturers and so much manufacturing expertise locally, Laughner thinks the state has a promising future with value-added battery systems.

"There's a lot of supply chain already here that can support that," she said.

EnerDel's strategy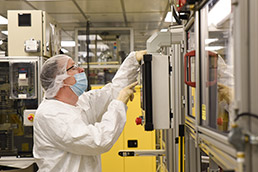 EnerDel's Todd Ward checks the settings on a machine in "the dry room," where lithium and aluminum are coated on thin pieces of material to be made into battery cells. (IBJ photo/Eric Learned)
One of the products in that mix is EnerDel's lithium-ion cells. The company, which came within an ace of closing during the Great Recession, has bounced back, thanks to a refocused business plan that goes after niches rather than the hotly contested field of bulk cell production.

"We can't compete with Asia," Canada said. "We know that. Asia has significant gigawatts of [manufacturing] capacity already installed. Today, we're approximately 300 to 400 megawatt hours of annual capacity, as far as cell manufacturing is concerned."

The bulk of the company's business focuses on supplying power to electric and hybrid city buses, plus microgrid systems for facilities such as military bases. The company now is up to 90 employees, with positions available for another 20. It's also reactivating old manufacturing space that has been mothballed for years.

"I believe that Indiana could very well become the technology hub for lithium-ion cell manufacturing in North America," Canada said. "And also system assembly and deployment. I'm very hopeful that EnerDel could help lead that charge."

Some big central Indiana companies also want a piece of the action. Indianapolis-based Allison Transmission, which (before it was divested by GM in 2007) helped work on the technology for the company's long-gone EV1 electric cars, is in the hunt. The company offered its first hybrid propulsion bus system in 2003, and today is a worldwide leader in commercial hybrids.

It isn't alone. In June of this year, Columbus-based diesel-engine giant Cummins Inc. said it was developing several new electric technologies, including all-electric power trains. It also recently acquired Oregon-based battery-pack maker Brammo, which produced all-electric motorcycles (a business it sold to Minnesota-based Polaris Industries in 2015) before focusing on electric vehicle technology development.

If all goes to plan, Cummins will offer its first all-electric motors in 2019—first for buses and delivery vehicles, then for semis and other long-haul vehicles. Julie Furber, executive director of its electrification business, said the company's traditional diesel power plants will stay in demand for decades. Even so, Cummins wants to make sure it offers the newest alternatives—and stays ahead of competitors that are doing the same.

"We have been in electrification for decades," Furber said. "We also have a scale advantage and a vast customer service and support network. We believe we're in a great position to be successful now and in the future, offering our customers a range of solutions."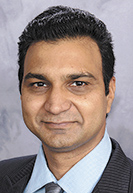 Pol
There might be yet another way for Indiana to get back in the battery game, according to Vilas Pol, associate professor of chemical engineering at Purdue University and an expert on lithium-ion and lithium-sulphur batteries at its Discovery Park Energy Center. Though lithium-ion batteries will probably dominate the automotive market for some time, he said, other battery types might work better for other applications.

Take, for instance, sodium-ion batteries, which use common salt instead of rare (and expensive) lithium. Pol said they're simpler to build and just as powerful, though slightly bigger than comparable lithium-ion units. But that wouldn't make much of a difference for stationary applications, such as energy-storage facilities.

Most important, the market for the new technology hasn't been sewn up yet by Asian manufacturers. Right now, it's anybody's game.

"You might take something like that and lead with it on the U.S. side," Pol said.•