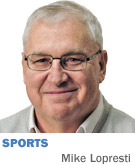 WEST LAFAYETTE—We have here arguably the most impressive stat for Purdue University running back Markell Jones. No, no, not the 217 rushing yards he had against Indiana—though owning the Hoosiers lock, stock and Old Oaken Bucket is pretty memorable, if you're wearing a Boilermaker uniform.
Try the 100 hours of solo flying. This is not your garden-variety star of the game, and for the first clue, look down his bio to his major. Professional flight technology. You don't see many college football players in the cockpit. Plus, consider these glimpses of what he does when he's not in shoulder pads.
This was Markell Jones during Bucket week …
Tuesday, he was in flight simulator class, learning how to fly through clouds and land with instruments. Wednesday, he was studying jet systems. And as for the flying he did, just where was that?
The logbook is his life as much as the playbook, so he looked it up on his cellphone. Right, Illinois. "I flew over to Kankakee. Also had a night flight. I did my night currency that week. Basically, what you have to do is three full-stop landings and then takeoffs, so you can get your currency to fly at night."
Now there's a pre-game routine you don't see from every Big Ten player of the week.
This is Jones on Purdue charter flights to away games …
"I don't know if it's by coincidence, but I'm always by the window, always on the left side either forward of the engines or aft of the engines so I'm always able to see what the flaps are doing and the spoilers. I can tell based on the configuration of the wing, whether we're climbing or descending. People sit around me and will ask, 'Is everything going good?'"
So he's on the trip to get first downs, and to reassure nervous fliers.
And this was Jones as a kid back in Columbus, spending his free time in front of …
Neither the television nor video games. A computer flight simulator.
"Before dinner, I'd set the auto pilot, and I'd come back after dinner to see how far I had made it across the country. Usually, it was a New York-to-California trip."
Said his father, Jym Jones: "He would sit there for hours."
How many other bowl-bound running backs do you know who have their pilot's license?
"I love being in the air, up there by myself. You're alone with your own thoughts," Markell Jones said. The view's not bad, either. "Especially flying at night."
Really, what could be more thrilling? Well, one thing at least. "Flying solo for the first time was pretty cool," Jones said. "But not quite as cool as winning the Bucket."
We should go back to how all this started. Jym Jones is a pilot who worked several years for Cummins. Markell would occasionally ride in the jump seat with his father, eyes alit, headphones on his ears, and take it all in.
"He grew up around airplanes, going to air shows," Jym said. "From an early age, he had a passion for flying. I was just talking to his flight instructor two weeks ago and the flight instructor told me he's a natural."
"I'm really proud that he'd want to follow in my footsteps."
He was pretty good at football, too—Mr. Football in 2014 for Columbus East, matter of fact. Any college he chose would have to address both passions, which Purdue did. By the end of Jones' first week of class, he was in the air with an instructor. He has never looked back, though he has often looked down.
Talk about your freshman orientation. Some kids struggle to find the library. Jones was working on takeoffs.
"Anything that involves hands-on, I'm pretty natural at. Driving was pretty easy. Flying's super easy. I think that's actually easier. There's not as much traffic up there."
Nervous when your kid learned to drive? What about if your kid was learning to fly? "I wasn't nervous at all because that's what I do for a living," Jym said. "In the back of your mind, you hope he follows all the protocols, but I knew he's a sharp guy."
But let Markell tell you about his first solo hop.
"What you do, you call out traffic, No. 2 or No. 3 to land or whatever. There was a situation where I miscounted the number since I couldn't really see the guys. I don't want to say it was almost [a mishap], but it was a little bit of a scare.
"Definitely a learning situation. It made me slow down in the plane and think things through a little more clearly."
Two places a running back never wants to fumble: the red zone, and at 10,000 feet.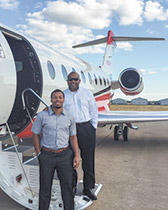 Purdue running back Markell Jones, left, was inspired to start flying after riding along with his dad, Jym Jones, a pilot. (Photo courtesy of Markell Jones)
Now he's a junior, and his hours in the air keep piling up. He's even piloted a helicopter. And just wait for the day he gets to fly his father. "I'm looking forward to that," Jym said. "We might have a chance this summer. I can sit back and let him do all the work."
Something else Markell's looking forward to: Purdue's bowl game. Jones has flown in the skies, he's flown on the ground, and has decided the two loves of his life go together.
"Absolutely. When you're on the field, you've got your co-pilot, the quarterback, who has to be in sync with the line. When I'm in the cockpit and I'm flying, I've got to be in sync with the airplane, making sure everything is reading right. There's a lot of correlation."
One last thing: the favorite movie for this college football player. "Rudy"? "The Blind Side"? "Knute Rockne, All American"?
Nah. "Top Gun". Tom Cruise as a fighter pilot. But Cruise never gained a yard in an Old Oaken Bucket game.•
__________
Lopresti is a lifelong resident of Richmond and a graduate of Ball State University. He was a columnist for USA Today and Gannett newspapers for 31 years; he covered 34 Final Fours, 30 Super Bowls, 32 World Series and 16 Olympics. His column appears weekly. He can be reached at mjl5853@aol.com.
Please enable JavaScript to view this content.