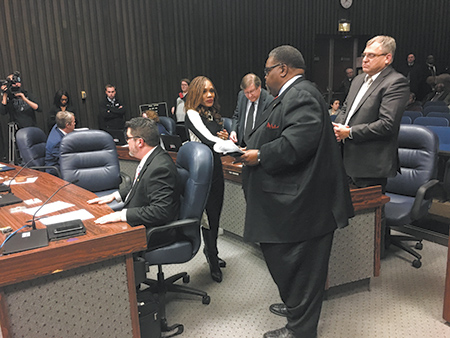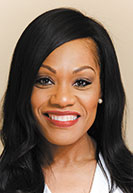 Lewis
Is the Marion County Democratic Party broken?
That's the question in the aftermath of the vote to dethrone Democrat Maggie Lewis as president of the Indianapolis City-County Council—a rebellion that came from some members of her own party who worked with Republicans to unseat her.
And there's disagreement about the answer.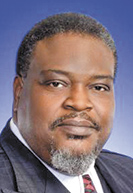 Clay
Some blame Democratic Mayor Joe Hogsett for failing to head off what Lewis called a coup. Others are so angry at the council's new president, Democrat Stephen Clay, and the four Democrats who voted for him that they are eager to run primary challengers against them in the 2019 city elections.
"He's got to go," said Brishon Bond, a consultant for local Democratic candidates and an organizer. "All of them, they're all going to be primaried."
Among Clay's first moves was appointing Republicans as leaders of powerful council committees.
"Nobody in the community outside of their little pockets of support are cool with this," said Bond, who serves as a precinct committeeman. "You can't come back from this, even if going forward they have policies or ideologies that we believe are good. That doesn't supersede what they did in ousting" Lewis.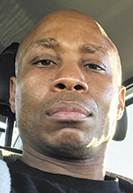 Bond
Two Democratic councilors told IBJ they have heard some of Clay's supporters express remorse about their votes after receiving backlash from constituents. Democrats LaKeisha Evans, William "Duke" Oliver, Joe Simpson and Monroe Gray voted for Clay—and none returned IBJ's requests for comment.
"I think that the base of the Democratic Party here is looking for leadership," Democratic Councilor Jared Evans said. "They're completely taken aback by this. It's absolutely unprecedented you would give away committee chairmanships."
Evans said he won't try to block those who want to find primary challengers in several races. "That is politics. If you're not serving their neighborhood, of course they're going to want people to replace you," he said. "I'm hopeful some of the rumors I've been hearing that those who have remorse on their vote come back home."
Evans
Critics say Hogsett and Kate Sweeney Bell, his handpicked chairwoman of the Marion County Democratic Party, should have been able to stop the power grab. But the mayor's spokeswoman, Taylor Schaffer, said Hogsett "made a commitment to all 25 city-county councilors that he would respect their autonomy as a separate branch of government and avoid getting involved in council disputes."
Bell told IBJ that the party's grass-roots supporters will choose which candidates to back at a pre-primary convention in early 2019. "Over the last week, I've heard from those who have raised concerns over the events that took place at the most recent council meeting, and I am sure the councilors involved realize they will face questions next year from those grass-roots supporters," she said.
Ed Treacy, former chairman of the county party, said he didn't know what Hogsett and Bell did or didn't do to try to head off the vote.
"But it's obvious something else should have been done to curtail this," Treacy told IBJ. "It takes some leadership, which I'm not sure I see coming from the party."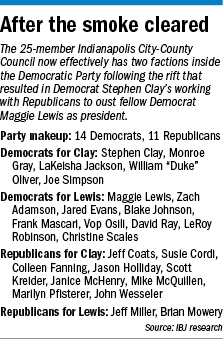 Evans said he understands the frustration with party leadership. "They need to have a come-to-Jesus moment and figure out what kind of party they're going to be."
Ultimately, party insiders say, Clay's ouster of Lewis on Jan. 8 blew wide open divisions within the party that have existed for years but remained largely under the surface.
"It's been tension for years," Evans said. "The whole thing does boil down to [Clay] wanting to be president and work different deals, and reward friends."
City-County Council Vice President Zach Adamson told IBJ it's "really too early to tell" how the Democratic caucus moves forward after the vote.
Clay said days after the vote that he hopes people move forward and accept his leadership.
"Democrats are resilient," Clay said then. "They understand that we have been given this great opportunity to serve our constituents. They understand the election is in the rearview mirror and we have a bright future ahead of us."
But it doesn't appear all local Democrats are on board with that. "It's not over," Democratic Councilor Frank Mascari said. "Marion County elected Democrats to run our city, not Republicans."
Meanwhile, despite the GOP's newfound power leading three committees, Councilor Jeff Coats told IBJ, "There's no overarching policy shift coming."
Coats also said he doesn't view the 14 people who voted for Clay as constituting a new majority—one that would overtake the Democrats' majority.
"It's probably more issue by issue," he said. "I don't look at it that way."
Wolley
Along with the political infighting, some outside groups and supporters are anxious about what will happen to Democratic priorities, such as criminal justice reform and the IndyGo Red Line rapid-transit proposal./p>
Those groups have reaffirmed their willingness to support new leadership on the council if it means making progress on issues they care about.
The African-American Coalition of Indianapolis—a group that includes 100 Black Men of Indianapolis, the Baptist Ministerial Alliance, Concerned Clergy of Indianapolis, the Indiana Black Expo, and others—released a statement Jan. 15 praising Lewis for making "progress in a number of important areas for the city" and praised her "principled stand" on seeking to raise the pay for city workers to a livable wage.
But the statement also said African-Americans and other people of color "remain frustrated on a number of fronts" and that coalition members hope Clay will work with them to, among other priorities, increase the speed of neighborhood investment, reform the criminal justice system to protect them, and help solve "crime, poverty and the absence of social mobility."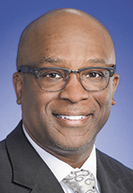 Greene
Marshawn Wolley, director of community engagement and strategic initiatives for Indiana University's School of Public and Environmental Affairs, said "it seems he would be amenable to a lot of these things, given the work he's done on public safety as well as his advocacy on diversity issues in the police department."br />
He said Clay and Lewis have voted similarly and "I'm not really aware of huge divergence in their voting records."
Rev. David Greene, president of the Concerned Clergy of Indianapolis, said he decided to support Clay because, "I'm not convinced [Lewis] had been that effective as president of the council."
"Pastor Clay and her basically supported all the major items, so they have more that's alike than different," Greene said. "I just felt like Pastor Clay would be a better fit in terms of being able to work together across the board to promote the community as a whole."•
Please enable JavaScript to view this content.