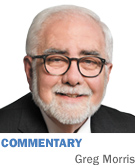 This week, I intended to turn over my column in its entirety to Steve Key, executive director and general counsel of the Hoosier State Press Association. Key makes the case, which we at IBJ strongly support, for requiring local units of government to publish their annual reports in newspapers—a long-standing practice that's under attack at the Statehouse.

However, at press time, two House committees removed language that would have eliminated the publication requirements for annual reports for cities and towns and townships. The mood was not conciliatory from one committee, which put newspapers on notice that the concept of publication of public notices will be addressed further either during the summer in an interim committee or in a bill presented for the 2019 session.

There are two other anti-public-notice bills still in the queue, but my hope is they do not get a hearing.

All of these bills, along with the "promise" of further action, is a very clear signal to me that, at least some legislators, have an ax to grind with the newspaper industry and they aren't finished with their effort to eliminate the requirement to publish public notices.

As such, Key's remarks, edited with permission for space and reflecting the recent legislative actions, are still relevant:

At the end of their year, corporations create an annual report for their shareholders. They mail it to those shareholders or present it at a meeting of those shareholders. The information helps investors decide if they want to increase or decrease their holdings in that corporation.

At the end of the year, local governments complete an annual report for their shareholders—taxpayers. For decades, the Legislature has required that those reports be published in local newspapers. The information helps taxpayers determine if their tax dollars have been spent wisely by elected officials.

Two bills that were under consideration in two different House committees would have required that the reports be published only on a government website. The proposals would have removed the annual reports from newspapers, which are read weekly by 3 million adult Hoosiers. The suggested replacement was the Department of Local Government Finance's Indiana Gateway website.

The website contains a wealth of information that the majority of Hoosiers has no idea is available—and that's the problem with the legislative proposals.

Only 12,300 unique visitors visited the Gateway, where local government budgets are posted, in 2017, and that weak number surely includes officials from the more than 2,000 local government units who are told to go online to make sure their budgets have been posted correctly. That means the number of taxpayers who visit this site is less than a weekly average of 237 unique visitors.

Let's recap: Publication of annual reports puts your local government's year-end snapshot into the hands of 3 million Hoosiers. Posting on a government website might be seen by fewer than 250 Hoosiers in any given week.

The question for Hoosiers is whether they prefer government efficiency at the expense of public knowledge. Hoosiers, in a survey conducted for the Hoosier State Press Association & Foundation by American Opinion Research, have spoken clearly on this question.

Sixty-three percent of adult Hoosiers say government officials should publish public notices, such as the annual reports, in local newspapers—even when it's pointed out that publication of notices over the course of a year could cost a public agency several thousand dollars.

It's up to you to tell legislators this is a government-transparency issue and that you want to know what local government is doing.•

__________

Morris is publisher of IBJ. His column appears every other week. To comment on this column, send email to gmorris@ibj.com.