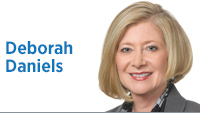 The country watched in horror as 156 sexual abuse victims of Dr. Larry Nassar testified at his sentencing hearing in Michigan.
Questions arose: How did this go on for so long? Who knew and failed to act? How could adults who worked around Nassar, or parents, not know? How can other young athletes be protected from predators like Nassar?
Sexual abusers seek access, privacy, secrecy and the opportunity to develop a relationship of trust with their targets. Often, they ingratiate themselves to adults surrounding their targets, particularly the parents. One of Nassar's victims was repeatedly molested in Nassar's house, beginning at age 6, while her parents, his good friends, were in another room. When told of abuse, such parents often, tragically, fail to believe their children.
Athletes from various sports, from swimming to Taekwondo, have been sexually abused; the risk is enhanced by the high-pressure environment of Olympic sports. The all-encompassing training regimen isolates athletes and can limit their comprehension of the normal boundaries of adult and child interaction, making it hard for a young athlete to recognize what constitutes unacceptable conduct. Gymnastics bears particular risks: In "women's" gymnastics, the athletes are very young, some reaching the elite level of competition by age 11.
Pre-pubescent girls are eager for the approbation of adults, and seek approval, particularly from someone like a coach—or a doctor—who is viewed as superior to and more knowledgeable than they. The subjectivity of team selection gives coaches and team staff an unusual amount of control over whether an athlete will compete. And in gymnastics, where injuries are common, the athletes are taught at an early age to "tough it out"—not to complain or demonstrate weakness. A perception of a lack of mental and/or physical toughness can lead to an athlete's exclusion from competition. For understandable reasons, only athletes who are perceived to be able to withstand the physical and emotional strain of competition will rise to the top of their craft and be selected for inclusion on a national team.
That's not all. In gymnastics, there is greater opportunity for adults to be alone with the athletes, for example, through private lessons. The sport not only permits, but to a certain extent requires, physical contact between coach and athlete.
Participation requires obedience: To avoid injury, the athlete must follow the coach's instructions fastidiously. There is no room for individualism, disagreement or even questioning of the coach's instructions. Parents, too, are taught that the coach—or doctor—is not to be questioned.
Everything about this environment, while comprehensible in the context of a highly competitive Olympic sport, tends to suppress reporting of inappropriate actions. And, perhaps worst of all, athletes who report abuse are often ostracized by coaches, fellow athletes and even athletes' parents.
This is why the entire culture of competitive gymnastics must be changed, to focus on protection of athletes above all else. Athletes and parents must be educated about the dangers. Everyone who interacts with the athletes must be carefully screened. Anyone suspecting abuse must be required to report it—promptly. Violation of the rules must have real consequences. Athletes must have a safe reporting channel. And above all, they must be believed.
The good news: Congress has passed a bill, authored by U.S. Rep. Susan Brooks of Indiana, to require reporting and increase the rights of athletes. The new leadership at USA Gymnastics is taking important steps as well. But everyone, in every sport, must become more vigilant to avoid the ruination of more young lives.•
Click here for more Forefront columns.
__________
Daniels, a partner at Krieg DeVault LLP, is a former U.S. attorney, assistant U.S. attorney general, and president of the Sagamore Institute. Send comments to ibjedit@ibj.com.
Please enable JavaScript to view this content.