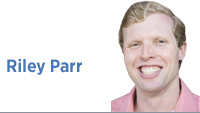 On Feb. 4, millions of people across the nation will tune in to watch the Super Bowl—and, I hope, watch the Eagles beat the Patriots. Some, undoubtedly, will watch for the commercials. Then, regardless of the outcome, there will be discussion about where Tom Brady ranks among the all-time greats. (Apart from being discussed ad nauseum, that's a pretty academic discussion: What even does it mean and how do you measure it?)

Then, in a few days' time, the 2018 Olympics start in Pyeongchang. Of course, the U.S. Olympic teams of today look vastly different from, say, the 1980 U.S. men's hockey team that upset the Soviet Union and ultimately won the gold medal, or the Bob Knight-led 1984 men's Olympic basketball team that was the last amateur U.S. team to win a gold medal in men's basketball.

Sports, though, are about more than an individual game or particular sport; they represent the pursuit of excellence. And by definition, that means some will lose and some will win. Just like in life. (I could go into the problems with the everybody-always-gets-a-trophy mentality, but that's a discussion for another time.) Sports also provide an arena to develop a plethora of skills that are essential for becoming a more well-rounded person: hard work, dedication, individual and collective effort to accomplish a goal, and physical and mental conditioning.

In other words, sports can provide a great training ground for life. That's probably why coaches like John Wooden and Bob Knight referred to themselves as teachers numerous times throughout their respective careers.

Unfortunately, the leveling mentality that everything can be perfected is now commonplace in nearly every sport. The concept of reviewing nearly every call in football, basketball and even baseball games to ensure any mistake by a referee is immediately remedied not only detracts from the enjoyment of watching highly talented athletes compete, but also paints an unrealistic picture of how lessons in sports correlate to the real world. And in so doing, that can severely diminish the long-term benefits that extend beyond three hours' worth of entertainment.

Maybe that's why I would almost rather go to a high school sporting event than watch most college teams, and certainly any professional team. It is the pure sport, (mostly) devoid of commercialism; it is the pursuit of perfection, rather than governing body-imposed rigidity; and it is a group of individuals who are actually dedicated to the team, rather than sticking it out at a school for a year before they make the jump to the NBA. Of course, class basketball shifted that dynamic, at least to some degree. Largely, though, amateur sports represent, as Norman Dale said, "Five players on the floor functioning as one single unit."

The other day I was having a similar conversation regarding auto racing with someone who spent a decent amount of his life around racing. That—for all the good the folks out at IMS have done (and they have done a phenomenal job) over the last five years to re-invigorate interest in what can best be described as neck-and-neck with high school basketball as Indiana's pastime—the best racing is at the dirt tracks that dot Indiana's landscape. That, my conversation partner argued, is how it used to be at the 500. Back before individuality, ingenuity and grit were regulated out of existence.

So when you crack open that beverage, dig into the chip dip, or fire up the grill this Sunday, don't forget the deeper purposes sports can provide.•
Click here for more Forefront columns.

__________

Parr is a student at the Indiana University Robert H. McKinney School of Law in Indianapolis and is treasurer of the Indiana Young Republicans.Send comments to ibjedit@ibj.com.