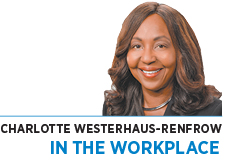 We've all been there. That moment you know what you want to ask for, but you're not sure how to do it. Or where to start. You feel you deserve a raise or promotion, but how can you get what you want?
For many people, negotiations can be difficult, especially if you're less experienced. You might be fearful and second-guess the offer you're bringing to the table, thinking your employer could take the offer away if you negotiate too hard.
My advice: You never get what you don't ask for.
This message is particularly important for women. Studies show women often just don't ask.
A study highlighted in Harvard Business Review shows starting salaries of male MBAs from Carnegie Mellon were almost $4,000 higher than those of female MBAs. The researchers said that's because most of the women "simply accepted the employer's initial salary offer."
This matters beyond someone's first job. Research from Linda Babcock and Sara Laschever published in "Women Don't Ask: Negotiation and the Gender Divide" shows people who don't negotiate their first salaries will lose more than $500,000 by age 60.
The U.S. Census Bureau reports women in the United States make, on average, 80 cents for every $1 paid to men. According to the National Women's Law Center, black and Latina women will lose more than $877,000 and $1 million, respectively, over a 40-year career compared to their white male counterparts.
You have to ask. And here's how you start.
Be prepared
Come to the negotiation with specific numbers of where you want to be and where you will settle. Be prepared to negotiate based on competitive salary information you've found. Come armed with hard data; show your boss you've done research. And what else are you asking for? Perhaps it's not just money. Come with specifics about other compensation issues you would consider, including vacation time, bonuses and professional-development opportunities.
Have an alternative
Always assume there is a bit of leeway in the overall compensation package. If you don't get your proposed salary, what is the best alternative to your negotiated agreement? We call this BATNA: your Best Alternative to a Negotiated Agreement, a concept introduced by researchers Roger Fisher, William Ury and Bruce Patton. Be prepared for "no," and if you hear "no," have something else to negotiate for. Have a backpack full of solid alternatives and pick the best one if needed.
Find common ground
Open the negotiation by finding commonalities with your employer from the beginning. Getting other parties to talk about themselves by seeking advice or asking about their early career also humanizes the discussion; it's more difficult to say "no" from the perspective of a helpful mentor talking to a colleague.
Be confident
One of the first lines a savvy employer will give you is that salary is non-negotiable, but that is likely not true. Ask for what you deserve. Be a bit more assertive and confident with that knowledge. Remember, your opening offer and your employer's counteroffer are just starting lines. Don't take a "no" from your employer as the last word and walk away empty-handed.
Salary negotiation can be stressful, but stay confident. You've earned the job, or proven yourself in it. Now, reap the rewards. People in business typically respect a good negotiator, and they want that good negotiator on their team. Just as a marathon starts with a single step, fair compensation starts with the courage to ask.•
Westerhaus-Renfrow is a clinical assistant professor of management and business law at the Indiana University Kelley School of Business at IUPUI.
Please enable JavaScript to view this content.