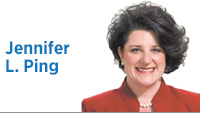 In Indiana, we get a lot of things right. I want to applaud the Trump administration for looking to Indiana as an example for health care reform. But it should be encouraged to look at Indiana yet again—this time, as an example for higher education. In particular, I encourage President Trump to take a look at what Indiana has created to prepare its workforce for careers, vocational-skill certifications and two-year degrees. He should look to Ivy Tech Community College.

At a recent GOP retreat, Trump compared community colleges and vocational schools, saying, "A lot of people don't know what community college means or represents." Ivy Tech Community College was founded as a vocational technical college and still offers courses and certifications in traditional vocational skills. Students at Ivy Tech can also take courses in business, communications, arts, information technology, nursing, health sciences, advanced manufacturing and much more as they work toward a two-year degree or as part of more than 100 credit-transfer programs, where students can start on a four-year degree for a fraction of the cost.

Ivy Tech is the largest community-college institution in the nation, with 19 campuses serving 75 communities in Indiana. Its mission is to serve the people of our state through accessible and affordable world-class education and adaptive learning, to empower students to achieve career and transfer aspirations, and to embrace economic transformation inspired by the education and earnings attainment of our citizens, the vitality of our workforce, and the prosperity of our unique and diverse communities.

Community college can be the right place to learn a trade, take a business class or a computer science class, or get started on the path to a four-year degree. Ivy Tech offers more than 150 programs, all at an affordable rate, that help Hoosiers obtain the right credentials for high-wage and high-demand jobs.

Moving through the Indiana General Assembly, House Bill 1002 and Senate Bill 50 both set the stage for Indiana to improve our higher education and employer connections. They both push for career coaching in middle schools and high schools to provide students and parents with the information they need to choose paths and programs that will be right for them—whether that be through career and technical education, an associate degree or a path straight to a four-year university. They emphasize the importance of connecting students to employers and providing work-based learning opportunities.

These provisions dovetail nicely into Ivy Tech's new strategy, which focuses on students earning 50,000 high-quality certifications, certificates and degrees per year, aligned with the needs of the Hoosier workforce. It focuses on student success; enrollment and recruitment of individuals from every demographic into high-demand, high-wage pathways; completion of credentials; placement of students in high-demand, high-wage jobs; and effective engagement and partnerships with our communities—including local governments, employers, secondary schools and higher education partners.

This, Mr. President, is what community college means: career training, vocational-skills training, certificates, affordability, two-year degrees and the opportunity to transfer to a four-year institution. It means being a key partner in the community and supporting a diverse workforce that can take Indiana, and our nation, to the next level.•
Click here for more Forefront columns.
____________

Ping is a principal at Bose Public Affairs Group and former chairwoman of the Marion County Republican Party. Send comments to ibjedit@ibj.com.