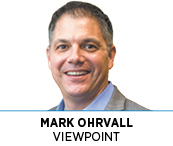 Survive and advance. With another year of March Madness coming to a close, it's a phrase we've heard over and over again from broadcasters, coaches and the players themselves. Do what is needed to win that particular game at that particular time.
A team's agility will determine its level of preparedness for whatever challenge awaits. If adjustments can't be made quickly, it's only a matter of time until you're on the outside looking in.
Companies are no different, but the stakes are much higher. Nearly 90 percent of all companies featured on the Fortune 500 in 1955 were nowhere to be seen on the same list in 2016. Yes, mergers account for some of that turnover, but the cause most often boils down to one thing: lack of agility.
Can a business transform its operations quickly enough to both combat more nimble competition and meet the ever-changing—and technology-driven—needs of its consumers? 
Most leaders would say yes, but we know all too well the numerous examples contradicting such confidence. Ask former executives at Blockbuster when they began to worry about Netflix, a company now barely 20 years old that reported more than $11.5 billion in revenue last year. Ask Yellow Cab and other taxi companies if they predicted the rise of Uber and Lyft.  
We have our own examples right here in Indiana. Could Marsh have survived, maybe even thrived, if it had completely rethought its technology infrastructure and customer interaction? It's certainly a possibility.
At Alibaba's Tao Cafe in Beijing, customers are scanned as they exit the store and payment is collected from the Alipay payment app on their mobile phone, avoiding the need for a cashier. Amazon just opened its first of several planned U.S. stores with similar technology.
With vast resources at their fingertips, what causes industry mainstays to fail, and why is this cycle of Fortune 500 turnover becoming more frequent? 
It's a complicated phenomenon, but common threads exist, and most failures stem from a lack of agility.  
Many of the traditional barriers to market entry no longer exist, eliminating most advantages large companies previously enjoyed over potential new competitors. Technology has made it possible for any company to instantly reach billions of potential customers, many of whom will freely change their buying habits to increase convenience.  
Your competitors are measuring their agility in days and hours … are you?  
Companies that hang on to dated technology and inefficient processes will soon find themselves vulnerable to more agile competitors. They will be unable to pivot due to cumbersome technology infrastructure.  
Disrupt or be disrupted.  
In Indiana and throughout the Midwest, the threat is even greater because we tend to be more traditional and reluctant to upset proven success. Indiana is too often a closed society unwilling to take advantage of creative disruption. Unfortunately, this business mind-set will only become more detrimental as our world becomes more digital.
Indiana businesses must seek out partners who will tell them the truths they need to hear—similar to that tough coach who refused to let you cut corners.  
Survival requires a willingness to evolve.  
Indiana companies must seek innovation and embrace emerging technology at earlier stages. Doing so will lead to more efficient operations, less duplication and, most important, better connection to customers.
So, will Indiana companies take control of their fate by proactively disrupting their current operations, or will they be disrupted by competitors and fade into irrelevance?
Perhaps they should take a few pointers from this year's Final Four teams.•
__________
Ohrvall is senior vice president and Indianapolis center head for Virtusa, a worldwide provider of IT consulting and outsourcing services.
Please enable JavaScript to view this content.