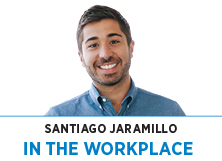 The speed of change in our workforce is accelerating faster than ever before. We can all feel it. I know I do in my role as CEO. Automation continues to replace low-skill jobs, and new innovations (think: Uber) are requiring industries with outdated business models to adopt new capabilities to succeed (taxi drivers now need customer-service skills).
To keep up with this change, we implement tools and hire skilled workers to help us navigate the uncertainty of a changing landscape. Because of this rapid shift in how we work, talent has emerged as a critical resourcing issue for employers. According to a survey by the Associated General Contractors of America, about 70 percent of U.S. firms report difficulty finding qualified workers. The report stated that our nation's need for workers in skilled trades—such as mechanical, engineering and electrical work—is increasing much faster than the number of people pursuing these types of jobs.
In addition to the increased demand for skilled labor, the time it takes to fill an open position is at an all-time high, hovering around 35 days. To further compound this "talent crunch," the U.S. unemployment rate continues to edge closer to an all-time low, effectively creating full employment for many roles. February 2018 marked the 89th consecutive month of job gains, the longest streak since the Labor Department began keeping track in the 1940s.
Health care, technology, technical-services organizations and many other industries are experiencing this dynamic even more acutely. The demand for talent to fuel growth is outpacing the supply. Workers have abundant access to find and frictionlessly apply to open positions, as job boards are as accessible as downloading an app on your phone. We're experiencing talent shortages in a job-abundant market, with little respite in sight.
Shifting employee expectations
Not only do employees have more options for employment than ever, they also have higher expectations of what they want in a job. Glassdoor recently found that employees now care more about the culture and values of an organization, as well as their belief in company leadership, than financial compensation and benefits. In my experience working with organizations across the country on their strategic employee-engagement efforts, I have found that workers are more actively seeking professional-development opportunities, a sense of purpose and meaning, and better manager feedback over increased salaries. This evolved perspective of work is challenging executives to clarify and communicate their organizational values, cultures and leadership styles.
To add further importance to this shift in expectations, top candidates care more about an employer's culture and brand reputation. Most potential employees will check Glassdoor before even speaking with a recruiter. And with 69 percent of Americans being unwilling to work for a company with a bad reputation (even if they're currently unemployed), it has become imperative for businesses to curate their employer brand through an authentically good employee experience.
How to succeed?
To overcome the talent disparity, we must foster organizational cultures that inspire employees to be fully engaged—an environment where people can do the best work of their lives. We must cultivate places of work where people clamor to apply and refer their best colleagues after they join. Where leaders remove engagement blockers, earning the hearts and minds of their teams in the process. Where discovering authentic purpose, meaning and autonomy is the norm. Sounds easy enough, right?
But engaging and retaining employees is something that requires defined ownership from all levels of the executive team and shouldn't fall solely into the hands of human resources. It's also damaging to rely on Band-Aid solutions to build your culture (like snacks or happy hours or other "perks"), instead of understanding how to truly foster engagement for employees. The sooner we make strategic investments in building a more sustainable culture and solving for the most critical engagement blockers, the sooner we'll become skilled talent magnets and workplaces of choice.
In the coming articles, I'll offer suggestions for attracting top talent and ideas for engaging current workers beyond pay and perks. I will also discuss HR's role in partnering with other functions within the business to drive this change. In the meantime, let's begin thinking about what people and culture strategies will help each of us attract, engage and retain top employees in this historic talent crunch we are experiencing today.•
__________
Jaramillo is co-founder and CEO of employee engagement firm Emplify.
Please enable JavaScript to view this content.