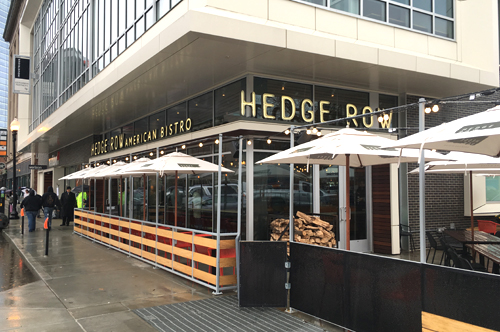 Kimbal Musk has an earthy mission: promote locally grown foods and make sure people can access them. 
His not-for-profit organization, Big Green (formerly The Kitchen Community), seeds gardens at schools in Indianapolis and elsewhere. As a restaurateur, Musk is about to open two Indianapolis eateries that focus on green fare.
The upscale Hedge Row at 350 Massachusetts Ave. has its grand opening on Tuesday. Next Door, a more modestly priced bistro featuring salads, mixed-food bowls, burgers and sandwiches, is set to open on May 1 in the former Double 8 Foods store at the southeast corner of 46th Street and College Avenue. Both restaurants are part of the Kitchen Restaurant Group, which Musk co-founded with Hugo Matheson in 2004.
The menus at both restaurants will be almost entirely based on ingredients from Indiana farmers, bakers, butchers and other producers, Musk said.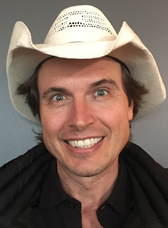 Kimbal Musk
But Musk also has a foot in the tech world.
In the 1990s, Musk partnered with his older brother, tech giant Elon Musk, on a startup called Zip2. The company, an online city guide platform, was purchased by Compaq in 1999 for $307 million.
Kimbal Musk is also on the boards of directors of both Tesla Motors and Space Exploration Technologies Corp., commonly known as SpaceX. Elon Musk is the CEO of both of these companies.
On Thursday evening, IBJ sat down with Kimbal Musk at Hedge Row to talk about his new Indianapolis restaurants and the intersection between local foods and high tech—with some cooking tips tossed in along the way.
Q: Do you have tech elements in this restaurant?
A: Yeah. There's actually quite a lot of tech in our restaurants. Nothing that the guest sees, and it's not our intention for them to see it. But I've really done my best to take the best learnings that I can from Silicon Valley that are about using the most amazing technology that you can imagine in new and interesting ways.
But I don't like it if the guest sees it. I want them to just enjoy a better experience because of that. So the food may come out faster or the waiter might be a little more attentive. The food might be a little better. It's all driven by advances in technology, as well as of course our team. They're amazing.
Q: Can you give an example? 
A: We use automation in our ovens. We work with local farmers and the food is always fresh.
Cauliflower is a good example. The complexity in cooking cauliflower is quite high. You have to boil it, you have to take it out of the boiling water. You have to cool it down immediately. Then you have to bake it. Then you have to roast it, and that gives it a caramelized texture. And then you have to cool it down again. It's a very complicated thing. If you learn as an apprentice to a chef, you might take 10 to 20 years to learn how to do that consistently.
With our automated ovens, we can work with our local farmers. They can bring in cauliflower, for example, that afternoon. And our ovens know how to cook that cauliflower perfectly, and with a lot of flexibility. We'll actually put a program to that cauliflower, a little measuring stick. It will steam the cauliflower, it will bake it to pull the moisture out, it will caramelize it and then it will cool it down. To explain how hard that is is really hard if you may not know how ovens work. But it's like incredibly hard to do.
What we're able to do as a result is be so much more flexible with our farmers. We don't quite know what they're going to bring in that morning. Sometimes it's raining so they have to bring us something else. How can we adjust really quickly? We use these fairly high-tech ovens that can help us create recipes with our chefs ahead of time, but in the moment change the entire way we're cooking because the food is different.
Q: So the oven will take those multiple processes and do it in one device?
A: Yeah. These are the most high-tech ovens in the world, made in Germany. I think we're one of the few players in the country to use them correctly, use them in the way they're designed.
Q: I guess I've been cooking cauliflower wrong at home. To me, it's just a "steam it and eat it" process. 
A: That was, as a kid, my nightmare. My mother used to cook it that way. If you do exactly what you just said, steam it, and then bake it so it concentrates the sugars, it has a crunch to it instead of steamed. Oversteamed, it can be mushy.
Q: Oh yeah. Overcooked is bad.
A: My mother is a nutritionist/dietician. She used to feed me vegetables all the time. She was a terrible cook. I remember staring down cauliflower while she was cooking it, from 20 feet away going, "Oh my God. I'm going to have to eat that." (laugh)
My mother is wonderful, but that is just not one of her strengths.
I work with kids in schools. It's really important to me that kids eat vegetables that are cooked well, that have a focus on the flavor of it. Nutrition, of course, is great in vegetables but you also want them to taste good.
At Next Door, I think we've done a wonderful job of using technology, similar to the kind of ovens I've described, to get the price (of menu items) down and make it affordable for families and students to eat fantastic food, including roasted vegetables, and really enjoy it and love it.
Q: How will it reduce costs?
A: At Hedge Row, we have chefs that are well-trained, with 10 to 20 years of experience. At Next Door, we want to be able to take a 19-year-old or a 20-year-old, and, using automation, empower them to cook like a two-star Michelin chef. They don't have to have the training as much.
If you have 10 years of training, you're going to get paid a lot more. If you're a 19-year-old and this is your first job–as long as we can make sure you do a good job of cooking, we're going to pay an entry-level wage. Which is amazing for the young chef because they get a start, and it's good for our business because we can run a more sustainable business.
Please enable JavaScript to view this content.