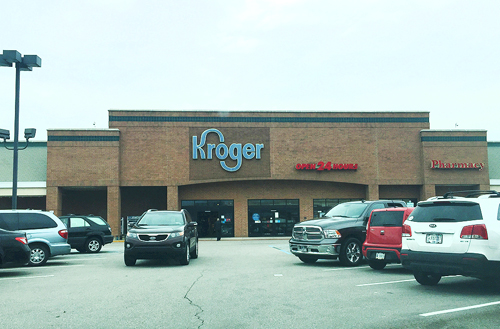 The Kroger Co. is abandoning its plans to build a 123,000-square-foot Kroger Marketplace store near the busy intersection of Allisonville Road and East 116th Street in Fishers and instead is choosing to remodel an existing, but much smaller, store across the street.
The Cincinnati-based grocery chain announced Friday afternoon that it would launch a "multi-million dollar" renovation of its current store at 7272 Fishers Crossing Drive on the northwest corner of Allisonville Road and East 116th Street. The existing store is about half the size of the proposed store that was announced just over a year ago for the northeast corner of the same intersection.
The decision leaves a massive hole to fill for Kite Realty Group Trust, which has mostly completed a massive redevelopment project at Fishers Station shopping center. Kite announced in February 2017 that Kroger had signed a lease to anchor Fishers Station. Kroger confirmed plans to spend more than $20 million on the new Marketplace store.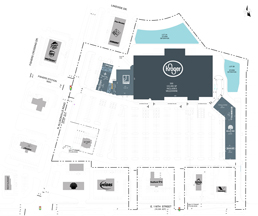 CLICK IMAGE FOR LARGER VIEW: The Kroger on this site plan for Fishers Station (darkest shaded area) was never built, but the rest of the center has been finished.
Kite has since demolished a former 57,000-square-foot Marsh Supermarkets store at the site, relocated retention ponds, and remodeled or rebuilt the rest of the shopping center. Most of the center is leased, but contains a major open spot in the middle that had been reserved for Kroger.
Kroger, however, said its latest decision "ends the discussion" of building a larger store across the street.
"In today's business climate, refreshing the present building is the most logical decision and will still allow Kroger to provide even better service to our customers," Kroger said in a written statement.
A timeline for the remodel will be announced as details are determined, Kroger said. Kroger officials had previously said there wasn't room at the site to expand the existing store.
Ken McClure, Kroger's regional director of corporate affairs, told IBJ in an email that the decision was part of the company's "Restock Kroger" plan.
Kroger between 2015 and 2017 undertook 212 major projects—defined as new, relocated or expanded stores—and had expected to complete 300 more projects between 2018 and 2020. But that number has been revised to between 65 and 75, according to a Kroger document.
"As part of the Restock Kroger plan, the company will utilize more of its capital to fund technology and infrastructure upgrades to provide customers with a seamless shopping experience by accelerating digital growth in the region through services like curbside pickup, Scan, Bag, Go and delivery," McClure said in his email. "New-store development is being reprioritized, and the decision to remodel the location at 7272 Fishers Crossing Drive is an example of this reprioritization."
McClure didn't directly address a question from IBJ asking whether a new Fishers ordinance affected Kroger's decision. In December, the Fishers Town Council passed the ordinance requiring closed grocery stores to remain supermarkets when the sites are redeveloped unless the city gives special permission for another retail use.
Kroger opposed the council measure. Company officials said it would intrude on the company's ability to compete in the open market.
Fishers Councilor Richard Block, a real estate broker who voted against the city ordinance, told IBJ Monday morning that he doubts the ordinance played a role in Kroger's decision.
"I think this is a bigger corporate decision by Kroger," he said, noting that he and his fellow councilors "were all hopeful that [the new Kroger store] would have been the catalyst for more [redevelopment] to come in that area."
A Kite executive didn't return a phone call from IBJ on Monday morning seeking comment on Kroger's decision or what happened to the lease agreement.
Indianapolis-based Kite had estimated the Fishers Station redevelopment would cost it $10.5 million to $11.5 million to complete.
Tenants include Noble Roman's Craft Pizza & Pub, Little Caesars Pizza, Goodwill, Jason's Deli and Tequila Sunrise Mexican Cuisine.
Marsh closed its store in Fishers Station in 2015, along with several others that ultimately led up to the company's ceasing operations in May 2017. Kroger and another Ohio-based grocery chain, Fresh Encounter, agreed to buy 26 of Marsh's 44 remaining stores for a total of $24 million.
Please enable JavaScript to view this content.