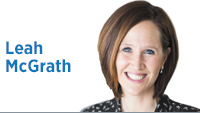 A few years ago, I was sitting at the hospital with a friend after a procedure. I was helping her home, and the doctor came in to discuss discharge instructions. He told us he would be writing her a 30-day prescription of Vicodin.

Thirty days of Vicodin rang in my mind like a very long time, especially for someone who was already emotionally fragile dealing with a difficult diagnosis. I spoke up at this point and asked, "How long do you expect her pain to last and necessitate pain medication?" He responded, "Shouldn't be more than three days. If it lasts longer, I would want you to call me." To which I replied, "Why not prescribe three days' worth of Vicodin and go from there?" All nodded and, without any further discussion, he said, "OK, that sounds good." And my friend went home with three days of Vicodin. She took it for two days.

The doctor was well-meaning, but he should never have suggested a 30-day prescription of Vicodin. And that is where this mess for so many begins: a simple prescription for pain, or worse, for "potential" pain.

I applaud the work of Gov. Eric Holcomb, U.S. Rep. Susan Brooks, state Sen. Jim Merritt and others who are advancing opioid policy to increase the number of treatment centers, enhance penalties for dealers, improve data and improve education. These are important and needed initiatives in addressing the urgent and complex problem.

Prevention needs to be the next singular focus, and it will require long-term thinking and a cultural shift, if we are to get to the source of our pain. Let's discuss: prescriber accountability, mental health, and our cultural expectations around pain and "patient satisfaction."

In most policy circles, discussions around prescribers focus on education. I'd like to suggest a different word: accountability. Prescribers need to be held accountable for how they prescribe opioids, and to whom. Offering a 30-day prescription for pain that might last three days should never happen. Prescribing opioids needs to be something undertaken with serious deliberation, responsibility and a complete patient history, including mental health.

The role of mental health in this crisis cannot be ignored. Last year, a study published in the Journal of the American Board of Family Medicine showed adults with mood disorders accounted for 51 percent of opioid prescriptions distributed in the years studied. It found that 19 percent of adults with a mood disorder (almost one in five) were prescribed an opioid, compared to 5 percent of the general population. That means, if you have depression or anxiety, you are more likely to be prescribed an opioid.

What is even more concerning on the mental-health front are recent studies that show the relationship between opioid abuse and depression is bi-directional, meaning suffering from one increases the risk of the other. We have to be vigilant in continuing efforts to improve mental-health access, break down the stigma and equip future generations—our youth—with the coping skills they need to live well.

Culturally, we have some work to do. We need to shift our expectations that doctors should be able to "solve it all with a pill." Pain-free procedures and pain-free living are not realistic, nor should that be the expectation. Measurement of "patient satisfaction" in health care is dangerous in that it perpetuates a culture of "zero pain."

Let's redefine our expectations with a focus on positive healthy outcomes, not happy patients. Happy is transient. Healthy—physically and mentally—can last a lifetime. For opioids in Indiana, the work has just begun.•


Click here for more Forefront columns.

__________

McGrath is deputy mayor of the city of Fishers and is vice chairwoman of the Indiana Republican Party. Send comments to ibjedit@ibj.com.