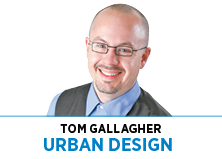 In late March, Mercer, a consulting firm specializing in city benchmarking and global mobility services, released its 2018 Quality of Living Ranking of international cities. While Indianapolis was not among the 230 reviewed cities, the report had a few compelling takeaways for us.
The top-ranking U.S. city, San Francisco, came in at 30th. Minneapolis and St. Louis, which, of the cities studied, are arguably most like Indy in that they are Midwestern 18-hour cities, fell in at 46th and 61st, respectively.
Only four cities in the top 20 are in North America, all in Canada. Most beguiling, of the 20, 13 are in Western Europe, with Vienna, Austria, taking the top spot. Beyond their relatively close proximity, these top-ranked cities have a few common factors that are good lessons for us. In particular, they appear to place a high value on the public realm.
Of course, we know intrinsically that civic spaces are important, but how we choose to devote dollars is a more clear indication of what we value. Consider, for example, how we spend on our most common public spaces: streets. Generally speaking, in downtown Indy, we can refurbish a block-length of street for about a million dollars. On the surface, that might seem like a reasonable investment, but let's unpack that number a bit.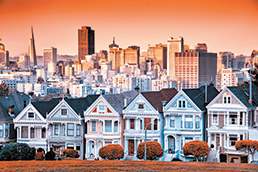 San Francisco was the top-ranking U.S. city in a 2018 Quality of Living Ranking of international cities. (photo courtesy of shutterstock.com)
That million dollars breaks down to about $25 per square foot. In comparison, the average building along that street costs $200 per square foot, and that doesn't include tenant buildouts, which might run as high as another $200 per square foot. While the $200 per square foot is not likely getting us buildings that will last hundreds of years, they'll be around for at least 50 years or so.
Our investment in streets isn't so long term. The $25 per square foot gets us concrete curbs and sidewalks, full-depth asphalt street pavement and a limited number of furnishings, such as updated light poles and waste cans. Concrete curbs have a life span of 15 to 20 years. And the asphalt? We know all too well it doesn't last long.
Additionally appointed, a place like Georgia Street uses street pavers, shade trees and augmented soils to help the trees survive in urban conditions, and a sustainable storm-water system that keeps rainwater out of our combined sewers and replenishes the local aquifer. With such upgrades, a street costs approximately $90 per square foot. Had Georgia Street used the traditional method of granite pavers and curbing, it likely would have cost closer to $150 per square foot—still well below the square-foot cost of an average building—and would essentially last indefinitely.
Clearly, buildings are an indispensable ingredient to the life of downtown and they form the walls of the outdoor rooms that are our public realm. Nevertheless, most of us will never step foot inside the vast majority of them.
Our public spaces, on the other hand, are open to use by all of us and our visitors. They are the most outward sign of a city's values and must withstand the wear of weather, time and hundreds of thousands of people. Given that, I offer another metric, "cost per capita."
The current rule of thumb in office buildings is to provide about 150 square feet per employee. At just $200 per square foot, that equates to spending $30,000 per person. Even if we were kind and suggested that, on average, we spend $50 per square foot on our downtown streets and that only 200,000 people (a quarter of our population) ever go downtown, we spend barely a tenth of that per person.
More and more studies are making it clear that great public spaces pay great dividends. The opportunities for walkability and interaction with nature and one another not only benefit our mental and physical health, they stabilize and strengthen the marketplace. Yet that tends to be the first part of the budget to be cut or not included at all.
Whether we hope to compete with the best or to simply provide our citizens with the highest quality of life, we need to understand better and take seriously the investment in our public realm and the transformative power it can offer.•
__________
Gallagher is a principal and urban designer with Ratio and a professor-in-practice of urban design at Ball State University. Send correspondence to TGallagher@ratiodesign.com.
Please enable JavaScript to view this content.