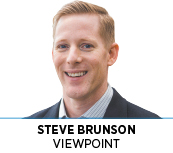 The technology sector in Indiana has never been stronger. From successful exits such as Applied Intelligence and ExactTarget, to the arrivals of Infosys and Salesforce, the Hoosier state is beginning to make noise that can be heard well beyond our borders. The Indianapolis technology sector has palpable momentum.

Despite its success, Indiana's tech ecosystem still faces two significant challenges— funding for Hoosier scale-ups and the availability of talent in our workforce. These challenges are no secret. Tech leaders have been banging this drum for years. Legislators and leaders in state government have even been saying (and mostly doing) all the right things to support our technology sector, but there's a threat on the horizon.

During much of the 2018 legislative session, House Bill 1002 included a provision that would sunset Skills Enhancement Fund training grants in 2019.

The SEF program reimburses companies up to 50 percent for eligible training costs, an excellent tool for giving Hoosiers the necessary skills for today's economy. SEF grants, administered by the Indiana Economic Development Corp., provide Indiana with a critical competitive advantage in attracting businesses within such targeted segments as technology, life sciences and advanced manufacturing. In 2017, IEDC offered 161 new training grants worth $18.5 million.

As a site selection adviser who works with expanding technology companies across the country, I can confirm that SEF training grants provide a strategic advantage for Indiana and its technology sector. While many other states have rigid programs that require classroom training, Indiana has programs like SEF that support both classroom learning and on-the-job training.

The need for on-the-job training within the technology sector has never been greater. While overall improvement of Indiana's workforce through structured training is a noble cause, internal training will always be critical to the success of companies driving our key economic sectors. Ask leaders in technology and life sciences, and you will learn that internal training is both necessary and expensive.

Eliminating SEF grants or limiting the training it funds would slow our technology companies at the exact time we should be speeding them up.

The vision of Gov. Eric Holcomb and the Legislature to invest in workforce development should be commended. Their desire to ensure oversight of workforce programs and assess effectiveness are also noble endeavors.

Unfortunately, legislators might be overlooking the critical importance of programs like SEF, which directly affect the quality of our workforce and the success of our most ambitious companies. The most critical skills have always been—and will always be—taught on the job.

In the end, the provision eliminating SEF grants was removed from the workforce bill. However, the program's future remains unclear. I encourage legislators to learn more about SEF's significance to the continued growth of Indiana's technology sector.

The program should be evaluated for effectiveness, like every other workforce tool. When results of that evaluation confirm SEF's value, legislators must act boldly to extend and enhance the program, not sunset it. The future of Indy's high-growth sectors might depend on it.•

__________

Brunson is a principal at Indianapolis-based McGuire Sponsel, a specialty tax and advisory firm.