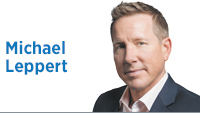 On May 14, the Indiana General Assembly will convene a special session. Gov. Eric Holcomb has called the Legislature back to finish some business it was unable to complete before its March 14 deadline. Constitutionally, only governors can call for a special session.

It's part of the process.

Speaker Brian Bosma and President Pro Tem David Long have committed to a quick and transparent session that is expected to be completed in one day. They have also announced their plan to suspend the rules for how a bill becomes a law in an effort to keep their one-day promise.

Our democratic processes have carried us in Indiana for more than two centuries. There is no need to abandon them now, even if it takes a few more hours or an extra day.

I didn't always have much respect for processes, especially when they seemingly served no purpose other than to delay the inevitable. Many in Indianapolis recently felt like the cards were stacked in favor of LeBron James and his Cleveland Cavaliers over our beloved Pacers during the NBA playoffs. The NBA has earned the stigma of influencing outcomes and has consistently failed to address their credibility issues.

But we believed in the integrity of the game enough to sell out Bankers Life Fieldhouse three times and rally around our new team like the Pacers of the Reggie Miller era. It was fun, even in defeat.

I recently toured Radio City Music Hall in New York. While there, I noticed Bon Jovi was scheduled to celebrate his induction into the Rock and Roll Hall of Fame. John Mulaney, released his new Netflix comedy special on May 1, filmed at the hall. And we met a member of The Rockettes.

The Rockette explained to the young girls in our tour group that she started dancing when she was 3 years old and worked her whole life to fulfill her dream. Mulaney started his career in comedy 14 years ago as an office assistant at Comedy Central. I bought my first Bon Jovi cassette tape (yes, cassette tape) in 1985 and saw the band perform the first time that same year as the opening act for a long since forgotten hair-band named Ratt.

These success stories happened as a result of the now famous performers' commitment to the process of their craft. It would be great to skip over the tedious nature of so much of it and move straight to the award ceremonies and big pay days. But that almost never happens.

In the public sector, it would be great if the indisputable, best-possible solution to every challenge presented itself immediately. There would be no need to listen to anyone else's tedious and time consuming perspectives. But those opposing viewpoints represent more than just unnecessary delay. They represent the people who elected the legislators with those views.

Sixty days ago, there were a handful of bills that died in the Statehouse because of a statutory deadline. These bills had no consensus. They were in dispute then and continue to be. Most Democrats are expected to oppose at least three of the five bills scheduled for consideration on May 14. This opposition is important, and hearing that opposition within the process does serve a purpose.

It gives the public confidence that government is fair. Over time, that commitment to fairness is what will actually deliver the best results.

There is enough time to respect and adhere to our legislative processes. None of these individual issues are important enough to abandon what is far more important.•


Click here for more Forefront columns.
__________

Leppert is an author and governmental affairs consultant in Indianapolis. He writes at MichaelLeppert.com. Send comments to ibjedit@ibj.com.