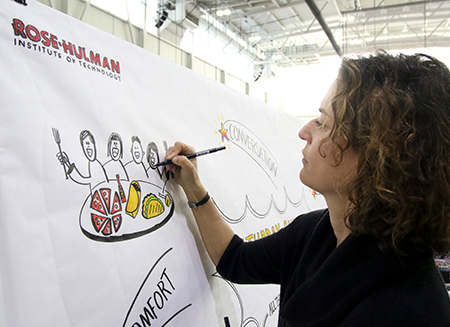 The art of using pictures to represent words has been around practically since the beginning of time—think cave drawings.
But in the business community, visual note-taking—which involves distilling in real time the points of a meeting, conference or speech with a combination of sketched images and words—has just started catching on.

"People still say they haven't seen it before," said Julia Reich, a graphic recorder with her own Terre Haute-based company, Stone Soup Creative. "I think it's growing, slowly."
Reich herself started dabbling in visual note-taking, which also is referred to as graphic recording or sketchnotes, only about two years ago.
She read a beginner's book on the topic and was struck by a checklist of key traits for someone who would be good at it.
"I remember checking off so many things on the list, which was encouraging," Reich said.
Then she had an opportunity in August 2016 to test her skills at a three-day workshop for Rose-Hulman Institute of Technology supervisors. She warned the person organizing the event that she didn't have much—or any—experience in this field. But she said she would practice, and if organizers liked her work, then they could hire her.
"I basically locked myself in my studio for two weeks," Reich said.
And she got the gig.
She captured the message of every speaker at the event by doodling words and pictures with magic markers on a 4-foot-by-8-foot poster in real time.
"If you're watching someone taking visual notes that you can see on a large scale, it helps people make meaning of the content," Reich said. "It encourages collaboration, and it's just sort of unique and fun as well."
Since then, graphic recording has become about a third of Reich's business, which also offers graphic design and consulting.
But I would like it to be a lot more," Reich said. "I love helping people solve problems and helping them with their ideas. That's really the greatest part about it."
In addition to Rose-Hulman, Reich has worked with the American College of Sports Medicine, Prosperity Indiana and Centric Inc., a locally based innovation group.
According to Chicago-based visual note-taking firm Ink Factory, the brain processes images much faster than text, and people remember 80 percent of what they see, but only 10 percent of what they hear.
"At the end of the day, it's better for your memory when you're pairing an image with text," Ink Factory founder and artist Dusty Folwarczny said. "It makes difficult concepts easy to understand."
Visual note-taking can work in nearly any industry and in a variety of capacities—strategy or brainstorming sessions, quarterly or annual meetings, conferences, keynote speeches, trade show booths or trainings.
Ink Factory artist Ariana Essian, far right, creates a visual record of a conversation taking place at the company's Chicago offices. (Photo courtesy of Ink Factory)
"Anytime there's spoken word," Folwarczny said.
Reich said she can't think of an example of where it wouldn't be useful.
But Folwarczny said it's not something companies would want to use for everyday meetings, unless they had someone on staff for it, which is what she hopes for eventually.
"We see a future when every company could have a visual notetaker as part of their staff," she said.
For now, on-staff graphic recorders are still rare, but there seems to be growing interest in the concept from businesses and organizations of all sizes, from Fortune 500 firms to small not-for-profits.
Artist Julia Reich created this image based on a Feb. 9 speech by Clear Object CEO John McDonald at Launch Terre Haute. (Photo courtesy of Stone Soup Creative)
Folwarczny said the trend is growing because it's an easy way to simplify information.
"This is a way to grab people's attention and get your message across much more quickly," Folwarczny said. "People are looking for tools that help with communication … and visual notes are a way to do it."
She said Ink Factory grew 50 percent last year and is on track to repeat that this year.
Ink Factory has clients across the United States and in other countries. Firms it has worked with include Whole Foods, New York University and Deloitte.
It also has worked with Purdue University, which has seen growing interest in visual note-taking at its annual emerging tech conference, Dawn or Doom.
Teddy Lu, a visiting Purdue professor at the West Lafayette school, said he taught the concept of sketchnotes to his students after they expressed frustration with traditional note-taking.
After seeing the positive response, Lu launched Sketch Squad in 2017, and the group of students helps local organizations make their ideas more visual at conferences, workshops and other events.
Lu said he's working to expand Sketch Squad to other campuses, including the University of Illinois Urbana-Champaign and University of Illinois at Chicago.
Folwarczny said that, even though visual note-taking can be a professional practice, Ink Factory is trying to teach the skill to the masses. The firm offers a workshop for companies and goes into schools to teach the concept to students.
A visual note-taker "can be anyone," she said. "But for a profession, it takes a long time to hone the skill."•
Please enable JavaScript to view this content.