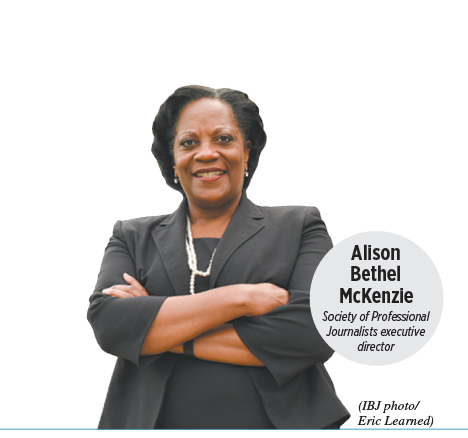 Alison Bethel McKenzie, 52, had been in her role as executive director of the Society of Professional Journalists only a few months when the media industry suffered one of the deadliest days for journalists in America. Five people were shot and killed in the Capital Gazette newsroom in Annapolis, Maryland, on June 28, and McKenzie spent the next day responding to national media requests and thinking about ways to keep her staff at the Indianapolis headquarters safe. For starters, they locked their door.
What was your initial reaction to the news about five people being shot and killed in the Capital Gazette newsroom?
It was just shocking to see or to hear about someone entering a newsroom and opening fire.
That .. is the kind of thing that typically American journalists are not exposed to. And so, I was saddened, shocked and a little a bit—can I say in the newspaper—pissed off?
I think I was the latter largely because I think most people wondered right away, is this a result of the Twitter attacks and open verbal attacks on journalists that have occurred over the last year?
Is this a sign that things just keep getting worse for journalists?
I think that most people don't realize that journalists have been through a lot. The internet and fall-off in advertising has meant fewer journalism jobs.
That began the assault or the change in journalism. And then you had this sort of wave of—Who is a journalist? Who is not a journalist? Everybody can be a journalist—which, in my view, attacked the credibility of real journalists who follow a code of ethics.
And then you have this sort of third wave of attacking journalists. This "fake news, journalists are the enemy of the people" phase. That's a lot for one profession to handle, and this is a profession that is one of the pillars that hold up democracy.
Is there anything journalists can do to make it better?
I think that journalists should speak up for themselves more. It's kind of not in our nature. We're not advocates for ourselves.
And I think that media literacy is really important. Educational institutions have cut back so much that they don't have newspapers in education anymore where they would go and teach young people—"This is the front page, this is the lead, this is what journalists do." And I think that's horrible.
I think that the U.S. government, Congress, has to send a message that attacks on journalists are unacceptable. I think that Congress needs to pass a federal shield law right away. And I think that local governments lead by example.
How can journalists fight back against the fake-news rhetoric and prove what they are doing is real news?
I hate the term fake news. What is that? Fake news means fiction. And this notion that journalists go to work every day and think, "What am I going to make up today?" is so far from the truth that it's comical.
I think this goes back to media literacy. That's why SPJ has created a very unique position that will roll out in two weeks. It's called the journalist on call—JOC for short. And this person's whole job is to talk to the public about why there's so much distrust in the media from their point of view … and to help them sort of understand what journalists do. But also, to help journalists understand why the community doesn't trust them. What could they do better?
Who will be your journalist on call?
A veteran journalist by the name of Rod Hicks. I'm very excited about what this position will be able to accomplish.•
Please enable JavaScript to view this content.