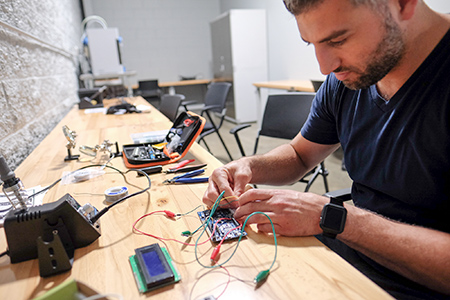 The Indiana IoT Lab in Fishers is becoming an oasis for small tech firms and freelancers seeking to help companies turn their ideas about internet-connected devices into products.
In the process, the lab is allowing these tiny firms to grow in ways that simply wouldn't be possible on their own.
The internet of things—or IoT—refers to internet-connected items ranging from watches and dishwashers to vehicles and security systems. Lots of big companies play in the IoT sector, including Apple, FitBit and Amazon. But by its nature, the relatively new field is drawing upstart players looking to be first to market with innovative ideas.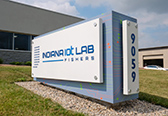 (IBJ photo/Eric Learned)
Indiana IoT Lab founder John Wechsler said individuals and small firms—about half the lab's tenants have 12 or fewer employees—come for access to three crucial assets:
◗ hardware and infrastructure.
◗ skill sets.
◗ venture capitalists and the ideas and products favored by venture capitalists.
Visitors to the IoT Lab might find some of its amenities surprising.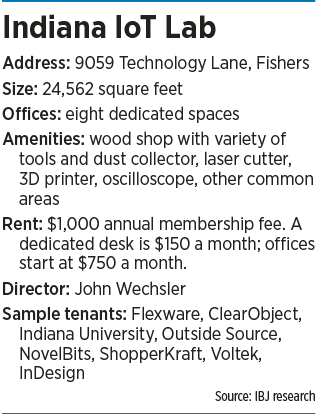 For instance, although the facility offers plenty of high-tech equipment, tenants also have access to a wood shop decked out with $10,000 worth of DeWalt tools for making prototypes. Wood is preferred to plastic and steel for early prototypes, Wechsler said, because it's easier to work with and less expensive to make changes.
A wood shop is "not the first thing you think of when you think of an IoT lab, but it's important to be able to prototype something quickly to get a visual," he said.
There's also a $17,000 laser cutter, a $10,000 computer-controlled machine tool, a $3,000 3D printer and, coming soon, a $2,000 high-end oscilloscope, an instrument used to observe the change of an electrical signal over time.
Everything about the IoT Lab is set up to help small companies morph into bigger ones more quickly than they could alone.
Beyond the hardware and infrastructure, the dozen or so companies renting space can tap the advice of academics and advisers as well as various industry experts, including contractors, potential customers and venture capitalists.
Not only do Wechsler and his staff bring in myriad tours, the lab also hosts a monthly meetup attended—so far—by about 40 people. Wechsler is hopeful attendance will grow as the lab, which has been open only four months, matures.
One of the most important benefits of being at the lab, several occupants said, is having access to one another.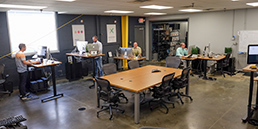 The Indiana IoT Lab features more than 45,000 square feet of office, co-working and workshop space. (IBJ photo/Eric Learned)
"We find that there is a lot of exchanging of ideas in the common areas here," Wechsler said. "That's the whole idea—to create a community, an ecosystem that individually would be difficult to accomplish."
And while a good number of the tenant firms are small, some very large companies—from one of the world's largest makers of farm and lawn equipment to a global security firm and a worldwide manufacturer of automotive parts—also have satellite space at the lab focused on research and development.
The IoT Lab officially opened in March north of East 116th Street, just west of Interstate 69 in Fishers, although companies started moving into the facility in December.
The staff has tirelessly promoted it, which has resulted in a flurry of local and national media coverage. Naturally, that publicity has spilled over onto some of the lab's occupants.
Tenants pay a $1,000 annual membership fee. A dedicated desk is $150 a month, with offices starting at $750 a month.
"The companies here are at various stages in their development and they come here for a variety of reasons," Wechsler said. "We think we can offer a significant value and help these companies grow."
Here are the reasons three firms chose the IoT lab.
NovelBits LLC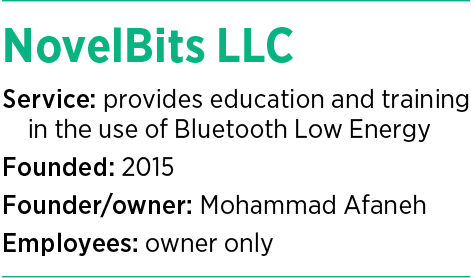 Mohammad Afaneh is a one-man band. The 36-year-old founded NovelBits LLC in May 2015 and has spent most of the time since operating out of co-working space at Launch Fishers.
"I always felt out of place at Launch Fishers because most of the companies there were software-as-a-service companies," Afaneh said, referring to firms that offer cloud-based services. "When the IoT Lab opened, I found it was the perfect fit. It's very relevant to what I do."
Afaneh is one of the Midwest's foremost experts in Bluetooth Low Energy, Wechsler said.
So what is Bluetooth Low Energy? Afaneh, a software engineer who formerly worked for SEP in Carmel and Audiovox and Technicolor before that, chuckles at the question. It's one he's heard before.
Also known as BLE, the technology is an energy-efficient form of short-range, wireless interconnection. It's been developed specifically to support internet-connected products, such as fitness devices, home security systems, and even medical devices like glucose meters and insulin pumps.
Given the somewhat obscure nature of NovelBits' work, Afaneh said the exposure of being in the IoT lab is a big advantage.
"With small businesses, you're struggling just to get through month to month," said Afaneh, whose company has no marketing or advertising budget. "John [Wechsler] constantly brings people and groups through the lab. Being at the lab has opened up opportunities on a regular basis for me to talk to people about BLE and what my company offers."
Though Afaneh has done some consulting, NovelBits is now focusing primarily on offering BLE education, including multi-day workshops on how to use the technology.
While Afaneh said it's too early for his company's business to have increased from its IoT Lab residency, NovelBits has netted 12 "solid leads" since moving in almost seven months ago. He estimated it would take triple that much time running around to various meetups and networking events to generate the number of leads he has generated this year.
"Those are connections I don't have if I'm not here, and I believe that they will eventually pay off," Afaneh said. "I want my company to be one of the ones that help build the IoT Lab. I'm very passionate about the IoT and this lab. I believe very much in what they're doing here."
Outside Source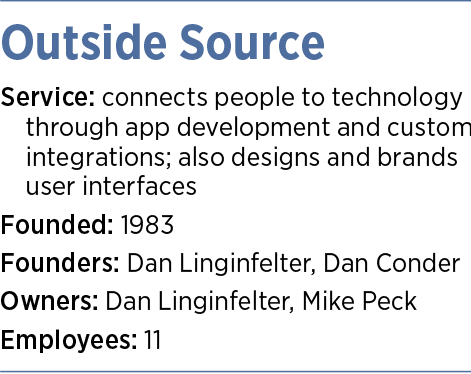 Outside Source had an office on the east side of Indianapolis for nearly 35 years. So it was no small decision to move to the Indiana IoT Lab in December.
But Outside Source is no stranger to change. The firm started as a traditional marketing agency, but pivoted multiple times as the market and its clients' needs changed. It took on web design, then got into mobile apps before venturing into voice integration and work connecting people and businesses to technology.
That led the company—about eight years ago—into the internet of things, working for such clients as Carrier, Bryant, Johnson Controls and United Technologies. Outside Source has developed expertise in working with heating and air-conditioning systems and thermostats, but has also done work on smart speakers, headsets and an array of Bluetooth-driven devices.
Despite its track record—and its background in marketing—company officials said they have never been good at self-promotion.
"A big driver for us was strengthening our position in the IoT space and expanding our network of opportunities," said Carey Jones, Outside Source's director of client services. "We felt a little isolated where we were on the east side."
Officials for Outside Source, which has 11 employees, were so confident the IoT Lab was going to succeed and provide the firm what it needed, the company became the facility's first tenant. It has 1,000 square feet of dedicated space, plus access to multiple common spaces.
"We came to the meetup, toured the facility and met John Wechsler in September, and that was it," said Brody Robertson, director of software development at Outside Source. "The opportunity to get involved with other companies and reinvest in a business community like this—we saw that as an opportunity we couldn't pass up."
Jones said the company looked at other space in the area and that the cost of moving into the IoT Lab was "competitive."
"Ultimately, the opportunities this place gave us to grow our business was the real value for us," Jones said. "We're working along other tenants here like ClearObject, Flexware and Indiana University. You can't underestimate the value of exposure to and the ability to have regular conversations with organizations like that."
What Wechsler calls the "makers' space"—which includes the wood shop plus space for electronics prototyping and a fabrication center—were major draws for Outside Source. "This is equipment that startups and small companies usually can't afford and therefore don't have access to on their own," Robertson said.
So has it paid off?
Outside Source officials have talked with companies they'd never met before moving into the Indiana IoT Lab, Jones said, and have had several conversations about collaborating with other firms at the lab.
"Already, more than 800 people have come through this facility," Jones said. "From a sales-opportunity standpoint, we've definitely increased our pipeline from contacts we've made here. We're confident it will lead to sales increases."
ShopperKraft VR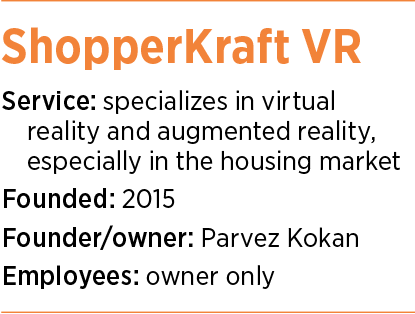 Like NovelBits, 3-year-old ShopperKraft VR was at the Launch Fishers co-working space before moving to the IoT Lab. And like NovelBits, ShopperKraft is a one-man shop that needs lots of help with resources.
"There are three things any startup needs: talent, ideas and capital," said ShopperKraft founder and owner Parvez Kokan.
Kokan, who has been in the IT field more than 20 years, including eight-plus years as a director of product management for AT&T, is hopeful he'll find those things at the IoT Lab. So far, he isn't disappointed by the move.
"Having all these people gravitate here helps us showcase our products and services," Kokan said. "It would take at least three to five times the amount of time for me to meet the number of people I've met in the first six months here."
ShopperKraft specializes in virtual and augmented reality and focuses on the housing industry. Kokan's business model is to get other companies—such as furniture makers, paint companies and granite wholesalers—to pay to be a part of ShopperKraft's virtual- and augmented-reality platform.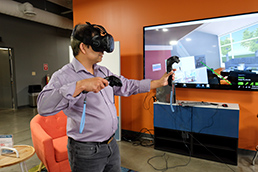 ShopperKraft founder Parvez Kokan said the IoT Lab helps the firm showcase its products. (IBJ photo/Eric Learned)
Key to his company's success, Kokan said, is the ability to show and tell.
"Virtual reality and augmented reality are all about demos," he said. "I couldn't do that at Launch Fishers. But here, there's space set up for that. And it's very synergistic to what we're trying to do."
Kokan said one of his top priorities is to secure seed funding, and he applauds Wechsler for his efforts to draw venture capitalists—big and small—to the lab. Kokan added that Wechsler's efforts to bring in area experts like officials from the law firm Ice Miller, who spoke at a recent meetup about legal issues startups face, "is invaluable for small businesses."
"As a small company, getting access or being able to afford access to expertise like that is a challenge," he said. "As a group, and with the help from the lab, we can attract those types of resources."•
Please enable JavaScript to view this content.