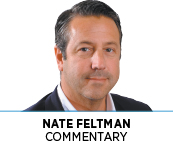 Shhhhhh. Did you hear that? I didn't, either. Remember the dire warnings many Republicans issued during the Obama years about out-of-control deficit spending? Remember what they said they would do if they were in control? Based on the deafening silence on this issue today, you would think our deficit must be gone or is shrinking.
However, the opposite is true—our national debt is increasing at a rapid rate and is now at a record $21 trillion, or 105 percent of our gross domestic product.
Once upon a time, the Republican Party stood for smart and efficient government. My grandfather was a lifelong Republican who served as LaPorte County Republican chairman for many years. He became a Republican because he believed government must live within its means, just like an individual, and that spending beyond your means would eventually lead to bankruptcy, both moral and literal.
His conservative nature was born out of living through the Great Depression. From about the age of 12, he worked to save money to attend Purdue University. In his senior year of high school, the bank in LaPorte that held his savings closed its doors, and my grandfather lost all he had saved. As a result, he never attended college, but he became a successful businessman through perseverance and hard work.
Over the years, I had many talks with my grandfather about the economy and the need for our politicians to tackle the tough issues, like entitlements, in order to get our economic house in order. He helped me understand that an economically weak America was bad not only for Americans, but also for freedom around the world.
He was hopeful that, after the near-quadrupling of our national debt from the year 2000, the Republicans who had promised to cut spending would regain the reins of government in 2016 and finally begin to trim federal spending. As a businessman, he understood that it was better to tackle problems before they became insurmountable.
Lo and behold, in 2016, Republicans accomplished the rare triple feat and won control of the White House and both chambers of Congress. Although Trump did not make federal debt reduction a major pillar of his campaign, in the lead-up to the election he did say the United States was "sitting on a time bomb" with respect to its national debt and that he was best able to deal with the debt reduction given his experiences in business using debt to his advantage.
Trump later pledged to eliminate the national debt in eight years by negotiating better trade deals, repatriating dollars from overseas, reducing taxes, and growing the economy 4 percent or greater each year.
Since Inauguration Day, more than $1 trillion has been added to the national debt, and the Republican-controlled Congress has yet to enact any meaningful spending cuts. Trump's focus has been on economic growth through tax cuts.
While I'm a big believer in cutting the amount of money we all send to Washington, it is evident to all policymakers, economists and Americans, just as it was to my grandfather, that our Washington spending habit must also be cut if we are to avoid a fiscal disaster that will make the Great Recession look mild. Interest rates are rising and therefore the interest we pay on our federal debt will begin to skyrocket.
The clock is ticking faster; waiting for the time bomb to go off is completely irresponsible.•
__________
Feltman, an attorney and former Indiana secretary of commerce, is a shareholder in IBJ Corp. To comment, send email to nfeltman@ibj.com.
Please enable JavaScript to view this content.