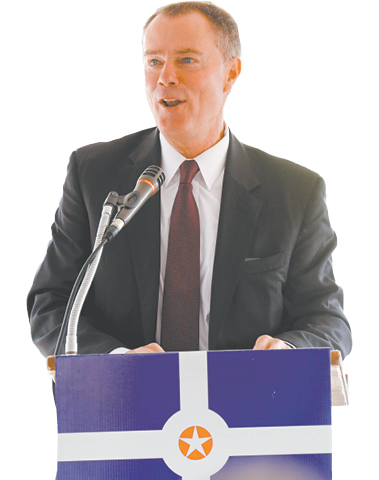 In political circles, all eyes are on the 2018 midterm elections.
But Mayor Joe Hogsett is looking ahead, realizing he must decide soon whether to run for re-election in the 2019 municipal elections, where the mayor and all 25 City-County Council seats are up for a vote.
Will the Democratic mayor—notoriously superstitious about politics after his three consecutive losses for various offices in the 1990s and early 2000s—run again?
In an interview with IBJ, Hogsett said, "I haven't made a final decision." But he knows he needs to this year.
"It's 16 months away, actually, but who's counting?" Hogsett said of the looming election.
Outside the 25th floor of the City-County Building, Marion County GOP leaders are gearing up to avoid another crushing defeat. Their candidate, businessman Chuck Brewer, lost badly in 2015 against Hogsett, who garnered 62 percent of the vote against Brewer's 38 percent.
"When someone asked him to give himself a grade, he said B-minus or average," said state senator and Marion County GOP Chairman Jim Merritt, who has been floated as a potential challenger to Hogsett. "He was being truthful. It's been an average attempt by the administration. That's what everybody thinks."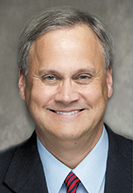 Merritt
But Hogsett's supporters and political observers say he is in a decent position to run for another term, even though the city faces pervasive challenges like crime and aging infrastructure that exasperated drivers last spring as they encountered thousands of potholes on city roads.
"I would hope he would run," said Lacy Johnson, a partner at Ice Miller LLP who is a big Democratic fundraiser and booster. "I think Joe was presented with some difficult issues and those issues haven't gone away. I think he's done a better-than-average job with the tools he's had to work with."
The mayor said he is thinking about his personal life, and his mayoral record so far, as he ponders 2019.
Hogsett, 61, sounded tired as he discussed "being personally responsible for another four years" and how being mayor is "the hardest job I ever had—without question."
The mayor—whose public schedule for this weekend lists four events before 2 p.m. on Saturday, including the Indiana Black Expo Summer Celebration, a health fair and a ribbon-cutting—said the job has taken an "unavoidable" personal toll.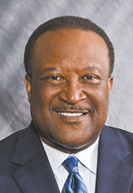 Johnson
"It's a blessing and a curse," he said. "Even though things don't move as quickly as you want them to, local government remains, in my opinion, the only level of government that is nimble and responsible and creative today. That's the blessing. The curse is, there's no distance. The accountability is immediate. That kind of wears you down."
But Hogsett seemed to have a level of satisfaction when talking about his initiatives since taking office—even if he admitted he hasn't yet cracked the code on the toughest problems, like the continued record-breaking pace of homicides in the city, a challenge he said "will not be solved overnight."
Decision is coming
Since taking office in January 2016, Hogsett has started a summer jobs program, tried to reform the criminal justice system and make changes to the Indianapolis Metropolitan Police Department, tackled abandoned homes and blight, tried to create more housing for the homeless, and tried to right the city's fiscal ship.
"I am pleased, maybe not across the board, because I don't sit around with a pad of paper and check boxes," Hogsett said. "I have a hard time identifying any one single thing that we talked about that we haven't at least started. I guess I would be convinced to maybe seriously think about running for re-election if I saw an additional four years as an opportunity to continue the work."
He said his decision is coming and that he feels an obligation to "let people know."
Those in the Democratic orbit and political observers say they believe he will run.
"He's positioned himself well to run," said Frank Short, a former Indianapolis councilor and Washington Township trustee. "He's got a good resume. The local economy is booming. We're still on the Amazon list last time I checked. Is it 100 percent perfect? No mayor ever is. But his body of work, what he's done for party unity, that's a good resume."
Elise Shrock of the Marion County Young Democrats said she believes "all signs point to another term" for Hogsett.
Former Democratic Mayor Bart Peterson told IBJ, "You can count me as one who hopes he does run again," but said he understands the stress that comes with the job.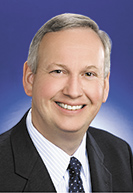 Peterson

"It's so clear that he comes alive when he's around people," he said. "That's the way I felt when I had the job as well. It's a challenge, but I also know he thrives in that challenge and he really enjoys the job, too. I think it's correct to really pause to think about it."
But Republicans say they see an opportunity to seize the office, whether or not Hogsett seeks re-election. Merritt said the GOP plans to focus the 2019 election "on the basics—like snow removal, trash removal, economic development, infrastructure and public safety."
They are in the process of recruiting candidates for both mayor and City-County Council seats. Though Merritt said he was personally concentrating right now on his re-election to the Senate, he is "diligently trying to find a candidate for the Republican Party for the mayor's race."
"I'm glad the mayor is thinking about it, because it's just a year and a half away," Merritt said. "The Republican Party is thinking about it and we're all very concerned about our city."
Crime and potholes
IUPUI political science professor Bill Blomquist said the 2019 mayoral election will be about "crime and potholes."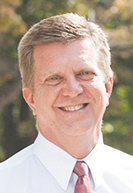 Blomquist
"He has to know that's what's coming," he said. "He's going to have to, on the crime issue, find something other than homicide to talk about. On potholes, the 2018 spring pothole season will only matter in November of 2019 if the spring 2019 pothole season is not better."
Blomquist also said Hogsett's delaying a final decision might be strategic.
"That just changes the way everything you do is viewed. The only exception to that rule is … if you think you need to make a statement to clear the field within your own party. I don't think that's an issue in Mayor Hogsett's case."
Even so, some Democrats are frustrated that the mayor has avoiding taking leadership positions on some significant issues.
For instance, Hogsett, who has made his reputation on being frugal, raised eyebrows when he didn't take a stand on a 2016 referendum that increased taxes for the city's public transportation system.
And last year, when then-City-County Council President Maggie Lewis pushed for a $13 minimum hourly wage for city workers, Hogsett wanted to wait on the measure until he eliminated the city's budget deficit. It won passage nonetheless.
Lewis said she supports Hogsett running for re-election because "he leads with his heart," and she is comfortable pushing the mayor on issues she deems important.
"Everyone needs someone in their corner to push," Lewis said. "If Mayor Joe is re-elected and I'm re-elected [to the council], I'm sure there will be issues on which we have some more tough conversations.
"I would like to see him be a little more progressive, a little more bold. And I'm comfortable with my relationship with him to give that little shove from time to time."
Even with internal party skirmishes, Short said, "the party is obviously going to get behind Mayor Hogsett."
For now, Hogsett said, he and his team are focusing on the rest of this term.
He plans to spend the remaining 16 months on already-announced initiatives, he said, such as building the $571 million criminal justice center that his office broke ground on this month.
"I hope, if there's a great idea that needs to be started, I want to get that started before my term is up," Hogsett said. "But I think the primary focus of what we seek to accomplish, is to continue to do well, and to make progress on those initiatives that have already been part of it."•
Please enable JavaScript to view this content.