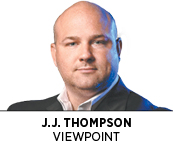 Hoosiers have a chip on our shoulder. We harbor deep-seated feelings of resentment for the term "flyover state," while embracing words like "scrappy" and "gritty." When one of us chalks up a win for the underdogs—however small—we celebrate the victory. That shared mentality is one of our greatest strengths. In our startup ecosystem, however, it's what's holding us back.
The primary objective of all startup communities should be huge wins, not underdog victories.
Yes, startup journeys are long, difficult roads. But if our focus is on nothing more than romanticizing the struggle, we make the path to startup success more difficult.
So the question becomes: How can Indiana's startup community, limited by its size and access to funding, shift its mentality and compete against our resource-rich coastal counterparts in the realm of technological innovation?
Simple: We follow the Israeli playbook. We hack the startup ecosystem.
Despite having a land mass smaller than New Jersey, Israel leads the international community in startups and venture capital per capita. From 1999 to 2014, Israelis started 10,185 companies, with half of them still in operation today and 2.6 percent having annual revenue of more than $100 million.
By encouraging entrepreneurs to take risks and experiment with new ideas, state-run programs like the Israel Innovation Authority have played a critical role in kick-starting innovation and driving economic growth.
Instead of entrepreneurs being forced to risk it all and search far and wide for investment capital, Israel has established pools of investors and funds specifically committed to driving early-stage support to individuals with good ideas.
Israeli founders are provided direct access to paid "proofs of concept" in their country and are then connected with expatriates in the U.S. who can open doors for them at large U.S. enterprises.
In short, the Israelis hacked the system. They evaluated the process, identified the challenges, and figured out workarounds that would propel their companies forward with maximum velocity in a manner unparalleled by U.S. counterparts.
I saw this strategy play out in the early days of the cybersecurity industry with the rapid growth and expansion of companies like Tel Aviv-based Check Point Software Technologies (founded in 1993) and when I built the security program at Palo Alto Networks (founded in 2005 by a former Check Point engineer).
Today, I'm seeing it firsthand while hosting leaders of the next generation of Israeli cybersecurity companies such as Siemplify, ThetaRay and ACID Technologies.
There are four key components to the Israeli model: Simplify entrepreneurism, manufacture early wins, fuel growth and velocity, and amplify prestige. While this strategy is not widely employed throughout Indiana, there are several promising indicators of adoption.
TechPoint has been a major accelerator of growth for companies in the startup and scale-up stages by sowing opportunities for entrepreneurs, highlighting our success stories, and promoting the community so effectively that investors from coast to coast are taking notice.
The cities of Indianapolis, Carmel and Fishers have created environments where it's easier to start a business and connect with friendly early adopters of new technology. Our governor is keenly aware that the propulsion of startups today will yield significant economic gains down the road. We're headed in the right direction. But let's get there faster together.
Let's redefine "winning" as "efficient successful outcomes"—not a tortured and pious journey. It's time to create big wins. And we all play a role in challenging one another to rise to the occasion.•
__________
Thompson is CEO of Rook Security.
Please enable JavaScript to view this content.