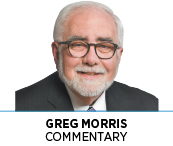 I was trying to remember the lyrics of an old song recorded by Petula Clark—"Downtown."
When you're alone and life is making you lonely, you can always go—downtown. When you've got worries, all the noise and the hurry seems to help, I know—downtown. Just listen to the music of the traffic in the city. Linger on the sidewalk where the neon signs are pretty. How can you lose?
The song was a huge hit in 1964, and now the lyrics are stuck in my head again. It was written about New York City, not Indianapolis, but my experience here is what made me think of it.
Linger on the sidewalk in downtown Indy these days and how can you lose? You can get harassed by countless aggressive panhandlers shaking you down for money, making even the shortest walk a miserable experience.
I know I'm repeating myself here, but the message bears repeating. In October 2016, in a similar column, I wrote the following: "Aggressive panhandling downtown is out of control, the worst I've seen in the 20 years IBJ has been at Washington and Pennsylvania streets. I've experienced more harassment in this calendar year than in any previous year, and I've had more complaints from staff members and other downtown workers than in any other."
Well, the problem is worse today than two years ago. The police react quickly when called and do the best they can, but they have limited options available to them to rectify the problem.
At a recent dinner with my wife, who used to work downtown, I complained once again about having to call the police to chase off the usual suspects in front of our building. I said, "You probably find it hard to believe since you haven't worked downtown for over a year and half now, but the panhandling situation isn't only worse, it's a lot worse. And it was really bad then."
I don't like hearing myself say such things. I'm proud of Indianapolis. I'm a Chamber of Commerce kind of guy who loves to brag on our city. I run across a lot of convention folks, and I always try to offer them good, old-fashioned Hoosier hospitality.
Speaking of conventions, if the city continues to allow the escalation of aggressive panhandling to continue, along with the optics of 15 or 20 or more people sleeping on the sidewalk on Monument Circle and adjacent streets every night, how long will it take for meeting planners to choose another destination next time around? Lack of action on this front makes the job of the hard-working folks at Visit Indy a lot more difficult than it already is.
IBJ just committed to a long-term lease to stay downtown. We're moving next year to Monument Circle because our staff is invested in downtown. I'm personally invested in downtown and strongly supported the decision to stay here. But right now, I'm beyond angry that the city continues to allow this unacceptable situation to continue. We've all got to demand better outcomes.
It's important to understand that panhandling and homelessness are two different problems. They don't often intersect. Both issues are complicated, and if solutions were easy to come by, we'd already be on the road to a better life for all.
For now, I suggest shipping out the aggressive panhandlers with a strong message to not come back. Then let's continue to focus our energy and attention on helping the plight of the hungry and homeless.•
__________
Morris is publisher of IBJ. His column appears every other week. To comment on this column, send email to gmorris@ibj.com.