Should the federal government roll back auto emissions standards?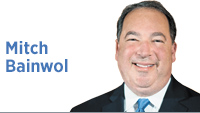 This month, the federal government triggered a public discussion about fuel-economy standards in an era of low gas prices and massive innovation.
The U.S. Department of Transportation and the U.S. Environmental Protection Agency have proposed vehicle-efficiency standards through 2025 and asked for public comments on a range of scenarios. Here are what automakers see as most important to future transportation needs.
First and foremost, automakers support continued improvements in fuel economy. Our commitment has not wavered. The 12 automakers I represent at the Auto Alliance, a trade association focused on automotive policy, already are providing their customers with more choice in energy-efficient new vehicles.
Today, consumers can select from about 500 models that achieve 30 mpg or more on the highway. There are 45 hybrid-electric models and another 50 plug-in electric and hydrogen-fuel-cell vehicles available. And automakers have announced plans to bring more electrified models to market.
For fuel economy, the auto industry is committed to ongoing progress in a journey that has no end date. We have invested substantially in energy-efficient technologies that we would like consumers to embrace. We expect fuel economy will keep rising. The only question is at what speed.
At the same time, government mileage standards need to align with what consumers want to buy. Here is why market realities are so important when setting future standards: The government evaluates automakers on fuel-economy standards by what consumers buy—not what is in showrooms.
One market reality is clear. No factor is more relevant than gas prices, which remain significantly lower than projected in 2012, when fuel-economy standards were last set. The response? Consumers are buying more SUVs and pickups, bigger engines and fewer alternative powertrains like electric vehicles than regulators expected.
Second, automakers also strongly support one set of fuel-economy standards for the entire country.
During the last public discussion on fuel economy in 2012, federal and state policymakers made a commitment to harmonize three regulatory programs that effectively serve the same purpose—managing fuel efficiency and reducing carbon emissions. The National Highway Traffic Safety Administration within DOT, EPA and California's Air Resources Board all regulate emissions, but in different ways and different timelines.
Redundant government programs drive compliance costs up and that ultimately comes out of the wallets of our customers. One national program was a hallmark of the fuel economy standards set in 2012.
One national program is still good policy to keep new vehicles affordable so more Americans can buy one, replacing older and less fuel-efficient autos.
That's why we urge California and the federal government to work together to develop a national program that continues gains in fuel efficiency and carbon reduction while appropriately balancing safety, affordability, jobs and the needs of America's drivers.
This is the best fuel-economy policy for all of us as drivers—and for the country.•
Click here for more Forefront columns.
__________
Bainwol is president and CEO of the Auto Alliance.Send comments to [email protected]
Please enable JavaScript to view this content.