This week, three plays add up to a terrific start for the central Indiana performing arts season.

__________
You would think that decades of courtroom television, from
"Perry Mason" through "Law and Order," would diminish the
pleasures of theatrical courtroom drama. But the years haven't tarnished "Inherit the Wind,"
the 1955 drama that—then and now—features one of the best witness-stand
confrontations ever put on stage.
The play is based on the famed Scopes
monkey trial. But the better productions of the play understand that "Inherit the Wind"
works best as drama, not as a docu-drama (which it isn't) or a political treatise (the ending goes
beyond science vs. religion). And the one being offered at Bloomington's recently
founded Cardinal Stage Co. (through Sept. 20) is a very good one.
As
the combating lawyers, two Chicago theater vets shine. Ernest Perry Jr. finds the likability, the innate
politician, and the genuine love of people in the William Jennings Bryan-based Matthew Harrison Brady. He's so full
of life, though, that his second-act breakdown doesn't quite ring true, bringing a rare false note to the proceedings.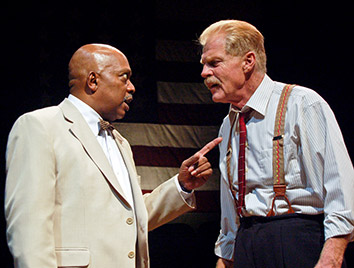 Ernest Perry Jr. squares off with Danny Goldring in Cardinal Stage's production of "Inherit
the Wind." (Photo Courtesy Cardinal Stage Co.)
With pain in his walk, weariness in his eyes and a sharp mind
always at work, Danny Goldring is outstanding as his foe, Henry Drummond, capturing the man's
deep-felt convictions about the case as well as his respect for his opponent. When, in the end, Drummond
challenges cynical reporter E.K. Hornbeck (a very strong Mike Price) there's a chillingly suppressed
rage against oversimplification that transcends the specifics of the case.
Cardinal
Artistic Director Randy White wisely seems to have devoted as much energy to the supporting cast as he
has to the two leads in the plum parts. Gerard Pauwels is particularly winning as the Judge
and Gladys DeVane, Kate Braun and others turn what could have been a generic ensemble into breathing
human beings.
__________
At the risk of your thinking this is
becoming the Bloomington Business Journal, I also ventured south to see "Talley's
Folly" (Sept. 4-12) a joint production of the Jewish Theatre of Bloomington
and the Bloomington Playwrights Project (which is making an exception to its usual production of Indiana-penned
works).
Lanford Wilson's 1980 Pulitzer-Prize winning play is one of my favorites, a
sad/funny waltz in which the black sheep of a wealthy Missouri family is wooed by
a stubborn Jewish accountant in 1944. If Lee Parker's Matt Friedman felt a bit forced in the opening
solo scene, his love is never in doubt. Emily Goodson, as Sally Tally, never let her resistance seem
coy or manipulative. And as the root of her sadness was revealed, she became even more appealing.
__________
Back in Indianapolis, the Phoenix Theatre has opened its
season with the misleadingly titled "The Most Damaging Wound" (through Sept.
26).
Penned by Blair Singer, who has written episodes of TV's "Weeds,"
the play treads familiar ground: A group of former college buddies gather to drink and burn a box of
memories. They let their guards down, talk about women, reveal their secrets, explore
what it means to be a man … .
If it sounds like the basis of
any of a dozen movies you might have accidentally stumbled on while clicking through your premium channels
late at night (my personal favorite of the genre is "Watch It," with
Peter Gallagher), well, you aren't in for many surprises. Singer's play has the feel
of something written a decade ago and then cleaned up for contemporary consumption.
That
said, it remains entertaining and engaging, if not particularly enlightening. And if you have a friend who is a little
hesitant about going to theater, this might be just the transitional ticket.
In the hands
of a very solid group of Indy actors under Bryan Fonseca's crisp direction, "The
Most Damaging Wound" (that misleading title sticks in my craw every time) becomes both charming
and very funny. Particularly effective is Bill Simmons, who injects surprising life into the under-written
role of a cheating husband, and Doug Johnson, bringing much-needed heart to the showiest role, that of
inebriated pal Dickie.•
__________
Visit ibj.com/arts for additional reviews, previews and arts discussion. Twitter: IBJarts
Please enable JavaScript to view this content.