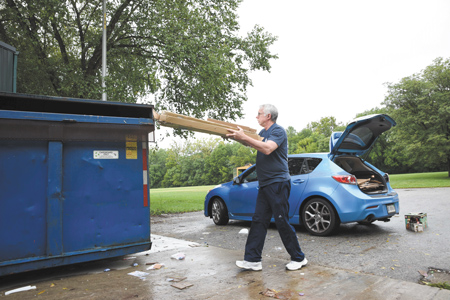 Indianapolis Mayor Joe Hogsett thrilled recycling advocates shortly after taking office in 2016 when he announced he would suspend a deal to build a controversial facility that would use automation to pluck recyclables from household trash—with no homeowner sorting.
Many critics questioned how well the technology would work. A few months later, after a court struck down the agreement with New Jersey-based Covanta, Hogsett and other city leaders held a recycling forum at Garfield Park and urged attendees to think big.
"Let's not limit ourselves today," Deputy Mayor Jeff Bennett told the crowd of about 50 residents that April afternoon. "We want to exhaust all of our options and aim for what's possible."
But 2-1/2 years later, not much has changed on the recycling front.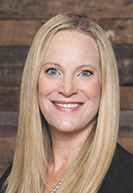 Mitchell
Unlike peer cities throughout the Midwest, Indianapolis remains without a comprehensive free curbside recycling program, instead requiring homeowners to frequent free city drop-off locations or pay Republic Services to pick up recyclables every other week. Household participation in the paid service is 10 percent city-wide, about the same as when Hogsett took office.
Recycling advocates are growing restless.
"The city knows our position: We're anxious, we're eager, we're supportive, come on," said Allyson Mitchell, executive director of the Indiana Recycling Coalition. "We're ready. We are eager to see positive momentum and want to support it every step of the way that it's appropriate for us to."
John Barth, a former city-county councilor who fought against the Covanta contract when then-Mayor Greg Ballard's administration negotiated it in 2015, said he and others are "looking and wondering what's the next step."
"There's a huge opportunity for Indianapolis to be on the Seattle level of recycling if we set a vision and we can really execute on it," said Barth, who is running to return to the council in 2019. "There's a lot of people hoping for that to happen."
For its part, the Hogsett administration says it's making progress behind the scenes. For the last year, consultants have worked with the city to create a Thrive Indianapolis sustainability plan, a draft of which will be released for public comment in November.
That plan will include options—and estimated costs—for possible recycling and solid-waste programs, Bennett told IBJ. He said the city has to figure out the best system "that gets us to what we ultimately want, which is a countywide recycling program."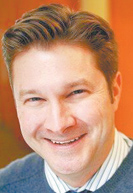 Bennett
The most common model, Bennett said, is universal curbside recycling where residents pay one price and are provided with recycling bins that are collected just like their trash pickup.
Another increasingly common model is to lower solid-waste bills when residents have less trash, which offsets the cost of recycling.
"Which of those is better for Indianapolis remains to be seen," Bennett said. "The Indianapolis way is always a little different than other cities. We've tended to find that what has worked for us is not always a cut-and-paste job from another city. This plan acknowledges that. There are multiple options. We'll have a sense of cost of each of those."
Analyzing options
The price of a comprehensive recycling program remains another sticking point for the Hogsett administration, which has largely held the line on spending increases the last three years while it tried to create a structurally balanced budget.
Figuring out who pays for a recycling service "will be where the rubber meets the road," Mitchell said. The 30,000 Indianapolis households that subscribe to the curbside service through Republic pay $99 per year.
One option is coupling the recycling program with an increase to the city's solid-waste fee, she said, which is paid by citizens in their property tax bills. But the problem with raising fees, she said, is that it's a "political hot potato."
"Somebody's got to have the guts, the willingness to do it," she said.
Bennett said "a comprehensive look at how we fund our solid-waste program" would be a part of future discussions about paying for recycling.
"The mayor's made a point of this," he said. "We can't go to taxpayers to ask for more without fully accounting for how we're spending what we're already getting."
City officials and advocates say communities can't launch comprehensive recycling programs overnight. Putting the infrastructure in place takes time, as does educating residents on how the programs work and what's recyclable and what isn't.
Katie Robinson, director of the office of sustainability for the city, said she would anticipate "18 months of education on the front end" after the city chooses a program.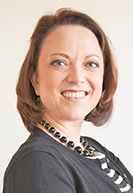 Robinson
By the end of Hogsett's term at the end of next year—the mayor has not yet announced if he will run for re-election—Bennett said he "would hope we're at least at the beginning if not in the midst of a public education campaign" about a community-wide recycling program.
In the meantime, he said, residents who want to recycle can use the Republic subscription service or the city's 20 drop-off stations. The city's website also lists options for hazardous waste disposal and electronics recycling.
Long-term look

Robinson said her office has improved drop-off locations by moving some to more convenient sites. The city also simplified signage at the locations to reduce illegal dumping and contamination, such as when non-recyclable items are mixed in with recyclables or recyclable items are placed in the wrong bins.
"That fills in the gap between 2016 and [the beginning of the Thrive Indianapolis work in 2017]," Bennett said. "We didn't just sit and do nothing for eight months."
In response to those frustrated by the pace of progress, Bennett said the mayor has encouraged members of his administration to resist the urge to "do something in the short term that might be expedient but may not be the best long-term solution."
"It's hard, sometimes, to take a long-term look, because that might not operate on a four-year cycle," Bennett said. "This plan puts us on a path it hasn't been on before as a city. The fact that waste management and recycling are a component is indicative of [Hogsett's] interest in the issue."
The discussion in Indianapolis comes as the country's recycling industry is at a crossroads.
China, frustrated by contamination, has put new restrictions on receiving recyclables from the United States—a move that has driven up costs for the waste-management industry.
In response, Republic boosted its annual rate to $99 city-wide, the maximum it can collect under its contract with the city, IBJ reported in June. Customers previously paid different amounts, based on when they signed up. The hike represented nearly a 100 percent increase for some.
Robinson said the current climate actually gives Indianapolis a leg up on other cities that already have implemented programs and are now having to re-educate citizens about how to reduce contamination.
"I'm looking at it very optimistically," she said. "We are so unbelievably well-positioned in this day to create a program in the new climate that exists."
Catching up
Indianapolis is the only one of nine peer neighboring cities—from Milwaukee to Columbus to Nashville—that does not offer free curbside recycling.
Jesse Kharbanda, executive director of the Hoosier Environmental Council, said his group wants the city to appreciate that "we can be bold and ambitious on recycling," and that past low performance does not have to dictate the future.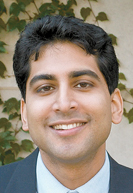 Kharbanda
Kharbanda said the city's recent expansion of public transit, and the creation of the Indianapolis Cultural Trail, are two examples of "leapfrogs" the city has made to invest in sustainability.
Specifically, his group advocates a "curbside for all, pay as you throw" system, which would have Indianapolis residents pay a base fee to cover recycling and a certain amount of trash. Residents who threw away extra trash bags would have to pay an extra fee, which Kharbanda said would motivate people to recycle more.
Kharbanda added: "I think we'd like to see the mayor and city leaders and City Council really make the case that recycling is about advancing something that is good for the job market and good for quality of life."
Barth said that whatever Indianapolis adopts can't be successful without a sustained, long-term education program.
"Seattle is not just a magical place where people want to recycle," he said. "It was dedicated hard work over a long period of time where the government worked hard to explain why it's important, and got people on board. Even now, if they back off their messaging even for a few months, they see recycling go down."
Cara Bach, who runs a Facebook group for Midtown residents who want to recycle, agreed that "there's a lot of confusion and not good sources to explain where, what, how and why." With better education, she said, "You'd see a lot less dumping."
Jenny Boling, a friend of Bach's who runs the Facebook group with her, doesn't understand why Indianapolis leaders have allowed the city to fall into the position of playing catchup with other major cities.
"My main question is, why isn't it a priority?" Boling said. "If other cities of the same size are doing it, how are they doing it and we're not? I would challenge decision-makers to look at that a little closer. I would be interested to learn more about where those other cities are prioritizing their money differently than us."•
Please enable JavaScript to view this content.