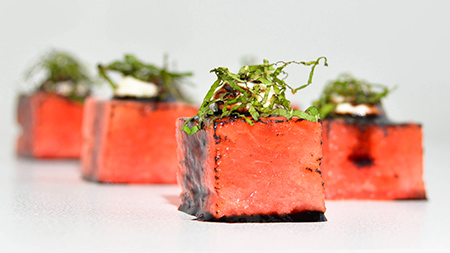 On a sweltering Sunday afternoon in early September, Renee Miner was making the three-hour drive from Fort Wayne to Martinsville to cater a private dinner for six. And wow, was she happy.
"Catering is an exciting business," she said. "You either love it and thrive in it or you don't, and there's no greater high than at the end of an event when you've got a family that is beyond happy, or a corporate client who's beyond happy."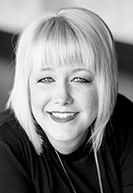 Renee Miner
Miner, 37, and her husband, Jeremy, 35, run Empyrean Events and Catering (the name means "highest heaven"), which they started five years ago after both working for Thomas Caterers of Distinction in Indianapolis. Though they're based in Fort Wayne and have a satellite office in Fishers, the Miners consider themselves "an off-premise catering company with no boundaries."
Empyrean has done events for as few as two people—a private dinner that ended with a proposal—and galas for 2,500.
"Where our clients are," she said, "we will answer."
In an interview, she talked about what it's like in catering. These are edited excerpts.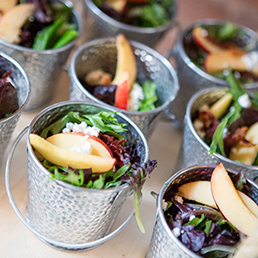 (Photo courtesy of Empyrean Events and Catering)
Catering seems like an incredibly difficult thing to do. How do you know when things are going right, and how do you know when things are going wrong?
Miner: I have always equated catering with the domino effect. If the first domino falls correctly, it's pretty smooth sailing. And that starts with your planning—your event designer, salesperson, customer service, whatever you want to call them. That person is the keeper of the keys, if you will. They have all the information. If that domino falls correctly with them, typically all the rest will fall in line. If there's something that's slightly off, you can tell pretty quickly because things aren't smooth—whether that's communication between departments or communication with a client.
We have an in-depth process we expect our salespeople to go through with their clients, and it's much more relationship-based. So we know from the beginning if there's a conflict. Catering is not just food and beverage. We have a lot of emotion-based experiences that we handle.
I went to an event once where the caterer accidentally served breaded uncooked chicken. Do you have a catering horror story?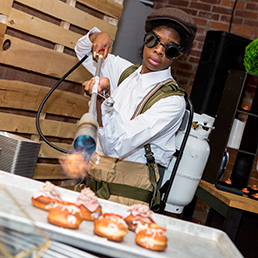 (Photo courtesy of Empyrean Events and Catering)
I have a horror story similar to that. We cook with a process called sous vide, which is a water-bath-style cooking. It changes the appearance of proteins. We were also doing an event with chicken, and people thought—because there was a little pink in it—that it was raw. It was not raw. The internal temperatures were all fine. But we had guests that were scared. So what do you do? That's a PR nightmare. So we were out on the floor discussing our cooking process. And we actually turned that into an experience for the guests because they were not familiar with our cooking style.
We have had situations where you get to an event and we were offloading some soup out of a service elevator and the bucket it was in dumped over. We had to run to the commissary kitchen and remake that. Catering is full of controlled chaos. There's always going to be something, somewhere. You've got to be able to punt and put out fires.
One of the challenges for caterers is hiring people who can represent your company at events. Is training people part of what you do?
It is. Jeremy and I have a secondary business that is a consulting business for special-event companies. Part of that is the training and education of staff. There's no hidden fact about the turnover rate for food and beverage: It is the highest turnover rate you will find. That's largely because it's hard work. It can be 12- to 15-hour days. So we are very particular about the staff we hire.
We wanted a company that was about education and empowerment for our staff. Jeremy's motto is: "Education is for humans; training is for animals." We live and die with that. We're transparent about what we expect from our staff and what our brand standards are. We empower our people to take ownership of the event. If it's a wedding, they know the bride and groom's name, they know parents' names, they know the engagement story. We find when we give them that information, there's much more buy-in.
If you needed to hire a caterer, what would you look for?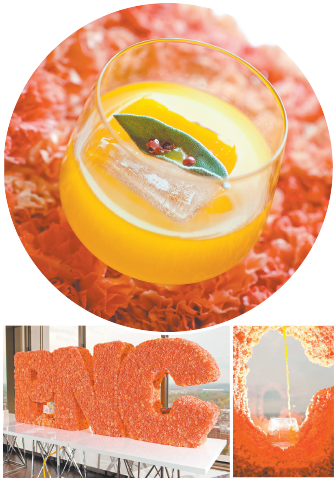 Renee Miner and her husband launched their Fort Wayne-based catering business five years ago and have done events for as few as two people and as many as 2,500. (Photos courtesy of Empyrean Events and Catering)
You want to make sure style matches. The website is going to tell you a lot, social media is going to tell you a lot, and if you've got a referral, that's pretty great. If you don't have that, your initial conversation means a whole lot. If you pick up the phone or you shoot them an email, what is the response from that company? If they're just more of an order-taker, that might not be the best fit for you because all they're caring about is that you're another event on their roster.
What are some trends you're seeing in the business?
Special events, especially on the culinary side. Stations used to be carving stations with the big heat lamp, and now they're much more about engagement with the guests and how does that create some entertainment for the guests? Also, locally sourced food—especially in Indianapolis. We're doing an event in Indianapolis in mid-September where we're using a cheesemaker who's working with local breweries to infuse their beer into his cheese. Those types of things are becoming really important to our clients and their guests.
In addition to everything else you have to do, you have to know the law about what you can do with the leftover food, etc.
And that does change, based on local health departments. We typically find we don't have a lot left over. If we're at someone's home, it's much easier to leave food there. But if we're at an open venue, anything that's gone out that's hot cannot be taken. And then there are different laws involved with what's been opened and what is considered opened. From a client's standpoint, if you're concerned about leftovers, understand that if your caterer has a lot of leftovers, they probably didn't do a whole lot to understand the needs of the client.
You've been doing this for about 16 years. Are you glad you made this career choice?
I am. It's either in your blood or it's not. And it's definitely in my blood. I started in college thinking I was going to go into journalism. I was at Ball State and thought, "This is not it," and my parents kept saying, "Do it, do it." I kept bucking that. I had a notebook and a pink pen and I started researching every event planner I could find in Indiana. I wrote down their phone number, their email addresses, anything I could find, and I just started doing it.
What's really funny is, I have that notebook and at no time in those first few years did those people have anything to do with me. But now, those are my clients for the next three weekends.•
Please enable JavaScript to view this content.