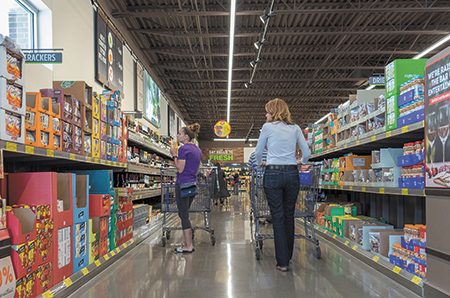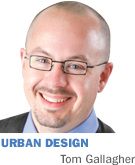 We have a self-interest, if not a responsibility, to create places that encourage wellness for everyone in the community no matter their age, income or culture.
For nearly two decades, we have been confronting the nationwide challenge of food deserts—places that lack viable options for acquiring fresh, nutritious food. What is most worrying about these areas is that they are disproportionately more likely to occur in low-income areas.
But a recent study of food-purchasing habits debunks the notion that there's a causal connection between lack of supermarkets and poor health. The study, published last January by the National Bureau of Economic Research, confirmed that higher-income households do have healthier diets, but also showed that, regardless of income, about 90 percent of households shop at grocery stores and drive about five miles to get there.
The study showed that, whether a low-income household moved to a neighborhood with heathy options or gained new access to a supermarket in their neighborhood, they still tended to purchase the same, less-nutritious food items.
The fact is, our eating habits are exactly that: by dictionary definition, an acquired behavioral pattern followed until it has become almost involuntary. What we eat, where we buy it and whom we eat with are primarily culturally formed routines. No matter our station in life, it takes concerted time, effort and education to understand what nutritious food is, let alone how to change our attitudes and practices.
At the same time, wellness is more than just the absence of illness. It is a complex amalgamation of both quantifiable and intangible factors, including happiness, safety and security, physical health, and social cohesion. All of these are influenced by the physical places we inhabit.
So maybe we shouldn't give up on adding those grocery stores. The presence of a supermarket can provide a sense of legitimacy and pride to a neighborhood. Food is a social activity, one shared across cultures and income levels, making grocery markets an essential part of our social infrastructure.
Ideally, the market offers the personal touch of a baker, butcher or cheesemonger behind the counter who can give guidance about the selection and preparation of food, and offers plenty of local and organic fare. The local market can also be nimbler, like the Indy startup Under the Sun Discount Market, which largely ignores standard retail formulas and prioritizes "food recovery to make wholesome food both affordable and accessible, while simultaneously reducing food waste."
Nutrition is certainly a contributor to health inequalities. Proximity to nutritious food might be, but it's more complicated than the mere presence of a supermarket. Perhaps, for a single parent working multiple jobs, adding another five miles to the day is a different burden than those same miles for a high-income household. For a family like this, maybe an app that connects them to neighbors in a dinner-sharing club would mean they could eat a home-cooked meal every night but need to prepare one themselves only once a week.
For an urban neighborhood where suburbanization has left areas around a new supermarket unwalkable, a solution might be a "safe routes to food" initiative that looks for opportunities to insert sidewalks and bike routes supported by simple maps that can lead people to them.
Success in resilient cities will not come from top-down, "silver bullet" fixes, despite their obvious allure. Rather, the solutions will be as varied as the neighborhoods are numerous. They will result from a gritty, hyper-local focus, supported and connected by technology. Over the course of just the next few years, we will make many new and unanticipated choices about how we eat. As we do, we will do well to remember that food can do more for our overall wellness than just provide nutrition; it is an opportunity to bring us together, at the dinner table and the street corner.•
__________
Gallagher is a principal and urban designer with Ratio and a professor-in-practice of urban design at Ball State University. Send correspondence to TGallagher@ratiodesign.com.
Please enable JavaScript to view this content.