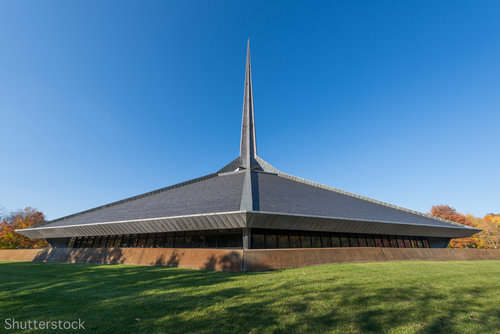 Fans of modern architecture—or anyone with even a cursory interest in the city's stock of famous buildings—probably already know the place, which was designed by Finnish-American architect Eero Saarinen (creator of the Gateway Arch in St. Louis and Washington Dulles International Airport).
Its hexagonal, ground-hugging form, topped by a 192-foot-tall metal spire, makes it perhaps the most iconic structure in a town packed with iconic structures.
"It's arguably one of the most significant and recognized buildings in the city," said Richard McCoy, director of Landmark Columbus, a not-for-profit charged with caring for the city's extensive design heritage.
"I know that, anecdotally, when guests come to town, it's the most-photographed. It's an amazing place."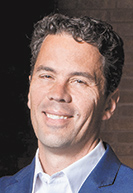 McCoy
But what's truly amazing these days is that the structure, ensconced on the National Register of Historic Places, has also landed on Indiana Landmarks' "10 Most Endangered," a list of historic places the not-for-profit preservation group deems on the brink of extinction but too important to lose. North Christian Church made the annual list for the first time in April.
"People are shocked that this building could be endangered," said Indiana Landmarks President Marsh Davis. "But it's suffering. The air conditioning failed. How are you going to get people to come to church during an Indiana summer when it's 90 degrees inside?"
In most cases and for most structures, this would be an inconvenience, rather than an emergency. But in this case, it highlights the maddening, expensive complexities involved in stewardship of an architectural landmark.
North Christian Church Pastor Tonja M. Gerardy said the church had been patching up the air conditioning unit for years when it gave out for good last April. It was original to the building, which opened in 1964.
It was a day of reckoning for the church, whose financial wherewithal has declined as the size of its congregation has shrunk. It opened with about 350 congregants but now has only about 60, most of them older.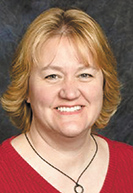 Gerardy
The church sets aside about $150,000 each year to maintain both the building and the church's 13 ½-acre grounds, laid out by renowned landscape designer Dan Kiley.
North Christian has an endowment-style fund but can only draw 5 percent in a given year. That isn't enough to deal with catastrophic issues, which the lack of air conditioning soon became. It's catastrophic in part because, thanks to the church's status as a National Historic Landmark, the AC replacement can't be any old unit. A new unit that fits the requirements would cost about a half-million dollars and take six months to install.
"We can't just pick an air conditioner off the rack," Gerardy said. "It has to be specially designed for our building, and it has to be underground, like the original one."
She added: "That was kind of the straw that broke the camel's back."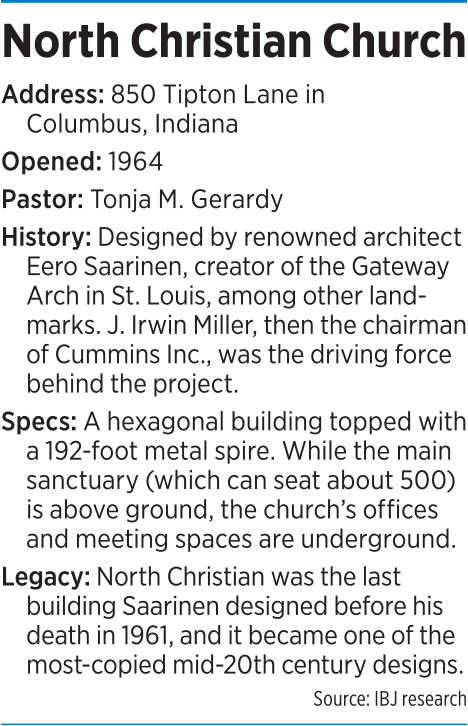 Sweltering heat
Buying a bunch of box fans and cracking open windows isn't an option. For one thing, the building has few windows, and none of them open. This summer, before a portable, stopgap AC system came online, temperatures in the sanctuary soared to 90 degrees or more. Attendance at services dropped, and the numerous groups that use the church as meeting space started looking elsewhere.
Human discomfort wasn't the only problem. The organ, itself a one-of-a-kind work, became unplayable for several weeks because of temperature and humidity fluctuations.
This fall, the rush is on to quickly settle on a replacement system (likely provided by the same company that installed the original unit) and complete the lengthy installation process before temperatures rise next spring.
There's just one problem: There's still no money to pay for it.
Since about 2012, the congregation has looked for innovative ways to improve its finances, including locating another tenant for the space in exchange for financial help in maintaining it. The church has come tantalizingly close to finding such a partner several times, only to have deals fall apart at the last moment.
The rainy-day fund has helped get the church this far but provides no path forward.
"If we were just another small congregation that didn't have access to backup resources, this would have been over a long time ago," Gerardy said.
A growing problem
She's correct about that. According to the Philadelphia-based Partners for Sacred Places, historically significant churches, synagogues and other worship spaces nationwide are facing financial difficulties.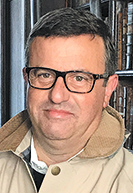 Grande
"We're on the threshold of a national crisis," said Gianfranco Grande, the group's executive vice president.
"More and more denominations are struggling with this problem," he said. "Congregations are shrinking, and obviously the buildings suffer because there's less money to take care of them."
Indiana Landmarks is knee-deep in this issue. It has taken ownership of Connersville's Trinity Episcopal Church—an architecturally significant structure that was down to just one congregant—and is exploring new uses for it.
Meanwhile, in Richmond, the architecturally significant Reid Memorial Presbyterian Church has shut down, and the property has reverted to the descendants of the man who funded the church's construction. None of them is from Indiana. The building is filled with extremely valuable Tiffany stained-glass windows that could be sold off piecemeal.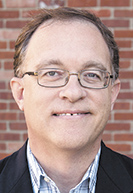 Dollase
"There's a very active threat to the survival of that building," Marsh of Indiana Landmarks said.
Strengthening the church
North Christian Church's physical condition actually is better than most structures that land on Indiana Landmarks' places most-endangered list. In this case, the fundamental challenge is the declining financial resources available to maintain the building as the congregation has shrunk, said Mark Dollase, Indiana Landmarks' vice president of preservation services.
To put the church on stronger footing, Indiana Landmarks is working with North Christian's denomination, the Indianapolis-based Christian Church-Disciples of Christ, to recommit to the congregation.
Toward that end, the Disciples of Christ has provided $50,000 to the church to hire support staff and begin focusing on growing membership. It also has transitioned Gerardy from interim to full-time status.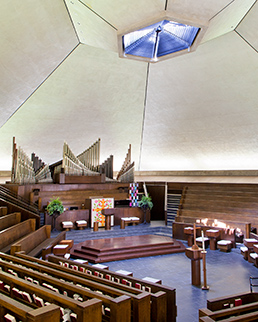 The sanctuary will seat 500, but the church has only about 60 congregants. (Photo courtesy of Indiana Landmarks)
"In recent weeks, the congregation already has had three new families join and one new baptism, a sure sign of growth," Dollase said in an email.
Still, boosting the size of the congregation is a long-term play. In the short term, one solution could be a national Sacred Places Grant that could supply as much as $250,000—but must be matched, dollar-for-dollar, with local funds.
So far, though, for the tiny congregation, that's still a bridge too far.
"We just knew that wasn't going to be possible for us, because our congregation has difficulty just meeting our budget," Gerardy said. "So we're working with them, and they're contemplating allowing us to meet their matching grant in other ways. That's what we've worked on in the last couple of weeks."
The grant, if it comes through, will be used to fix the AC. But unless another tenant comes on board, the church likely would be in another bind the next time another big-ticket repair cropped up.
"We're in conversations with a variety of different groups, but nothing that I can talk about on the record, because it's still in development," Gerardy said.
That places the church in a tenuous situation: It's a popular local destination that has no way to make money from its status. Weekdays, the building is full of civic groups that use its spaces rent-free. And the Columbus Visitors Center runs two tours through the structure six days a week.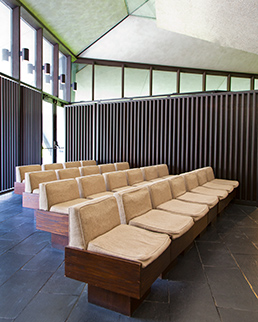 Experts, including the architect's daughter, say the church is generally in good shape but needs a few key improvements. (Photo courtesy of Indiana Landmarks)
"According to them, we're the number one destination that most people want to visit when they come to Columbus," Gerardy said.
Creative thinking
Though some might question turning a world-renowned church into a meeting hall, the proposal gets approval from none other than Susan Saarinen, a Colorado landscape architect and daughter of the church's architect. Last month, she visited the building for only the third time, as a speaker and panelist for the Exhibit Columbus symposium.
During a quick walkabout, she noted some chipped sidewalk concrete that needs replacing, a couple of shrubs that had been dug out, and a need for careful pruning of the property's trees.
Other than that, she thought the building was in good shape.
"It's in very fine condition generally, and reasonably well taken care of," Saarinen said. "It's a building that seems to have been cared for and is very, very strong."
What's more, she thinks her father would be totally onboard with finding a carefully vetted co-tenant for the structure.
"He would say, 'I designed this church in the '50s and the beginning of the '60s, and the world has changed. How can we think about designing for a new time?' Not in terms of the building in this case, but in terms of how it's used."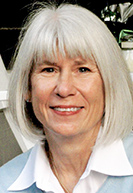 Saarinen
The church is game to try any approach, as well as find other ways to monetize its iconic status. Congregants, Gerardy states, are acutely aware of their responsibility as stewards of the property.
"We realized we had to take proactive steps to make sure that we didn't get to the point where the building was in disrepair and terrible condition," she said. "It would be a blight not only on the city but also on our conscience."
Added Davis: "I guess the lesson here is that we should never take for granted that even the most obvious and acclaimed landmarks are immune from threats and from endangerment."•
Please enable JavaScript to view this content.