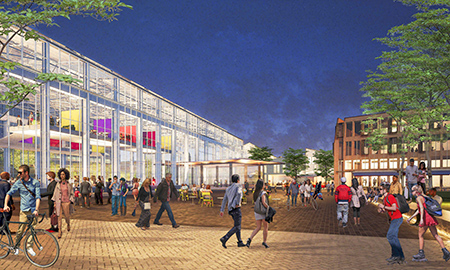 All eyes are on the location of the former GM stamping plant just west of downtown, the 103-acre site widely believed to be the city's best shot at persuading Amazon.com Inc. to locate its massive HQ2 project in Indianapolis.
But the company that owns the property—Indianapolis-based Ambrose Property Group—isn't sitting idly by waiting for the Seattle-based e-commerce giant to make its HQ2 decision. It's moving ahead with its own plans for a $1.4 billion mixed-use development on the site. The planned investment is more than double the developer's original estimate of $550 million.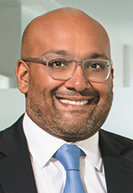 Bade
Ambrose now envisions 8 million square feet of development, including residential, hotel space, offices, commercial and retail development, parking garages, public art, green space and water features. And it wants to start on some of those projects in the next year.
"I think for us the right thing to do is continue through our process," said Aasif Bade, Ambrose's cofounder and president. "We're ready. We're entering some pretty serious conversations with a couple of potential tenants."
Ambrose formally launched the project on Friday at a public gathering at the development site, which is bordered by the White River to the east, Harding Street to the west, West Washington Street to the north and Oliver Avenue to the south.
The big reveal: The project will be known as Waterside. Site prep could begin before year's end—about the time Amazon is expected to reveal where it plans to put its $5 billion complex with its promise of 50,000 jobs over the next decade.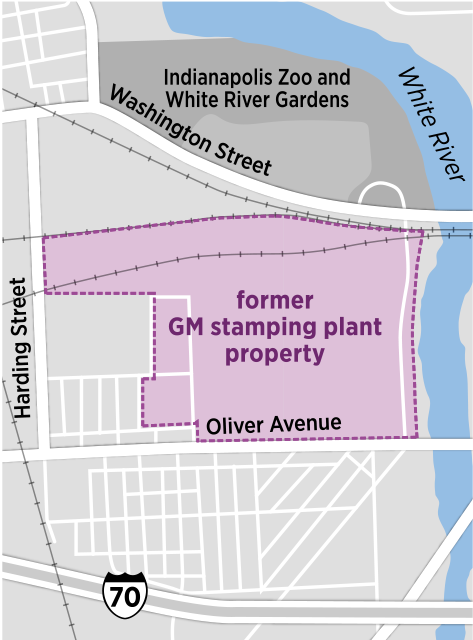 Indianapolis is one of 20 cities that made Amazon's first cut in January, and the company sent a team to visit last spring. But if Indianapolis remains in contention, and the GM site is in the running, nobody's talking.
Bade would not speak about Amazon specifically, but he said the time is right for Ambrose to move forward with its vision for the site.
The stamping plant opened in 1930 and employed more than 5,000 people at its peak. The workforce had dwindled to about 700 by the time the facility closed in 2011.
Ambrose had its eye on the property as early as 2014, when it submitted a proposal as part of an early round of development discussions.
At that time, RACER Trust, the Michigan-based entity responsible for facilitating redevelopment of the site, chose Carmel-based developer REI Investments. REI had planned to build an outdoor concert venue on about half the land but couldn't secure financing.
Any project on the site would have its challenges, said REI President Mike Wells.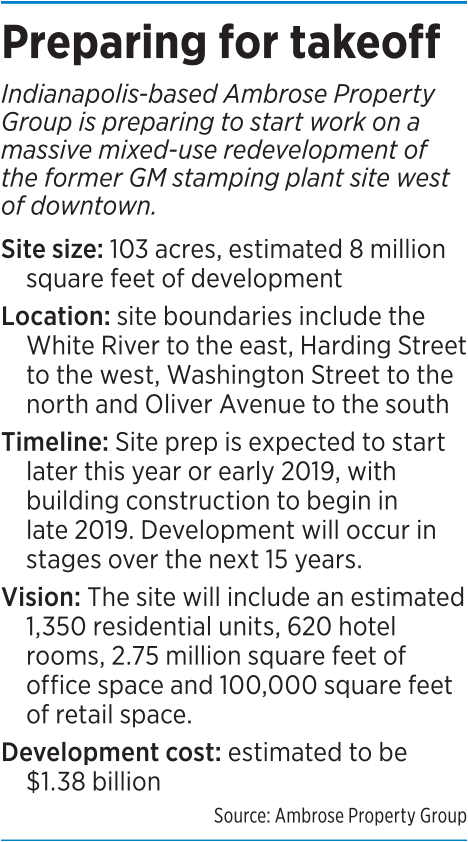 "Any time you do downtown urban-type development, it's a lot more complicated than doing it in the suburbs," he said. That's because existing infrastructure is more likely to be aging and in need of upgrades; urban property tends to be more expensive; and the project must fit in with its existing surroundings.
RACER opened another round of bidding in 2017 and this time chose Ambrose, which closed on the purchase of the 103 acres this year.
Ambrose has not yet signed any tenants for the site, Bade said, but it expects to begin utility work and other site preparations by early 2019. Part of that work includes the reconfiguration of White River Parkway—which skirts the development's eastern edge—to take it right through the proposed development.
Construction of the first buildings would begin in late 2019.
Up first
Waterside's initial phase will occur on the southeastern portion of the property, in part because that area is adjacent to Oliver Avenue and thus most accessible to work crews.
Phase one likely will include multiple buildings—a mix of office, retail and residential uses, Bade said.
"We have a darned good idea what those first projects will be," Bade said, though Ambrose won't announce specifics about tenants, the number of buildings or phase-one development costs until next year.
Eventually, Ambrose envisions upgrading Oliver Avenue with bike lanes, sidewalks and commercial development. The developer envisions an updated version of the thriving business district that existed on the street when the plant was in its heyday.
Full development of the site will take about 15 years, Ambrose said, and many details of the project have yet to be worked out.
"This is a massive undertaking. We have a lot to still do," Bade said. "Our vision will have some twists and turns as the world changes, as our city changes."
As an example: Car ownership habits are changing as options like Uber, Lyft, scooters, bicycling and other forms of transportation become more popular. Ambrose's development will include parking garages that can be converted to different types of structures in the future, if the demand for on-site parking wanes.
Not an 'island'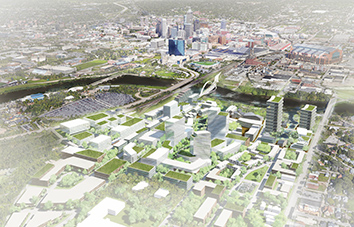 The former GM stamping plant site is bordered by the White River to the east, Harding Street to the west, West Washington Street to the north and Oliver Avenue to the south. (Rendering courtesy of Ambrose Property Group)
One thing certain about the project, Ambrose officials said, is that it will be designed to connect with surrounding neighborhoods and enhance the near-west side without overshadowing it.
"We're developing a new district with people in mind," said Malina Jeffers, the company's director of marketing and community initiatives for the GM stamping plant project. "We don't want to operate as an island."
Jeffers, who was hired specifically to handle Waterside, said she has met with hundreds of individuals and organizations to communicate with them about the site and gather their input.
When REI was working on its redevelopment plans for the site, Wells said, nearby residents indicated that they liked their neighborhood and wanted to stay put.
But The Valley—the neighborhood just south of the development site—has a high percentage of rental homes, which means that the neighborhood could see turnover even if homeowners stay, Wells said. "Sometimes, if you have a lot of non-owner occupiers, gentrification can happen a lot more quickly."
According to data from the Polis Center at IUPUI, in 2016 only 41 percent of housing units in the neighborhood were owner-occupied, down from 57 percent in 2013. In comparison, owner-occupied housing rates for Marion County as a whole were 54 percent in 2016 and 56 percent in 2013.
Ambrose officials said they're sensitive to the issue and are taking steps to avoid gentrification.
"We are focused on inclusive growth and we are focused on making this a place where everyone is comfortable," Bade said.
For instance, the developer is:
◗ Weighing options for including on-site industry and workforce housing for teachers, artists and others. The developer doesn't yet know how many such units it might include, or the income levels those units would target.
◗ Having discussions with philanthropic and public-sector educational organizations to offer on-site education and training opportunities for neighbors. That component, the developer said, will help neighbors take advantage of the 11,000 to 13,000 jobs that could exist at the development in the future—everything from retail and hospitality jobs to high-tech opportunities with employers that are office tenants.
◗ Keeping local neighborhood household incomes in mind as it selects its tenant mix. "We do need to turn a profit," Bade said. But, for instance, the developer is considering retail and restaurant options for customers of varying income levels—not just high-end establishments.
◗ Working with near-west side neighborhoods, city officials, the Central Indiana Community Foundation and other groups on ways to strike a balance between development and gentrification.
That's important to CICF, which changed its philanthropic mission earlier this year to focus on narrowing the gap between the wealthy and poor.
Brian Payne, CICF's president and CEO, said the Ambrose project has the potential to lift up the west side without displacing long-time residents. But the parties involved are still working on how to achieve that goal.
"How does it become a positive gateway to positive development on the west side?" Payne said of the project. "I don't know how it's going to play out."
'Many-faceted' problem
Jeff Bennett, the city's deputy mayor of community development, described the issue as "a many-faceted problem" that multiple parties are working to address.
"It's complex because neighborhoods advocate for, and deserve, new investment," Bennett said. "At the same time, we don't want them to be priced out of the neighborhood where they've lived for generations."
He said the city started working with the former stamping plant's neighbors in July 2016, even before RACER picked Ambrose as developer. Now, Bennett said, the city is working closely with Ambrose as well.
The focus, Bennett said, is on making sure that residents—tenants and homeowners—can enjoy the benefits of development without feeling squeezed out of the neighborhood.
As an example, Bennett said, the city has partnered with the Indianapolis Neighborhood Housing Partnership and the Neighborhood Christian Legal Clinic to educate residents about their property rights if they receive offers from outside real-estate speculators.
Other efforts include connecting residents with Habitat for Humanity, which offers a home-repair program to help homeowners fix up their properties.
Jay Napoleon, president of The Valley Neighborhood Association, praised Ambrose for staying in "constant communication" with neighbors.
"We've worked really closely with them," he said. "They've kept us in the loop with everything going on."
Still, Napoleon worries about gentrification.
"What we're really concerned about is the elderly folks. We wouldn't have a neighborhood today if they hadn't stuck it out," Napoleon said. "We don't want prices to go sky-high for homes, that they have trouble staying in their homes."
Napoleon said residents of The Valley have been working with city officials on preventing that problem, though they haven't yet come up with a solution.
Overall, Napoleon said he's excited by what he believes will be a transformational project for not only the west side, but the entire city.
"It will cause change for this neighborhood, but we think we have a handle, along with Ambrose, in making the changes as positive as possible," Napoleon said. "We've always known what this could be—that this really could be something special. And it's so close we can taste it now."•
Please enable JavaScript to view this content.