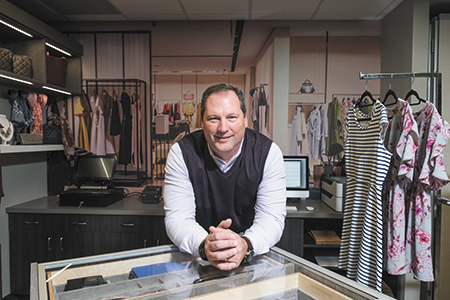 The rise of e-commerce, technology and big data has brought big changes to the retail industry—and big opportunities for Carmel-based software and consulting company enVista LLC.
The privately held enVista, founded in 2002 by Jim Barnes and John Stitz, started as a two-person operation with first-year revenue of $1.4 million. Through organic growth, enVista now has some 535 employees at offices around the world, more than 1,000 customers, and projected 2018 revenue of $97 million.
Over the past 15 years, the company has seen average annual revenue growth of 22 percent and has landed on IBJ's 25 fastest-growing companies list in both 2015 and 2018.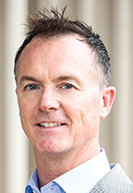 Barnes
And enVista sees plenty more growth potential.
"It's been a pretty crazy ride," said CEO Barnes.
EnVista serves customers across multiple industries, including distribution, logistics, manufacturing and food/beverage. But about half of its revenue comes from retail alone, and in 2015 enVista launched what it calls its Unified Commerce Platform—software that allows retailers to manage their in-store point-of-sale systems, e-commerce, inventory and customer information from a single platform.
"We really uncovered needs in the area of unified commerce, and really helping companies put their e-commerce strategy together and how they go to market with it," said Stitz, enVista's managing partner.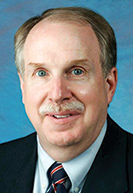 McQuiston
The company's typical retail client has annual sales of $500 million to $2 billion, and enVista's client list is diverse, including Evansville-based Shoe Carnival, menswear retailer Brooks Brothers, novelty-store chain Spencer Gifts, outdoor-gear retailer Cabela's, and both Petco and PetSmart.
In the early days of e-commerce, retailers typically ran their online and brick-and-mortar divisions separately. That meant, for instance, that a retailer's online and in-store merchandise selections might be quite different, and customer data collected via the retailer's website might not be available to store employees.
But now, the trend is what the industry calls omnichannel retail—integrating operations and serving the customer seamlessly both in-store and online.
That can be tricky to manage, retail experts say.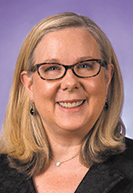 Devitt
"Now, you've come in with this online presence. That's a whole different level of expertise that you've got to bring into the picture," said Daniel McQuiston, an associate professor of marketing at Butler University. "It's a tough thing to do."
Mara Devitt, a senior partner at Chicago-based retail consulting firm McMillanDoolittle, said traditional retailers must do "a lot of heavy lifting" to succeed in this area.
"Retailers, to respond, have to develop different capabilities within their organizations," Devitt said. "There's all these real details that have to be worked out."
Large retailers, Stitz said, are generally further along the path of omnichannel retail because they have more resources to tackle the issue. And retailers that originated online, like Amazon, don't have the challenge of juggling a large network of physical stores.
But many mid-market retailers aren't yet as advanced in unifying their operations. Enter enVista.
"Our platform blends those two seamlessly together," Barnes said.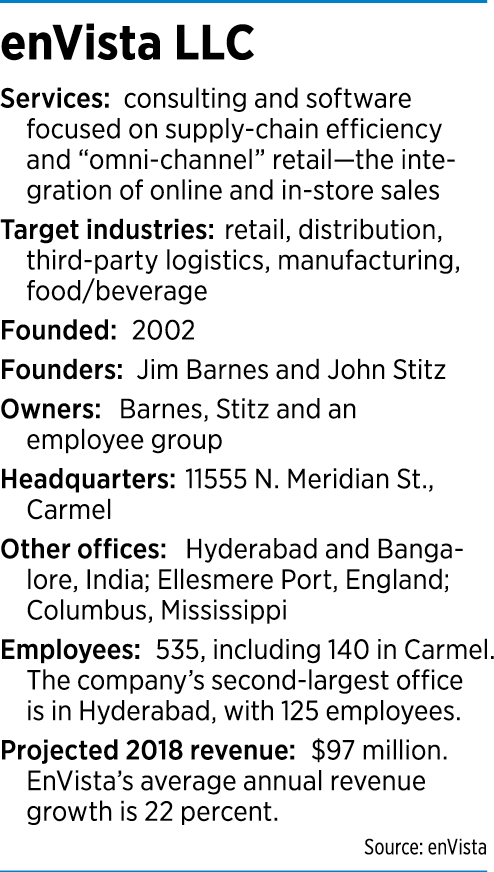 For example, if a customer comes into a store and wants an item that's not in stock, the enVista software allows the store's employees to locate the item at another store, a distribution center or at the manufacturer. The software also factors in shipping costs from each location, allowing the retailer to see the best option for getting the item to the customer.
American Freight Furniture and Mattress, based in Delaware, Ohio, completed the rollout of enVista's point-of-sale software at all 153 of its stores in May. The retailer operates 10 Indiana stores, including three in Indianapolis.
Previously, American Freight had 33 different systems that managed its point-of-sale infrastructure, said Chief Operating Officer Jim Brownell. And the company received complete sales information from its stores only once a month.
"We were on the extreme end of nonefficiency," said Brownell, who worked for enVista until 2015, when he left for his current position.
Now, he said, American Freight executives receive sales information every two hours, allowing them to quickly see and respond to sales trends. "What it's allowed us to do is really see our business in its entirety, to its lowest level."
As an example, Brownell said, the company last year noticed that sales were lagging at its Florida stores. Executives analyzed data and realized these locations were short on several popular items, including mattresses. So American Freight worked with its manufacturers to direct additional merchandise to those stores.
American Freight can even see transaction-level data. Managers can track activity by salespeople, detecting—for example—when someone is offering discounts to customers that are too generous.
"We were able to reduce discounts by 25 percent and not affect sales," Brownell said.
American Freight, which until now has not sold its products online, is currently working with enVista to launch an e-commerce platform. The company has also used enVista to help it solve some transportation problems and to upgrade its business management software.
Several of enVista's other retail and consumer-goods clients, including Shoe Carnival and Fort Wayne-based Vera Bradley, either declined to discuss with IBJ the concerns enVista has helped them tackle or did not respond to IBJ's queries.
EnVista's revenue growth has landed it on the Inc. 5000 list of fastest-growing privately held companies in each of the past eight years.
The company is not the only one in the market, however, and its wide range of services means it has multiple competitors.
Consulting firms Accenture Plc,McKinsey and Co. and A.T. Kearney Inc. are retail-consulting competitors. Point-of-sale software provider Aptos Inc. is also a competitor, as is IBM Corp. in the area of order management.
EnVista's projected 2018 revenue is down 2.3 percent from last year's $99.3 million. Stitz said that's because the company had a few large warehouse-automation projects in 2017, which made for a tough comparison this year.
And, Barnes acknowledged, "our pipeline is not as strong as we would like it to be" headed into 2019, when the company expects revenue of $105 million.
But that figure might grow considerably, he said, because enVista is working now to land a $125 million project from a large retailer—an existing customer.
Stitz said enVista has been consistently profitable since its early days, and believes "that there's a huge opportunity out there still.
"There's a lot of companies in that mid-market that haven't solved this [e-commerce] problem yet."•
Please enable JavaScript to view this content.