You can compare prices online for a car, a pair of shoes or a flight to anywhere in the world.
But at many hospitals, you still cannot find a price online for a knee replacement, an X-ray, a blood test or thousands of other medical procedures. The bills come in the mail a few weeks later—often the first clue for how much you and your insurance company will have to pay.
That is all about to change, however, under a sweeping new federal rule that will make all the prices public for the first time.
Starting Jan. 1, every hospital in the nation will be required to post standard charges online for every item and service they provide, from bandages and drugs to operating rooms and organ transplants. At full-service hospitals, that could amount to tens of thousands of items.
For decades, hospitals have kept their price lists—called chargemasters—under tight wraps, claiming they contained proprietary information or would be too confusing for patients to understand. Some hospitals, meanwhile, have published a relatively small number of prices online in recent years, or shared their information with hospital associations, which published some prices, allowing consumers to shop for some basic procedures.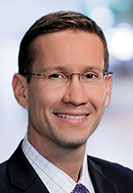 Betner
Other hospitals have required patients who want price information to call and talk to a navigator or billing specialist.
But now, in one fell swoop, all the prices will be made available for all to see. The requirement was originally embedded in the Affordable Care Act of 2010, and has been moving through the system for years, as the Centers for Medicare and Medicaid Services posted a series of rules and guidelines.
The rule requires hospitals to post the information in a "machine-readable format" to allow consumers to download into a spreadsheet. Hospitals must update the prices at least once a year.
The move comes as consumers, often paying a higher percentage of their medical bills through high-deductible insurance plans these days, are demanding more information about the price of medical procedures. Consumers say they need to compare prices to make sure they are getting a fair deal on surgeries, maternity care, rehabilitation therapy and other hospital services.
Hospital officials say they will comply with the requirement but are warning that the published prices are likely to bear no resemblance to the actual prices, which can vary widely, depending on the rates the hospitals negotiate with insurance companies and the type of plan the consumer buys.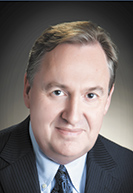 Jackson
"The number one complaint from hospitals is, how is this going to be helpful?" said Brian C. Betner, a health care attorney at Hall Render Killian Heath & Lyman in Indianapolis. "Because the default rate in the chargemaster is rarely the price that the consumer is going to pay."
The federal government, for its part, says hospitals are free to offer more information to put the prices in context, and to let consumers know how much they are actually likely to pay—"to enable patients to compare charges for similar services across hospitals," according to a Frequently Asked Questions handout published by Medicare.
"A hospital is not precluded from posting quality information or price transparency information in addition to its current standard charges in its chargemaster," the handout said.
Current options
In central Indiana, consumers can now get a mishmash of pricing information. The Indiana Hospital Association offers an online tool, mycareINsight.org, that allows patients to compare hospital quality ratings and average charges for a few dozen medical procedures, from a heart bypass to a leg amputation. That information comes from data hospitals submit to the Indiana State Department of Health.
Ed Abel, director of health care practice at Indianapolis-based Blue & Co., an accounting and consulting firm, said consumers rarely access that information. Instead, other hospitals use it, he said.
"I'm not sure folks really want to know," he said.
Some hospitals also offer individual pricing information on their websites. At Eskenazi Health, you can get a list of operating room charges, which range from $5,512 for the first hour of minor surgery (each additional half-hour costs $1,135) to $10,104 for the first hour of special major surgery (each addition half-hour costs $2,476).
You can also see a list of Eskenazi's charges for emergency visits (from $368 to $2,847, depending on the level of care), laboratory services ($106 for a blood culture, $207 for a thyroid stimulating hormone), radiology services ($240 for a frontal chest X-ray, $3,131 for an abdominal CT scan), and even "room and board" ($1,857 a day for a private room, $4,817 a day for the highest-level newborn intensive care).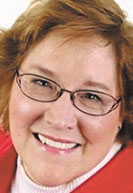 Torrey
"We are working and plan to make the necessary updates to be in compliance by Dec. 31," Eskenazi spokesman Todd Harper said.
Johnson Memorial Hospital in Franklin recently posted its chargemaster, itemizing standard charges for more than 10,000 items, from a urine sample to surgical implant.
The state's largest health system, Indiana University Health, has not yet posted a price list online but said it will do so by Jan. 1. In the meantime, patients curious about a price are directed to use a "cost estimator service" by either logging into their patient account or calling a phone number and speaking to a billing employee, who can ask the patients specific questions about their services, location and insurance benefits, and provide their final out-of-pocket charges.
IU Health said the chargemaster, when published in January, will not be as useful for patients as using the cost estimator services.
"This data does not reflect what a patient's insurance actually pays or what their costs will likely be based on their individual benefits," said Jennifer Alvey, IU Health's senior vice president and chief financial officer.
Franciscan Health said it currently provides estimates for patients, once they fill out an online questionnaire that gathers specific information about their situation. It also directs patients to the mycareINsight.org website for average charges for medical procedures.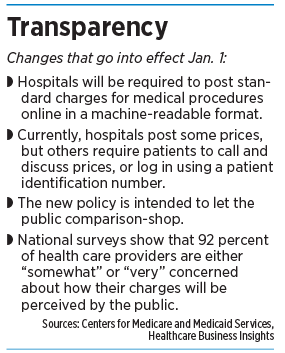 Community Health Network said it plans to post its chargemaster in January but expects lots of confusion. "We believe the new requirement will likely be confusing and frustrating for customers," said Kipp Finchum, Community's vice president of revenue advisory services.
Community launched a central pricing office in 2015 to provide consumers with out-of-pocket estimates based on their insurance coverage. "We have highly trained analysts who are available to work with consumers directly and to provide them a customized estimate," Finchum said.
Questionable value
Some of the anticipated confusion stems from patients' basic lack of knowledge. They likely have little idea what items are included in a surgery, from the intravenous drugs to the implants.
"There will be hundreds of thousands of charge items, and for a patient to determine their charges for something like a surgical procedure, they would have to know everything that would be done and billable on a procedure," said Anthony Gioia, chief financial officer at OrthoIndy.
Some benefits experts are quick to agree that the chargemaster information is likely to be of questionable value. Hospitals often use them as a rough starting point, then discount heavily when negotiating prices with insurers.
Stan Jackson, vice president of Apex Benefits in Indianapolis, called the chargemaster prices "the most useless piece of information you can get."
"The charges have no correlation to what people actually pay," he added. "It's not valuable information. It's just a number that has no relevance."
Betner, the Hall Render attorney, said that, although the chargemaster prices might be of limited value, they could help consumers think about how to ask for more accurate information.
"The bottom line is, this is just bird-dogging for the patient. It kind of points him in the right direction, even though it's not a number he can rely on."
Some consumer advocates, too, say forcing hospitals to publish their chargemaster is a good initial move in creating a more transparent system.
"It's one step in the right direction," said Trisha Torrey, executive director of Florida-based AdvoConnection, an alliance of patient advocates. "It's one of many that need to take place."•
Please enable JavaScript to view this content.