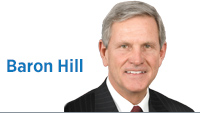 Donald Trump has accused people in his own administration of being weak. Former Attorney General Jeff Sessions, White House attorney (and former New York City Mayor) Rudy Giuliani and many others have been on the receiving end of Trump's ire.
This is Trump's style when he doesn't get his way or doesn't like the results of something. We are now used to this bellicose, lying bully. But it is Trump who is the weak one. And because of this pathetic excuse for a president, our government is shut down and in one heck of a mess.
There has been a lot of blaming, name calling and finger pointing by both sides of the political aisle for the continuing government shutdown. I say continuing because, quite frankly, both political parties and the president are at fault for this record-breaking closure.
But make no mistake about, it all started with Trump's about-face—another character flaw we have gotten used to. You can't depend on anything Trump says.
Back in December, Majority Leader Mitch McConnell thought he had a deal with the White House that would extend government spending through Feb. 8; it included money for border security. McConnell brought the measure up for a vote in the Senate, and it passed with strong bipartisan support.
Then TV and radio hosts Rush Limbaugh, Ann Coulter and Laura Ingraham went on a rant about how Trump was betraying the country by not holding firm on his demand for $5 billion for a border wall. In a disgusting display of presidential cowardice, Trump folded like a broken lawn chair, reneging on his deal to sign it and causing the government to shut down.
In effect, these three media personalities are running the government, because a weak, wimpish President Trump has no spine.
To Trump supporters who may be reading this commentary, there is also a hidden reality in this story: Trump doesn't really care about the wall. That's why he agreed to the original deal in the Senate. But when he got exposed, he panicked.
So where should Democrats, Republicans and the president go from here? They should start behaving like adults and compromise. People who work for the government are beginning to suffer. Airports are beginning to be affected. Our national parks are filling up with garbage.
Each week that goes by, the economy takes a hit. And it will get worse—to the point that everyone will begin to be affected. This stalemate is unnecessary.
Whether you agree or disagree about the need for a wall, find something you can agree on. It's not that difficult. I happen to believe that the wall is not needed. And Mexico is not going to pay for it. But if I was still in Congress, I would vote for it if Republicans and the president would agree to DACA. That's how the legislative process works: COMPROMISE.
This has been historically called sausage making. Watching sausage being made is not a pretty sight. But when the sausage is done, it tastes really good.
The Trump presidency has been a disaster: scandals, tariffs, Russia, alienating our allies, administrative turnover. The only good thing going on is the economy that Trump inherited. And as the stock market reminded us over the holidays, that is not a certainty.
Perhaps Thomas Friedman, the Pulitzer Prize winning writer, said it best: "This president with no shame is combined with a party with no spine and a major network with no integrity." And I add, Trump is a weak wimp to bow to Limbaugh, Coulter and Ingraham.•
Click here for more Forefront columns.
__________
Hill is a Democrat and former congressman from the 9th District in Southern Indiana. Send comments to ibjedit@ibj.com.
Please enable JavaScript to view this content.