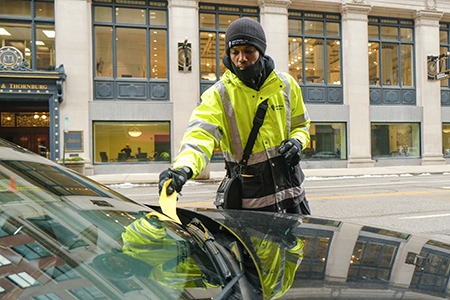 Critics of Indianapolis' 2010 decision to turn over operations of its parking meters to a private consortium have been counting down the years until their first opportunity to exit the deal.
That chance is now in sight—and city officials are facing questions about whether they should keep the contract going after December 2020, which is their once-a-decade opportunity to back out of the 50-year deal cheered by then-Mayor Greg Ballard's administration.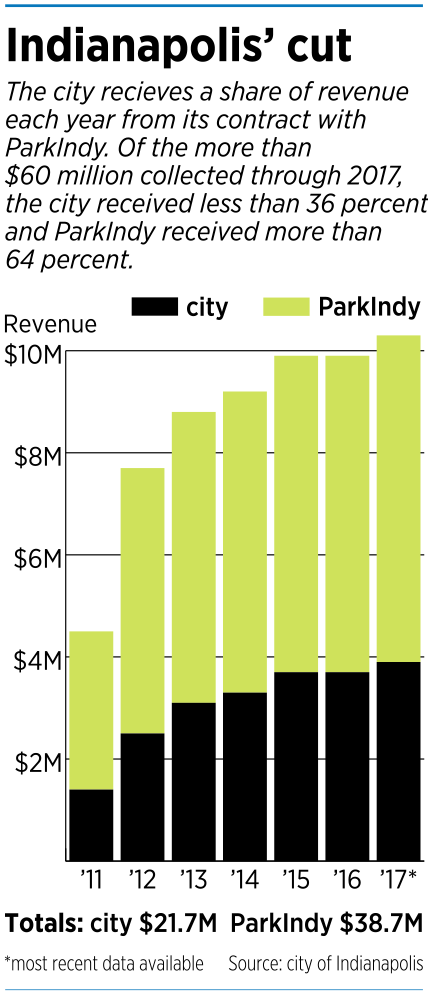 The city received more than $21.7 million through 2017 from the revenue-sharing deal. That's allowed the city to invest in infrastructure projects like downtown-street brick repairs, street resurfacing and new sidewalks.
But proponents of exiting the deal say the city isn't receiving as much from its contract with operator ParkIndy LLC as it should be—and that the city's Department of Public Works should take back the operations.
ParkIndy, an affiliate of Baltimore-based Conduent State & Location Solutions Inc., has received $38.7 million from the deal—about 64 percent of the revenue collected.
"I have been telling DPW that I hope they are looking into what it would take to buy us out of this contract," said City-County Council Vice President Zach Adamson, a longtime critic of the deal.
But others say the whole reason for entering the contract was to increase city revenue on an asset without having to manage it—and that bringing it back in-house would reintroduce costs.
"We're putting more parking meter revenue into projects than ever before and it benefits us from not having to run the meter program," said DPW Director Dan Parker. "We have a tremendous amount of infrastructure needs, and we'd like to maximize the dollars possible. I think the contract so far has allowed us to do that."
Helping stoke the debate is the City-County Council's recent vote to extend the hours of parking meters across the city.
The new ordinance is expected to generate nearly $800,000 a year for the city to pay for street-sweeping and anti-homelessness programs. But under the revenue-sharing terms with ParkIndy, that entity stands to make more than $2 million.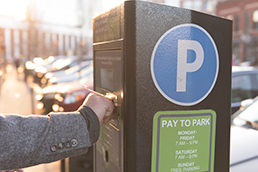 ParkIndy installed the centralized payment system that replaced individual meters that required coins. (IBJ photo/Eric Learned)
"I've had more conversations about the December 2020 date since the filing of that ordinance than I had in the year and a half since I've been here," Parker said.
Mayor Joe Hogsett's deputy chief of staff, Taylor Schaffer, said the city's Office of Financial Management and Department of Public Works "are analyzing the ParkIndy contract in light of the 10-year contract provision."
"Mayor Hogsett has challenged all city agencies to analyze existing contracts and explore where there could be greater efficiencies for taxpayers," Schaffer told IBJ.
There's no question that, through aggressive enforcement, higher rates and upgraded technology, ParkIndy has substantially increased the size of the parking-revenue pie. In 2010, the last full year the city managed its 3,600 meters itself, it netted only $339,000 from parking meter revenue.
The technology at the time required users to insert coins instead of the current credit cards, parking was still free on Saturdays, and meter rates hadn't been raised in more than 35 years.
ParkIndy—a consortium of Conduent State & Local, Indianapolis-based Denison Global and Indianapolis-based Evens Time—promised much higher returns for little work.
At the time, Conduent was known as Dallas-based Affiliated Computer Services, which was a division of Connecticut-based Xerox before being spun off in 2017.
City's slice of the pie
Huber
According to presentations in 2010, the city was likely to receive $363 million to $620 million over the 50-year deal, along with an upfront payment of $20 million. And ParkIndy would be responsible for upgrading the technology to make it possible.
"I think it was a great deal for the city because we took an asset that had not been performing at all, and we packaged a number of changes and upgraded the technology and increased the hours and rates in one comprehensive package," Michael Huber, who helped negotiate the contract as Ballard's deputy mayor for economic development, told IBJ recently. Huber now is president of the Indy Chamber.
Eight years after the deal went into effect, the city appears unlikely to pocket anywhere near the amount of revenue forecast. The city is 16 percent of the way into the deal but has received just 6 percent of $363 million, the low end of the projection.
Bart Brown, the City-County Council's chief financial officer, said the initial projections from ParkIndy and the Ballard administration were "overstated" because they assumed the unlikely—that the city would regularly add meters, extend hours and increase fees. The city has about 4,000 meters now. And Brown said fee increases will continue to be rare "unless, all of a sudden, we change the way we elect people and Hoosiers become wanting to spend money every chance we get."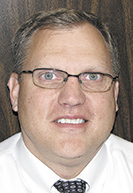 Brown
Brown added: "Based on what I see today, and even what I saw and reviewed from back then, I don't see us ever collecting that as the city. The most I think we could ever see is about $200 million. Even looking at these past years at performance, we'll be lucky to hit that."
ParkIndy declined to discuss the revenue projections in detail, but spokesman Lou Gerig said in a statement that "there are factors that could impact" them, including that the Consumer Price Index, a measure of inflation, has risen less than projected.
"Consequently, there have been no hourly rate changes since the initial implementation of new technology," Gerig said.
ParkIndy also cautioned against using past performance to predict future revenue.
"In addition to incremental revenue improvements on an annual basis and efficiencies over the term," the statement said, "there will be greater revenue growth in later years due to the implementation of hourly rate changes as [the Consumer Price Index] increases."
'Tee it up'
Critics of the deal also question whether the revenue sharing tilts too much in ParkIndy's favor.
The split between the city and ParkIndy is calculated monthly using a two-tier system that is updated annually based on inflation. Currently, ParkIndy receives 70 percent of the first $642,000 the meters generate each month. On any additional revenue, it receives 60 percent.
On average, the city receives 37.8 percent of revenue, and ParkIndy gets 62.2 percent.
"This is hindsight," Brown said. "The standard seems to be closer to a 50-50 split. I just believe anytime we own an asset, if we don't get 50 percent of the revenue, I don't think we've done a good job for the taxpayer."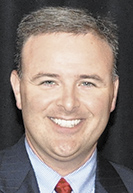 Parker
Parker said, "I know folks on the council think that maybe ParkIndy is making too much.
"But one of the things folks should remember is that it's ParkIndy that invested in the technology that has made it convenient for people to pay the meters," he said.
Huber said he heard that criticism eight years ago.
"You could say this about any deal the government strikes," he said. "At some point, as the mayor, you have to make a decision and say, 'We've negotiated the best deal that we know how, and we've run our process to get the best deal, and we're still hearing legitimate criticism but we're going to move forward with the information we have right now.'"
But Huber encouraged the city to use the contract's 10-year mark to re-evaluate it.
"If there's a better way to do it where the city could raise more revenue from these meters for the critical infrastructure improvements, I think that's great," Huber said. "I think they should tee it up."
The city is required to pay ParkIndy $19.8 million if it backs out after 10 years. And under the contract, it would have to operate the parking meters in-house rather than hire another vendor. It also is not allowed to use debt to pay the exit fee.
But Brown said that, if the city can fund the buyout, it would come out way ahead long term.
He thinks it could recoup the $19.8 million buyout fee over five years, then would be able to keep 100 percent of parking revenue over the next 35 years—ultimately earning the city $90 million to $100 million more than it would receive under the current contract.
Former Mayor Steve Goldsmith, who served in the role from 1992 to 1999 and is now a professor at the Harvard Kennedy School, said he isn't sure about that idea.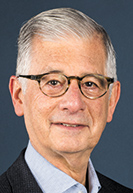 Goldsmith
"This would be an area that would be very precarious to bring in-house," Goldsmith said. "The city would be taking on the financial cost of updating technology on a regular basis. There are some things where city workers are best. But whether they're best at running a business where there's a level of operational excellence built across a large platform, I think that's a vulnerable position."
Technology upgrades
ParkIndy said managing the city's parking meters has entailed far more than collecting fees.
Gerig said ParkIndy has "worked to invest in all areas of curbside parking management in Indianapolis," including launching a parking app, collecting payments by phone, and adding hundreds of sensors that identify vacant parking spaces.
"We will continue to test new meter technologies in Indianapolis, and we'll begin deploying new parking meter technology in 2020," according to the statement. "We're testing new ways to provide information about parking availability to customers, and we're hoping to implement new strategies later this year."
Parker said the city would have to reinvent the wheel if it took over the contract.
"All of the technology that's out there right now, we would not be able to utilize. We would have to do it ourselves," he said. "That might be something that people might want to do. But what's the cost-benefit related to that?"
Goldsmith encouraged city officials to use the 10-year mark to try to renegotiate the contract so service would be "even more modernized."
For instance, he said, the advent of ride-sharing services like Uber and Lyft is putting parking meter revenue at risk across the country.
And as driverless cars become reality, "there are reasons to rethink the model." He said "rapidly changing technologies might make parking meters themselves obsolete."
Cities have to think more broadly, he said, "about, 'How do we manage the curb?'"
"It's all changing and I think that's a risky place for the city to play," Goldsmith said. "But it's certainly their option."•
Please enable JavaScript to view this content.