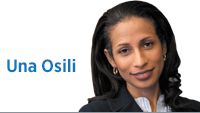 Last month, our Indianapolis community and the world celebrated the life and legacy of Dr. Martin Luther King Jr. His untimely death fueled endless days of violent protests in cities across America. Indianapolis was heralded as a major American city that did not erupt into widespread riots and social unrest.
King visited Indiana several times. Since our family lives steps away from King-Kennedy Park, I often reflect on his struggle against racial intolerance and injustice. I wonder how much has been accomplished in the decades that followed.
In my search for King's footprints throughout Indiana, I learned that his last speech on a college campus took place at Manchester College (now Manchester University). His lecture—"The Future of Integration"—still reverberates with meaning more than 50 years later.
"We've come a long, long way, but, we must honestly face the fact that all over America we still have a long, long way to go before the problem of racial injustice is solved …"
Economic inequality is a defining issue of our time that is at odds with our national narrative regarding progress toward King's fight against racial injustice. Indiana ranks in the top 10 among states where income inequality has expanded most rapidly.
A study from Yale University provides an in-depth analysis of perceptions of black-white differences in economic outcomes and compares views both past and present. Their 2017 study finds that Americans vastly overestimate the extent to which society has moved toward race-based economic equality. In other words, many Americans hold overly optimistic beliefs concerning the current state of racial disparities.
To estimate perceptions, study participants were asked: "For every $100 earned by an average white family, how much do you think was earned by an average black family in 2013?" The average respondent guessed $85.59. Based on the Current Population Survey, the actual income gap was $57.30. Study participants' estimates were off by almost 30 percentage points.
Those inaccurate views are likely to have significant consequences for public policy, because people who don't recognize the extent of inequality will be less likely to support policies or other initiatives to address it.
How do we improve awareness of the actual state of inequality and the public's understanding of the roots of race-based disparities? We can start with a reality check. Researchers, educators and data experts can help expand the public's understanding of the extent and sources of race-based income and wealth gaps. We need honest dialogue, rather than wishful thinking about the barriers to economic opportunity.
More accurate and timely information is also vital so we can identify tools and policy options needed to address poverty and inequality in the years ahead. Research is a critical lever to help us determine where these gaps are most persistent and to inform policy decisions.
We must also initiate meaningful dialogue across communities. Much of the evidence suggests that effective strategies for tackling inequality include improving education and health investments. We also have an opportunity to examine access to financial services and opportunities for asset-building to ensure that the most marginalized of our citizens are well-served. We face rising income and wealth inequality, and we cannot solve these problems if we retreat from a dialogue.
Throughout Black History Month, we honor the work of countless men and women who have fought for a more just America. We must also consider the yet-unfinished work ahead.
Two months after his speech in North Manchester, King was shot to death. We should seize this opportunity to improve and strengthen our ability to tackle race-based income and wealth inequality and continue his legacy.•
__________
Osili is professor of economics and associate dean for research and international programs at Indiana University Lilly Family School of Philanthropy. Send comments to ibjedit@ibj.com.
Please enable JavaScript to view this content.