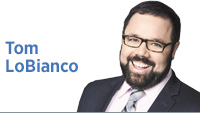 I've been having more and more fits of epistemological dilemmas recently, but I think the House Oversight Committee's hearing with Michael Cohen, the former lawyer to President Donald Trump, finally snapped me out of it.
Every reporter is prone to these existential moments, times when you think so hard about the information you have that it seems to evaporate before your eyes—only to reappear as a scoop by one of your competitors (or a tweet by Mary Beth Schneider, the original Twitter Lady).
Living in the Trump era seems to have exploded these overwrought existential crises to aneurystic frequencies and levels. But the meta-ness of the Cohen hearing finally captured the absurdity of it all.
Step back from the news nuggets, and the 30,000-foot view is something to behold: The president's former fixer, who pleaded guilty to lying to Congress in 2017, returned to Congress to apologize for lying. He testified that he lied to Congress, to his wife, to Trump's wife, to the public and just about anyone else, in the service of protecting Donald Trump. He was placed under oath, and Democrats vouched for the veracity of his claims, based on the additional jail time he could face if he lied to them again. But Republicans on the committee reminded viewers that he lied before, so he couldn't be trusted now.
Is your head spinning yet? Cool, rinse and repeat for eight hours, and there is, possibly, one of the most consequential congressional hearings we will see in this administration.
But the extremities of the Cohen-Trump saga—layers of lies about hush payments, a Trump Hotel project in Moscow and more—highlight one of the great vexations of basic journalism: Sometimes we just don't know at 100 percent certainty what happened.
There have been more than a few times in which I've puzzled over certain anecdotes from Mike Pence's career, as I piece together his life's story. Sometimes little items that are just a smidge out of place—either a few states away from the location of the actual event or big occurrences in the 1990s off by a year or two.
To my sources who have listened to me obsess over the small stuff, I apologize. Because it's infinitesimal when placed against the Cohen hearing.
So what's a reader, or a viewer, or a journalist to do?
This gets me to the point I was going to write about before Cohen's testimony blew everything up: media literacy.
Maybe it's time for reporters and journalists to let the public know more about how we do what we do. It's not like we're some raggedy old Jedi Council full of great mystical secrets. And it's clear the public would benefit from some of these tools as they try to wade through the same thickets of information we do.
Can we nail everything? No, hardly. But we can try, and along the way we can attribute, provide detailed sourcing and evidence, and let the public decide.
Bob Woodward and Carl Bernstein famously hashed out the dilemma like this: The reporter's job is to find "the best obtainable version of the truth." In a vacuum, that might sound pretty underwhelming, but in the current climate, it has a nice ring to it.•
Click here for more Forefront columns.
__________
LoBianco was a political reporter for The Indianapolis Star, CNN and The Associated Press and is currently writing a book on Mike Pence.Send comments to ibjedit@ibj.com.
Please enable JavaScript to view this content.