Less parking for cars, and more parking for bikes. More green elements in new developments, and fewer hurdles to reuse vacant buildings. And for the first time, a limit on backyard chickens.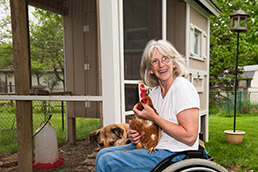 Debbie Estes is one of a growing number of backyard chicken farmers in Indianapolis. She keeps three hens at her home near Pike High School. (IBJ photo/Eric Learned)
All of that is included in Indy Rezone, a proposed overhaul of the Indianapolis zoning code that's just a few weeks from its public unveiling. Planners think the code—the first comprehensive revision since 1969—will make the city greener and more bike- and pedestrian-friendly while easing the path to high-density, mixed-use development.

Real estate developers are already moving away from the suburban-style, cookie-cutter designs the current code encourages, but they have to spend a lot of time and money obtaining variances. The new code removes many of those hurdles. So while some developers might grumble about new green requirements or placing parking behind buildings, those familiar with the plan don't expect a groundswell of opposition.

"Flexibility and simplification is a benefit for developers," said Adam Hill, CEO of LOR Corp., which owns, develops and manages strip centers. "I think that is what Indy Rezone provides."

Indy Rezone is the product of nearly two years of work, made possible by a $1.2 million grant from the U.S. Department of Housing and Urban Development. City planners were assisted by consultants and guided by a 14-member steering committee.

Co-chaired by veteran land broker Abbe Hohmann and Michael Bricker, co-founder of People for Urban Progress, the steering committee includes city officials; city-county councilors; real estate, architecture and engineering professionals; and residents from urban and suburban parts of Marion County.

Principal planner Tammara Tracy oversaw the two-year project.
Tammara Tracy, principal planner in the Department of Metropolitan Development, said she advocated for the inclusion of many perspectives.

"I think it's a huge advancement for the city and the developer community, as well as the neighborhoods," she said of the resulting code changes.

The draft ordinance will be found at Indyrezone.org and presented at a public open house June 10 at the Central Library.

The zoning-code overhaul won't change the existing zoning map. If a parcel of land is designated commercial today, it will stay that way. Any land uses that are permitted under current zoning will continue to be allowed until the property is redeveloped.

The new code requires approval by the Metropolitan Development Commission, City-County Council and mayor. If the approval process doesn't hit any major delays, the new code could be effective by Jan. 1, Tracy said.

Ball State University professor Bruce Race doesn't think the code revision will bring about much change until the city also redraws the zoning map. As an example, Race noted that a neighborhood group favors mixed-use redevelopment at the key intersection of 46th Street and College Avenue, but the zoning map still allows a simple gas station.

"There are sites like that all over town," said Race, an architect and planner who writes a monthly urban design column for IBJ. "The communities are going, 'We don't need another mini-mart.'"

Race wonders whether Indianapolis elected officials will be willing to revise the zoning map according to neighborhood visions, even if that means going against a property owner's wishes.

"That's our challenge in the city," he said. "Communities will spend years working on a plan. Just years. And then we won't change the zoning."

The proposed code contains four new mixed-use zones. Two are really a relabeling of commercial districts that essentially operate as mixed use, but two others are brand-new concepts for Indianapolis.

One, MU-3, would create villages like Broad Ripple and another, MU-4, would create high-density transit-oriented nodes. Yet those two new designations will exist only as concepts until property owners ask for a rezoning.

The city isn't going to change the zoning map unless property owners want the changes, Tracy said. Once the code is adopted, she said, the Department of Metropolitan Development will reach out to property owners to see if they're open to changes.

Planners are also saving a revision of the sign and billboard regulations for a later date. Race said he's not surprised, considering the topic of signage has the potential to create a controversial sideshow.

"The advertising industry is like the NRA of zoning," he said. "You really have to be committed as a community to take on signage."

Big-picture change

Changes under the proposed code are numerous, from lowering parking requirements to introducing new concepts like the "green factor."

Indianapolis could be in the first wave of cities, along with Seattle and Washington, D.C., to use the green-factor approach to site design, said Don Elliott, director of Denver-based Clarion Associates, which assisted city planners with drafting the zoning code.

"It's a pretty painless way of greening the city over time," Elliott said. As proposed, Indianapolis would require all developments except single-family residential and those on small sites to provide green elements—trees, landscaping and the like—that add up to 30 percent of the site area, he said.

The 30-percent minimum might be a stretch, Elliott said, but designers also will have more flexibility. Instead of being told where to put street trees, parking-lot landscaping and buffer vegetation, designers will have an incentive to combine landscaping for aesthetics with storm-water management.

Throughout the code are provisions aimed at cleaning the air, controlling flooding and protecting streams and wellfields. One example of new, environmentally conscious code: Developers can provide fewer parking spaces if they include electric-vehicle charging stations, more bike parking, or locate within a quarter mile of mass transit.

Green-building requirements tend to be expensive, so of course some developers don't like them, said Mary Solada, a partner and land-use attorney at Bingham Greenebaum Doll LLP. But she doesn't expect widespread backlash.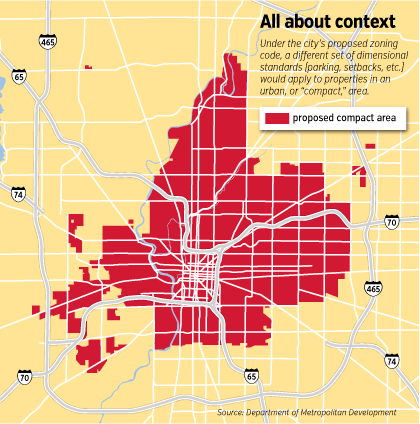 "The younger generation, not only do they embrace green initiatives, but they're willing to pay for them," she said.

Vacant buildings are another big problem planners hope to address with the new zoning code.

They created the "V" option, which broadens the types of permitted uses if a building has been vacant for five consecutive years. Self-service laundries, for example, are allowed in certain commercial districts, but they would also be permitted in some industrial zones under the V option. Likewise, residences and live/work spaces would be allowed in some commercial zones.

Planners wanted to include urban design standards in the new code, but they didn't want to force them upon Marion County's many suburban areas. Clarion Associates suggested writing different standards for different settings.

So another new concept under Indy Rezone is the "compact context area." Developments in urban, or "compact," areas will require shorter setbacks and less parking than those in non-compact areas. The compact area designation doesn't change underlying zoning, and it doesn't trigger a design review, Tracy said.

At 656 pages, the revised code is about as thick as an old phone book, but believe it or not, it's much simpler, Tracy said. For the first time, all the zoning regulations are under one cover, and all the permitted uses are laid out in one table.

Thinking of opening a small brewery? Instead of hunting through five sections of code, you would find breweries in the permitted-use table and read across the row to see in which zones they're allowed and under what conditions.

Sensitive subject

If any group gets hopping mad over new zoning regs, Tracy predicted it will be the backyard chicken farmers.

Possibly because the 1969 code was written when much of Marion County was still rural, it's silent on the subject of chickens. That's been a boon to hobby farmers and even helped launch at least one small business.

The revised code would prohibit roosters and place a 10-hen limit on residential lots. Most urban chicken farmers would easily fall within those limits, said Andrew Brake, owner of Nap Town Chickens and co-owner of Agrarian, a farm-supply boutique at 49th Street and College Avenue.

Nevertheless, Brake has heard that chicken regs were in the works, and he opposes them. The city already has a noise ordinance, he said, so why does it need a separate code to ban roosters?

While he can see how people might be annoyed with a rooster crowing at the crack of dawn, he said they're no more of a nuisance than dogs barking in the middle of the night. Having kept roosters from time to time on his one-eighth-acre lot in Broad Ripple, he said, "The noise of a rooster I think is a wonderful noise."

Brake set up more than 80 chicken coops last year alone through Nap Town Chickens. He estimates there are 500 chicken farmers in Marion County. While most keep just a few hens, he questioned the need to limit their numbers and whether the city has the means to enforce it. "Do we really have the resources to have people come and check if I have an 11th hen?"•