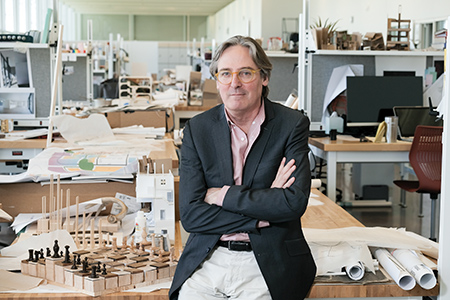 After half a century of having the in-state field to itself, Ball State University's College of Architecture and Planning has some competition.
Or perhaps just a new colleague. That's certainly the spin favored by the Muncie school, the Indiana Commission for Higher Education and the state's architectural community.
In 2018, Indiana University inaugurated the J. Irwin Miller Architecture Program, a three-year master of architecture degree. It's headquartered not in Bloomington but in the design mecca of Columbus—named by the American Institute of Architects as the country's sixth-most-architecturally important city. It's taking in about 20 students a year, with plans to ramp up to a full student body of 60 to 75.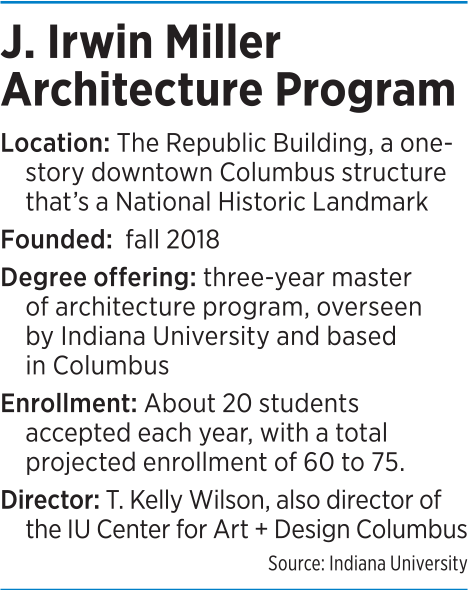 It's Indiana's second master's-level architecture offering (after BSU) at a state-funded school.
The Columbus program is the culmination of lengthy talks between IU officials and Columbus city leaders, and more intensive (and recent) negotiations with state agencies. The first fruit of that effort was the establishment almost a decade ago of the Indiana University Center for Art + Design Columbus.
T. Kelly Wilson, who oversees the master's program as director of the Center for Art + Design, sees the program as a step forward for the city—whose international reputation for architecture was honed by the late industrialist J. Irwin Miller.
While chairman of Cummins Inc. in the 1950s through the 1970s, Miller transformed a decaying Columbus into a showcase for buildings designed by architects like Eero Saarinen and I.M. Pei.
One of the big pluses of the new program is that the graduate students for the most part live in Columbus. The city's previous academic efforts catered mostly to students enrolled on IU's Bloomington campus who had to drive an hour each way to attend programs.
"Bringing undergraduates from Bloomington once a week or at best twice was probably not going to give Columbus the catalyst for change they hoped for," Wilson said.
City officials say the master's degree will further burnish the city's reputation for architectural excellence. And it can't hurt to mint a couple of dozen architects each year, all of whom will cut their teeth on sketching and studying Columbus' high-profile buildings.
"We're a residential program," Wilson said. "That's one thing we told Columbus. You need a graduate program, because the students can live here. Undergrads need to be on the Bloomington campus. Grads don't."
He doesn't see the program as competition with Ball State's far larger College of Architecture and Planning.
"Some of my favorite colleagues in the area are at Ball State," Wilson said. "We work together on Exhibit Columbus," an annual showcase of art and design. "I go up there for reviews and we invite them down for reviews."
Careful planning
Indeed, asking about potential conflicts between the schools unerringly produces a series of long silences, stammers, and then carefully considered, slowly spoken responses. Mostly because all these folks know one another and don't want to sour relationships. The issue was such a hot button that IU and BSU created a detailed set of rules about which program would be able to do what.
The two schools put together a six-point plan in the winter of 2017 to keep out of each other's hair. Ball State agreed to refrain from "raising concerns" about IU's master's in architecture program, provided the degree was offered in Columbus only—not online or at any other off-campus locations.
IU won't establish an undergraduate architecture program on any of its campuses, making the bachelor's an exclusive BSU offering.
Further, IU will discuss providing space at IUPUI for BSU architecture programs and integrating those students, faculty and staff into the IUPUI community.
The two schools also will explore establishing a joint architectural research center in Columbus and will look for opportunities for IU and BSU students to take courses and study at IU facilities in Columbus and Indianapolis.
Finally, IU and BSU will work together to develop a formal partnership with the Columbus Indiana Architectural Archives, to be housed in an IU facility in Columbus.
The terms of the agreement were presented to Teresa Lubbers, commissioner for the Indiana Commission for Higher Education, in early February 2017. The commission approved the master's program a month later.
The program hasn't caused much of a stir among the Indiana architectural community, said Jason Shelley, executive director of the Indiana chapter of the American Institute of Architects.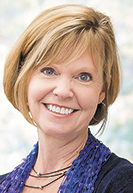 Faimon
"My first thought was that our members would be a little hesitant, since we have so many Ball State grads," he said. "But they thought it was a good thing. Indiana needs more design thinkers in the state."
The program is part of IU's Sidney and Lois Eskenazi School of Art, Architecture + Design. Peg Faimon, founding dean, said the master's curriculum complements the university's bicentennial 2020 plan.
It calls for training students to participate in a "culture of building and making," by grounding them in design and architectural practices, regardless of their major.
"The demand for professional architects is strong in Indiana and nationally," Faimon said. "This is therefore not only the kind of degree and innovation called for in the strategic plan, but also one responding directly to existing labor markets."
State officials say employment of architects is expected to grow more than 20 percent through 2022.
Boosting Columbus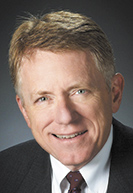 Lienhoop
City officials in Columbus have been lobbying for architectural programs for years.
"We had a few residents here who thought it would be a great fit for the university to pursue an architectural program, since we have what in essence is the largest architectural campus in the world," said Columbus Mayor James Lienhoop.
The town's marquee contribution to the master's program is its new headquarters—a one-story structure called The Republic Building. Designed in 1971 and originally used by the town's newspaper, the one-story, glass-walled structure became a National Historic Landmark in 2012.
The city put up $1 million toward buying and refurbishing the structure, with private donors kicking in another $1 million. "It looks like it was designed to be a home for an architectural program," Lienhoop said.
Officials of the city of 47,000 are confident that focusing more attention on the city's architectural heritage will provide a solid payoff for the investment.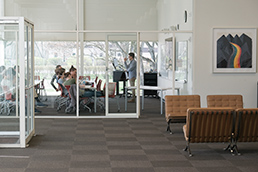 The IU program in Columbus is limited to graduate students. (IBJ photo/Eric Learned)
That heritage is deeply steeped in mid-century modernism, a favorite of the Cummins Foundation, which helped foster architectural excellence by paying architect's fees for new buildings, providing the developer used foundation-approved firms.
Seven Columbus buildings are National Historic Landmarks, and dozens of others are considered design classics. Columbus "is truly a living laboratory," Faimon said.
Indiana is far from an anomaly among states in having multiple public architecture options. Ohio, for instance, has five.
Shelley said the two options in Indiana will help foster excellence.
"I think they do great work and they continue to get better," Shelley said of BSU. "If anything, I think IU's program will make Ball State even better than they are right now. It's a healthy competition that's probably good for the state."
David Ferguson, dean of BSU's College of Architecture and Planning, agreed.
"I think that a lot of us see this as an opportunity to sharpen what we do, and do it better."•
Please enable JavaScript to view this content.