Is it good for Indy to host the NRA convention?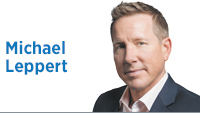 I am a gun control advocate. Some might assume I do not want the National Rifle Association and its throng of 80,000 supporters coming to my town this weekend for their annual conference.
They would be wrong. I couldn't be happier that Indianapolis is hosting another large conference and profiting from it. Even if it is the NRA.
So, as the self-appointed chairperson of the "NRA Gun Control Welcoming Committee" I want to take a moment to suggest some ways to make the conference more modern, more productive and just plain fun.
Wouldn't it be refreshing if the conference were brave enough to have a guy like me stand in front of a few thousand of them and deliver an inspirational message of life after universal background checks? I volunteer to give just that speech. Yes, it might have a post-apocalyptic vibe to it, but I could mix in some good humor blended with a spiritually healthy outlook on how a registry of weapons might actually enhance American freedom.
The pattern of success for the profitability of the organization is clear. Without a villain, someone who scares members into believing their guns are about to be confiscated, membership drops. Donations to the NRA's political action committee suffers. President Obama is gone now. Hillary Clinton lost. With no one to fear, money gets tight.
I volunteer to fill that void as best I can. I think Wayne LaPierre, longtime NRA executive vice president, and Oliver North, the current president, could use a guy like me to inundate them with logic and a future of oppressive bureaucracy.
I could go immediately before or after President Trump's speech, or the speech of the man most likely to replace Sarah Sanders as press secretary, Vice President Mike Pence. I promise I won't call anyone names.
I could remind all in attendance of some good news: The NRA was not mentioned at all in the Mueller report. Neither was its most notorious Russian cheerleader, Maria Butina. At least not in the redacted version.
The group should return to its founding purpose of advocating gun safety training and responsible gun ownership. What happened to those priorities? I see sessions on safety on the agenda for the conference. But that is not what this organization is known for today—at least not to us nonmembers.
The NRA now represents an organization that is in charge of manufacturing excuses for the uniquely American gun violence problem. Our schools aren't safe. The NRA answer is arming teachers. Our churches are no longer safe. The NRA answer is more guns. Violent crime is up. More guns.
In fact, any suggestion that might be interpreted as fewer guns is blasphemous to the NRA.
Damn any progress, unless that progress includes more guns.
The NRA might not know this, but Indiana is not in it for the money; it just loves to host gun shows. We, the people of Indy, on the other hand, are actually in it only for the cash.
I'm available. Call me.•
__________
Leppert is an author and governmental affairs consultant in Indianapolis. He writes at MichaelLeppert.com. Send comments to ibjedit@ibj.com.
Click here for more Forefront columns.
Please enable JavaScript to view this content.