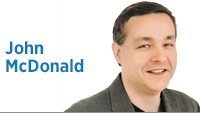 It wasn't long ago the milkman made home deliveries. A survey from the U.S. Department of Agriculture on home milk delivery in 1963 indicated nearly 30% of consumers had milk delivered. By 1975, the number had dropped to less than 7%.
Today, a nostalgic reminder of that bygone era—only with a modern twist—is making a return as consumer demand of grocery-delivery services such as Postmates, Instacart and Green Bean Delivery continues to grow. While many still shop in brick-and-mortar locations, the online grocery retail market has increased 18% year-over-year since 2017. Furthermore, online grocery sales were responsible for $17.5 billion in 2018, with growth estimated at $30 billion by 2021.
That raises an important question for grocery retailers: Who will survive and how will they thrive in this digital transformation?
As this revolution takes hold, the logistics—including ordering, smart-shelf technology, fulfillment, warehouse storage and delivery—all involve an internet-of-things component. Last November, Ford announced a partnership with Walmart and Postmates to create a business model for grocery delivery using autonomous vehicles. The company plans to test research vehicles that will look and feel like self-driving cars to learn more about Walmart's operations and identify challenges that will inevitably arise, such as refrigeration needs and consumer preferences. Ford is already testing true autonomous vehicles in Detroit, Miami and Pittsburgh.
Additionally, Kroger said it would begin opening automated warehouses. Using robotic technology developed by its new partner, Ocado, Kroger hopes to continue competing with Amazon's acquisition of Whole Foods. Ocado, a British company, has warehouses with robotics technology that pack and process 65,000 orders per week.
With this type of technology transforming the handoff of goods, retail survival has now shifted to creating an in-store experience. For example, when customers visit the cheese section in Kroger or the living rooms that are made-to-order at Ikea, they're being immersed into a buying atmosphere that offers more choices—some choices the shopper didn't even know existed.
Today, customers can order nearly anything online and have it shipped directly to their homes, so retailers are starting to think outside the box about ways to bring shoppers in-store. Destination-shopping experiences will be the defining difference for retail survival.
As we explore these new frontiers, the benefits for consumers must be considered, because they translate directly to revenue that these retailers make when consumers choose them over the competition. Technologies like blockchain can help consumers understand exactly which farm their produce came from, what day it was picked and by whom, and how it made its way to their table.
Furthermore, grocery retail automation isn't strictly relegated to financial opportunities, but social well-being as well. Imagine if we could help eliminate food deserts altogether by using autonomous vehicles to deliver groceries to underserved neighborhoods.
As retail is reimagined, survival will be dependent on those who recognize and adapt to using technology as a way to increase productivity, efficiency and demand while crafting one-of-a-kind experiences to grab customer attention.
Shoppers will once again be able to enjoy the convenience of having milk delivered to their doorstep, but it might be an in-store experience with a nutritionist about the benefits of chocolate milk post-workout that creates the connection retailers rely upon to stay relevant.•
__________
McDonald is the CEO of Fishers-based ClearObject and chairman of the Indiana Technology and Innovation Policy Committee. Send comments to ibjedit@ibj.com.
Click here for more Forefront columns.
Please enable JavaScript to view this content.