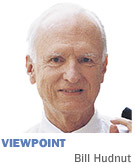 I happened to be in Indianapolis the week before Mel Simon passed away on Sept. 16, and talked with his secretary about visiting him briefly, because I knew he was very ill. But he was too ill to see me.

So all I could do to express my appreciation for his friendship and support across the years I was mayor was to attend his funeral a few days later. I found it to be a most moving and meaningful occasion, and a fitting tribute to one of the outstanding citizens of Indianapolis.

In some ways, Mel was a "character." He always did it his way. Red suits, flamboyant clothes on the golf course, tempestuous at times, with a tremendous sense of humor. More deeply, he was a man committed to his city as well as to his professional role as one of the nation's premier developers.

I always knew he was trustworthy, that his word was good, his handshake enough. He stayed in Indianapolis when he was mustered out of the Army at Fort Harrison, founded his company with his brothers Herb and Fred, supported the city in its rise to major-league status, stayed here, built his home and business and headquarters here, and never abandoned us for more fertile climes.

In particular, Mel was supportive behind the scenes with two of the most important initiatives that occurred during my 16 years as mayor. The first was the effort to save the Indiana Pacers franchise. The Pacers were owned by out-of-town Californians who were using the franchise as their cash cow and intending to move it to the West Coast.

We looked around for a buyer who would keep them in Indianapolis, and found one in the Simons. After several conversations, some of us were successful in persuading Mel and Herb to buy the Pacers—basically for the liabilities, as I remember it. They said to me, in essence, "We're going to do this for civic pride," a remarkable testimony to their loyalty to their hometown. And they have stuck with the franchise all these 26 years since, helping Indianapolis become established as a major-league town that could "play with the big boys."

The second project that also never would have happened without Mel's support and blessing was the construction of Circle Centre mall. It took 17 years from start to finish and had many hurdles along the way. But it now constitutes an essential ingredient in the dynamics of our downtown, and a key component of the urban revitalization that has characterized the development of our central city for more than 40 years.

The other thing that comes to mind about Mel was his incredible generosity. He lacked pomposity or arrogance in spite of the power he wielded. He was entirely a good, decent, humble man who never forgot where he came from.

We all know about many of his philanthropic endeavors, but on a more personal note, I will always be grateful for his support during my 16 years as mayor. It was well-known in political circles that the Simons were staunch Democrats, so when Mel and Bren offered to host a fund-raiser at their beautiful home for Republican me during one of my campaigns, I was as delighted as I was overwhelmed. That was generous of them. I've never forgotten their kindness and, at least in my instance, their bipartisan spirit, a spirit that unfortunately seems to be sorely lacking in today's politics.

Mel will be missed, not only by his loved ones, who were many, but by his city, where he left such an indelible mark.•

__________

Hudnut, who was mayor of Indianapolis from 1976 to 1992, runs a consulting firm specializing in urban revitalization in Chevy Chase, Md. He also is senior fellow emeritus of the Urban Land Institute.